FREE DIY Baby Swing pattern and tutorial
|
All articles may include affiliate links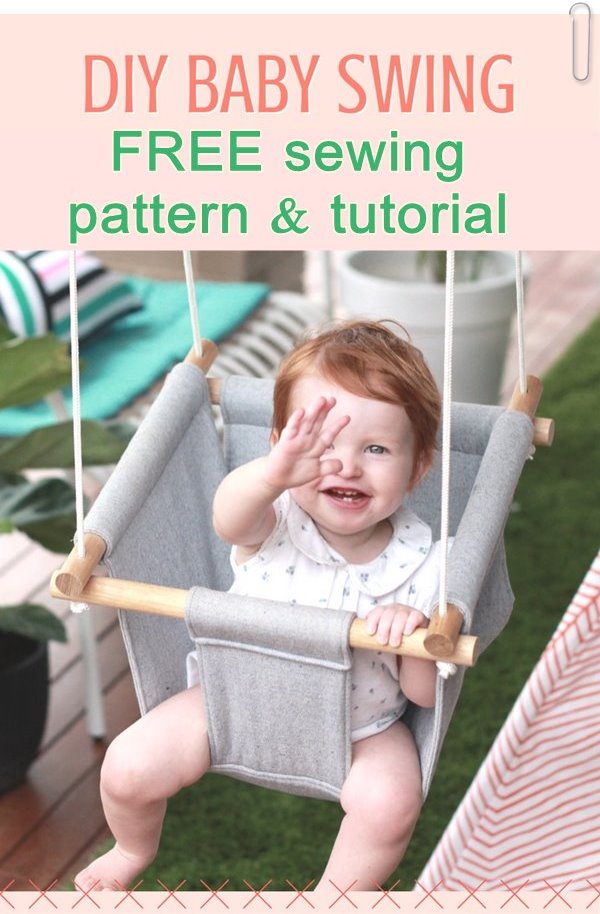 Parks and playgrounds are great places for kids to play and exercise. If you have a yard or terrace, with the help of this FREE DIY Baby Swing pattern and tutorial, you can make your baby a home playground so that you don`t have to spend hours in public parks and playgrounds.
Baby swings are a fantastic piece of equipment that your child will enjoy in the safety of your own outside play area. There is no kid who doesn`t like swinging on a swing, it's obvious to all of us, but it's less well known that swings play a much bigger role in children's development than ordinary climbers and slides. This is due to the rhythmic, coordinated movements that the infant will learn while they swing and enjoy the game in which they are actually learning instinctively.
You can attach the swing to a tree if you have a tree with enough thick branches that can stand the load, or if you plan to put the swing on the terrace, you can attach it to a wooden beam with hooks.
You can make your own swing in a few steps with this FREE DIY Baby Swing pattern and tutorial. The tutorial explains very well how to make this beautiful swing for your kid, with lots of photos helping you along each step of the way. Besides knowing how to use a sewing machine you will also need to know how to use a drill and a circular saw.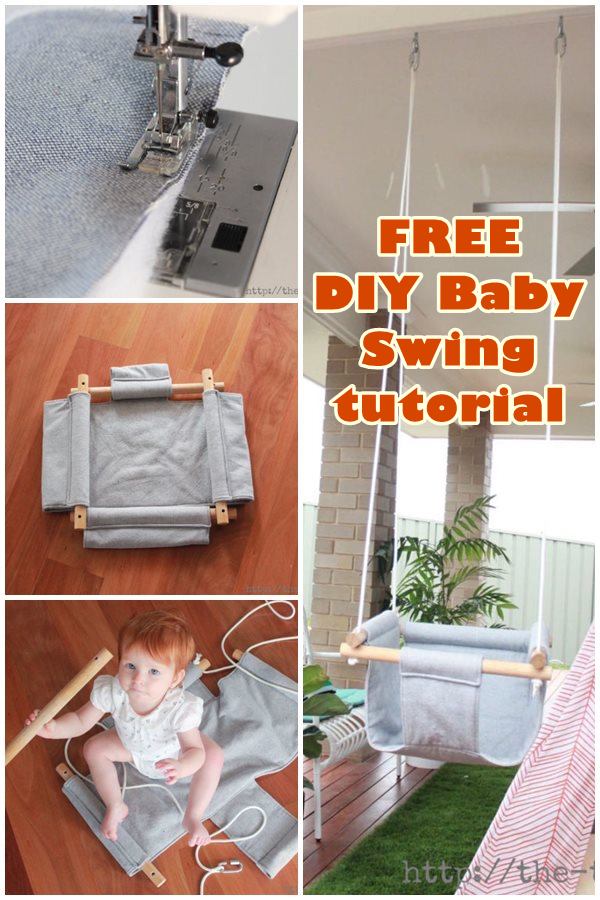 To make a DIY Baby Swing you`re going to need:-
About 2 meters of sturdy drill, denim, or upholstery fabric.
About 1 meter of lightweight batting will pad out the fabric and make it all a bit firmer.
About 5 meters of rope depending on how low you'd like the swing to hang. The designer used Grunt brand 6 mm white braided marine rope which has a breaking strength of 650 kgs, which should support the weight of most toddlers.
A 1.6-meter length of 19 mm oak dowel rod.
Two steel carabiners. The designer made sure that she get ones that would hold the weight of her child and then some.
Two steel hooks (eye screws) to hang the swing from the ceiling. Again, the designer says to go as heavy-duty as you can.
Two thick zip ties to secure the rope in place.
A drill.
A circular saw.
Download your FREE sewing pattern & tutorial here
OUR VERY BEST PATTERNS
Looking for the best of the best kid's sewing patterns? This article is one of the TOP 20 Most Visited on the Sew Modern Kids site in the last 12 months. Here is the full list of our Top 20 most popular patterns:
Downloading this free pattern? Great! You would make our day if you 'bought us a coffee' to help with the site running costs. Thank you.