30 Dolls sewing patterns (free and paid)
|
All articles may include affiliate links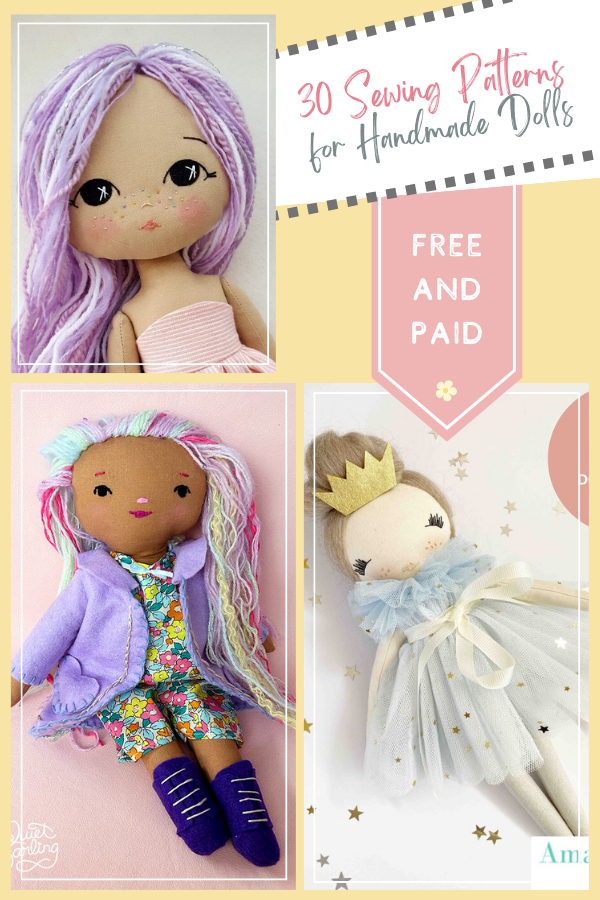 Welcome to our list of wonderful handmade doll sewing patterns. Were you lucky enough as a child to feel the joy of holding a one-of-a-kind handmade doll in your hands – a creation infused with care, artistry, and love. My grandmother made me a rag doll from fabric scraps and when I look back to childhood photos that doll is usually with me. Originally bright and colorful with a pretty dress, she changed over the years from being dragged around, becoming a little bit grubby sometimes, a little bit battered and faded, and her clothes changed from time to time as my grandmother sewed her something new to wear. It's something I will never forget.
Our latest venture celebrates this profound joy and precious memories, and we are thrilled to introduce you to our curated collection of 30 Dolls Sewing Patterns, both free and paid, in our latest Sewing for Kids round-up post.
In a world where the pace of life seems to constantly quicken, there's an unparalleled delight in the act of crafting something with your own two hands. Handmade dolls are more than just playthings; they are vessels of cherished memories, expressions of creativity, and tokens of affection that transcend time. The experience of bringing a doll to life – carefully stitching each seam, selecting fabrics that resonate with your heart, and adding personal touches that make it uniquely yours – is a journey of self-discovery and imagination.
These meticulously designed sewing patterns offer you an invitation to embark on this enchanting journey. Whether you're an experienced seamstress or a novice just discovering the joys of sewing, this collection is a treasure trove of possibilities waiting to be explored. From classic designs that evoke nostalgia to modern interpretations that reflect your contemporary flair, there's a doll pattern to suit every taste and style. You can create these dolls in the image of the recipient to make them even more special, matching skin tones, hair colors, clothes, expressions, glasses, and characteristics that make the recipient special and notable to you.
With each delicate stitch, you're not just assembling pieces of fabric; you're crafting memories that will be cherished for generations. Imagine the delight on a child's face as they embrace a doll that you've poured your heart into creating. Picture the warmth that envelops you as you gift a loved one a handmade doll, knowing that it carries a piece of your love and care.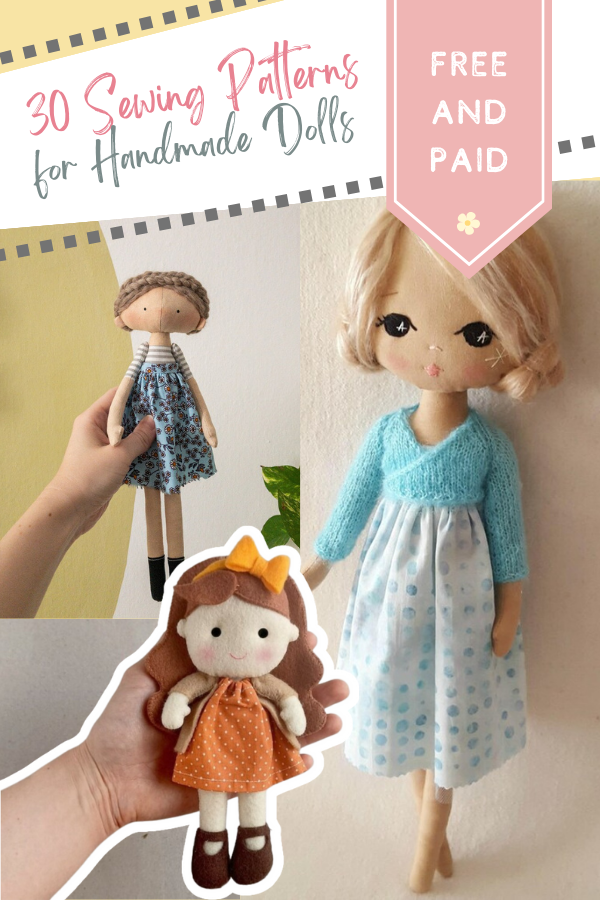 In this round-up post, you'll find:
Elegantly Crafted Patterns: Each pattern is a work of art in itself, meticulously crafted to ensure a seamless and satisfying sewing experience. The step-by-step instructions and detailed visuals will guide you through the process with ease.
Freedom to Choose: We believe that creativity knows no bounds, which is why we offer a mix of free and paid patterns. You have the flexibility to choose according to your preference, making creativity accessible to all.
So, are you ready to infuse your world with the magic of handmade dolls? Click the link below to delve into the world of doll-making wonder. Let the joy of creating, the thrill of gifting, and the art of imagination take center stage in your life.
We can't wait to see the stunning dolls that will soon grace your hands and hearts.
Dolls sewing patterns
30 list of Doll patterns (free and paid) for you to sew up and sell or give away as gifts.

Interested in learning more about how to sew dolls and dolls clothes? There are some awesome books you can read on this subject and many of them include patterns too. Check them out here.