Doll Bumper Pack sewing pattern and tutorial
|
All articles may include affiliate links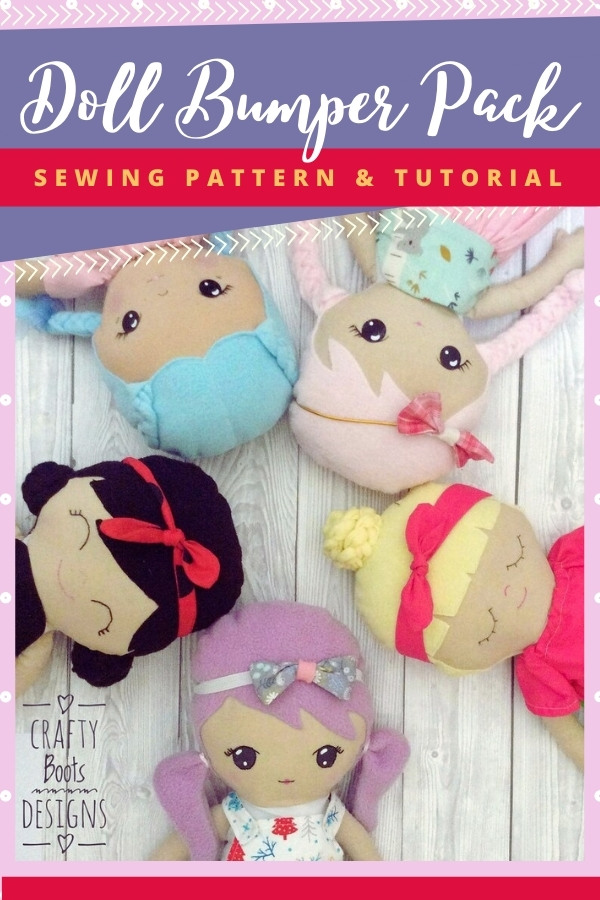 This is a bumper doll-making sewing pattern pack with all the patterns and instructions you need to make some super cute fabric dolls from the designer Crafty Boots Designs.
So what exactly is included with this basic doll pattern?
Three hairline options and instructions to make several hairstyles,
Three face design templates and two outfits,
A lovely strapless dress or a more casual romper to dress your dolls in.
You can finish them off with some of the accessories from the accessory pattern pack which includes shoes and hair bows.
For those of you who own a Cricut sewing machine, also included is an eye svg template.
This is the perfect started pack for anyone looking to get into doll making or for someone looking to extend their pattern collection. It is suitable for confident beginners! When you make one of these dolls it will measure approximately 18″.
What is needed to make one of these dolls:-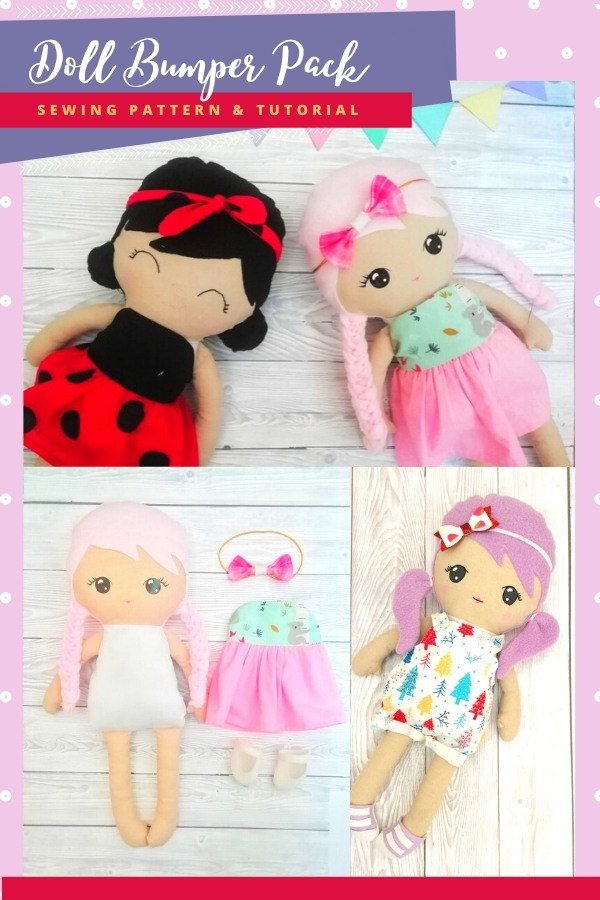 NOTE – This Doll Bumper Pack sewing pattern and tutorial is for option 1. The complete full-sized pattern and tutorial to make the doll, outfit, and accessories
When the designer created her patterns she wanted to make it easier and more affordable to build and add to your collection so she designed all her softies with the same basic body that way once you have mastered one you can make them all. She also designed them in a way that you can buy just the additional element to create different toys instead of buying a whole new pattern.
There are three purchase options and remember this Doll Bumper Pack sewing pattern and tutorial is option 1.
Option 1 – the complete package.
This option includes all the pattern pieces and tutorials to create everything in the picture so soft toy, outfit and accessories this is a good option to choose if your new to crafty boots designs and want to start your collection.
Option 2 toy pattern only.
This is a cheaper option if you want to try the pattern without spending too much money it includes the toy pattern and tutorial only (no clothes or accessories) it also allows you to buy clothes separately if you don't fancy the outfit that comes with the toy.
Option 3 additional elements only.
This option is for the additional face pieces only. This option is only for people who already own one of the Crafty Boots Designs patterns and wants the additional pieces to create another soft toy.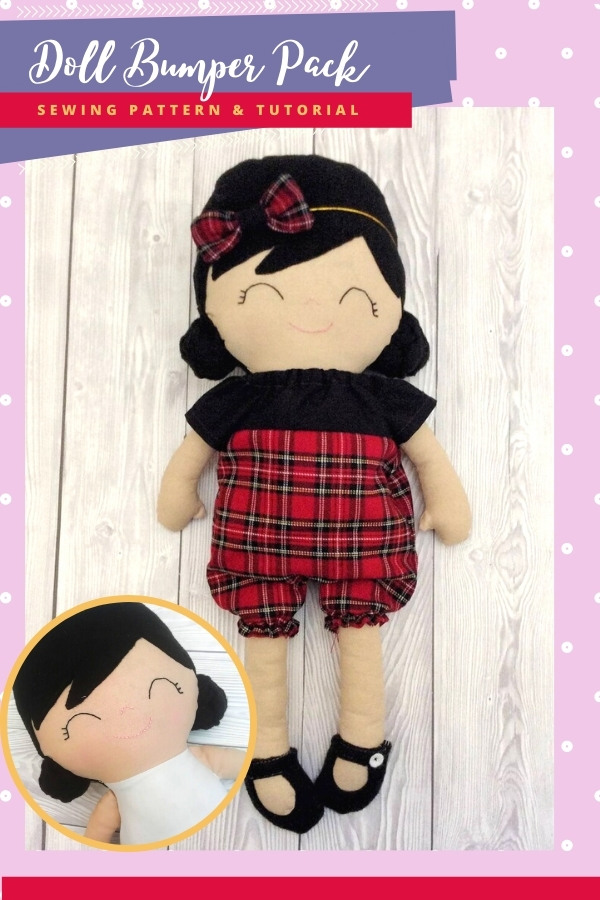 This is only a pdf pattern, it is not a finished doll. There is a step-by-step photo tutorial to help you along.
If you would like to download the pattern you can click on the blue button below.
More sewing patterns for toys on Pinterest ->
It's so much fun to sew toys and they make the perfect handmade gifts. We've saved lots of our favorite
toy sewing patterns
here to our Pinterest board. You can follow the board below, and don't forget to save some of the ideas to your own boards for later. Happy sewing.