Felt Dinosaur Softie Toy sewing pattern
|
All articles may include affiliate links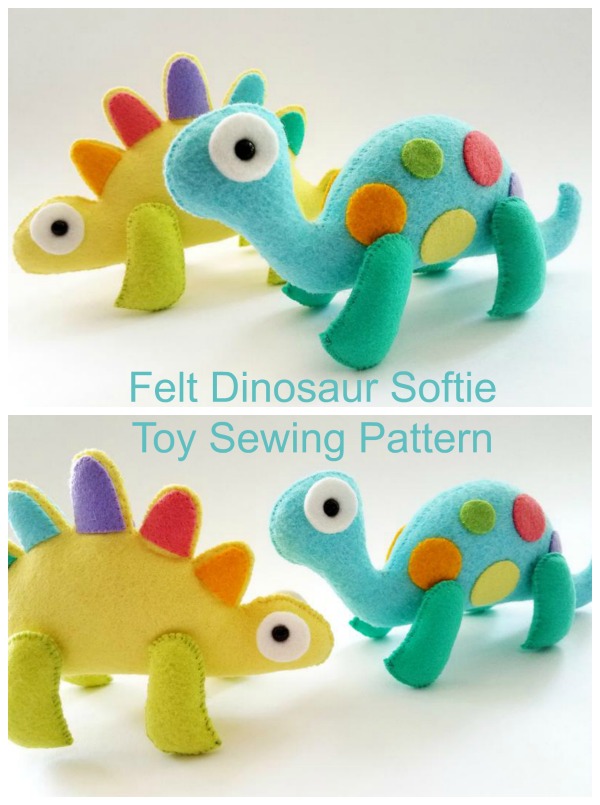 Here's a fabulous Felt Dinosaur Softie Toy digital sewing pattern which will delight any child, and make a lovely gift idea.
It's always a great feeling when you make a toy for a child because when you give it to them they are just so happy. You made something just for them, turning your love into a gift via needle and thread.
These dinosaur softie toys besides making wonderful presents are both fun and simple to make!
The basic features of these Felt Dinosaur Softie Toys are as follows:-
They are made from scraps of felt
They are stitched entirely by hand, using a whip stitch around the felt edges
The dinosaur head, body and tail are all together in one pattern
The simple leg shapes are made separately and sewn to the dinosaur bodies
The finished stegosaurus is approximately 6 1/2" across and 4" tall
The finished brontosaurus is approximately 7 1/2" across and 3.5" tall
To make the dinosaurs different sizes you can enlarge or reduce the diagrams/patterns
Safety eyes are used for the dinosaurs shown. Other options for the eyes are to make them using embroidery, paint or felt.
---
---
More sewing patterns for toys on Pinterest ->
It's so much fun to sew toys and they make the perfect handmade gifts. We've saved lots of our favorite
toy sewing patterns
here to our Pinterest board. You can follow the board below, and don't forget to save some of the ideas to your own boards for later. Happy sewing.