Squid Plush Toy Sewing Pattern
|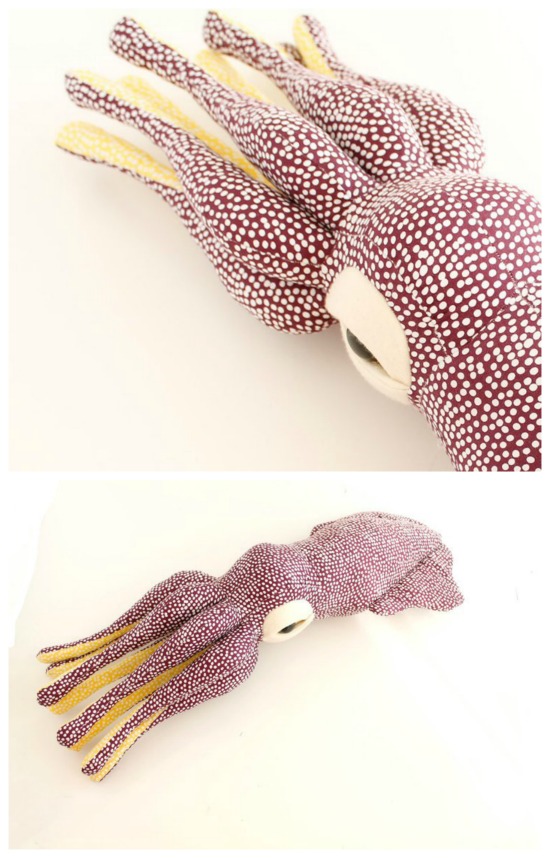 What a lovely looking toy this is. While everyone else might be sewing octopuses, be creative and sew a squid!
You can make it yourself for someone special by downloading the sewing pattern and making this awesome stuffed toy squid. Using soft fabrics of your choice, you can even make this squid using scraps for a brightly colored patchwork result. Remember that squid are famous for their color changing and bright patterns, so he'll look amazing whatever designs you use.
When finished, your squid measures approximately 63cm (25"). He's a generous size and all those legs are perfect for little hands to grab onto.
Squids are such an interesting animal. Did you know that squid are one of the cleverest invertebrates and have three hearts?
Materials needed for your squid softie
Main Fabric : 1 and 1/2 yards of cotton (a yard typically being 44" x 36")
Accent fabric for inside the arms: 1/2 yard
Accent fabric for the eye and eyelids: a fat eighth (half a fat quarter)
matching thread
polyfil toy stuffing
safety eyes or use a round piece of felt
a small piece of wadding (or batting) for the fins