Melody Memory Bear sewing pattern
|
All articles may include affiliate links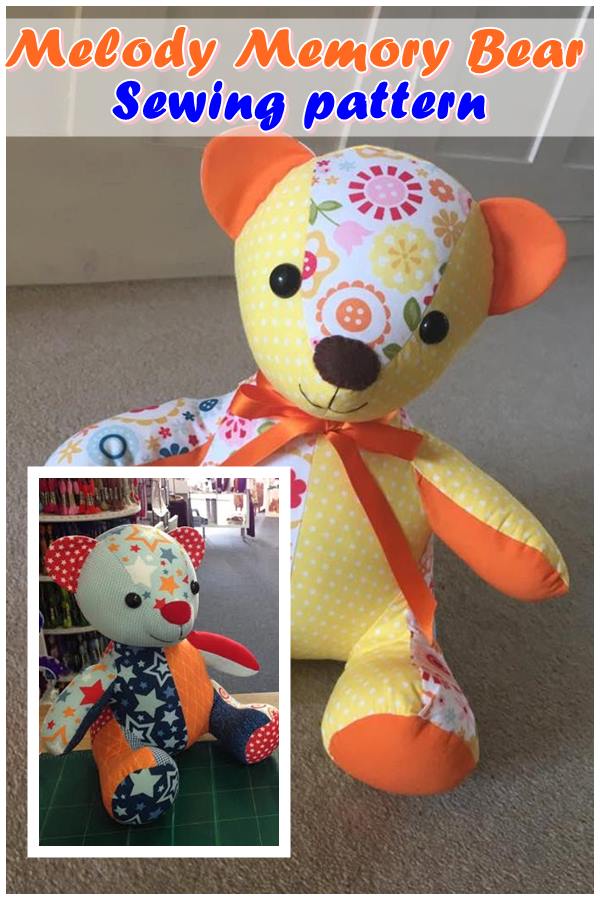 Stuffed toys are loved forever and can hold a very special place in a child's life. These are really lovely toys that your child can easily become attached to. You can often see young children talking to toys often speaking on their behalf. They're making them feel more secure. A stuffed toy for a child has a symbolic meaning, and you should love the relationship that your child has built with a toy, without trying to replace it with a "nicer" or "better" object. Besides being symbolic, stuffed toys to parents can be a kind of educational help. With the support of children's favorite stuffed toys, language and social skills can be developed. When an infant talks to a teddy bear, or other stuffed toy, it unconsciously encourages the development of their language skills. A stuffed toy represents a step in a child's independence. Stuffed toys are often important when separating from parents whether they're going to kindergarten or just stay at home with a baby-sitter.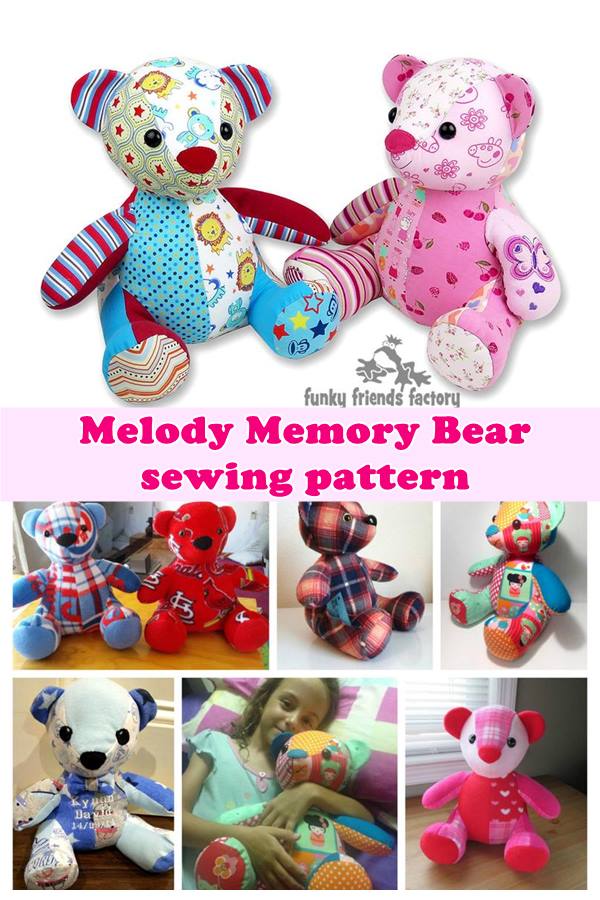 This is the Melody Memory Bear sewing pattern. You can create a patchwork bear as a special memento to cherish as a reminder of your baby's first years. The Melody Memory Bear is a simple teddy bear style with no joints. The form of the teddy bear is un-joined and the arms and legs are sewn into the parts of the body. It means that the bear is a "sitting bear" and the arms and legs are not movable, but it makes the teddy bear easy to make as there are no complex joints.
Making one of these wonderful Melody Memory Bears is also a brilliant way to turn your child's outgrown clothes into an unforgettable toy. It's a fantastic opportunity to recycle old fabrics. You can use most fabrics to knit your keepsake bears, in addition, mixing and matching different types of fabrics makes the bears look awesome. You can make this bear from the pieces of re-purposed clothes. It depends on how big your clothes are but when the designer made her bear for this pattern she used approximately 8 pieces of baby clothing.
The size of the finished Melody Memory Bear is 31cm (12inches) from sitting to the top of its head.
This simple to follow pattern includes:
Ready to print, FULL-SIZE pattern
A colour picture of the completed toy
A full list of material requirements
Layout diagram
Link to an online photo tutorial with step-by-step photos
Easy to follow instructions.
---
---
More sewing patterns for toys on Pinterest ->
It's so much fun to sew toys and they make the perfect handmade gifts. We've saved lots of our favorite
toy sewing patterns
here to our Pinterest board. You can follow the board below, and don't forget to save some of the ideas to your own boards for later. Happy sewing.