Dippy Dinosaur Soft Toy sewing pattern
|
All articles may include affiliate links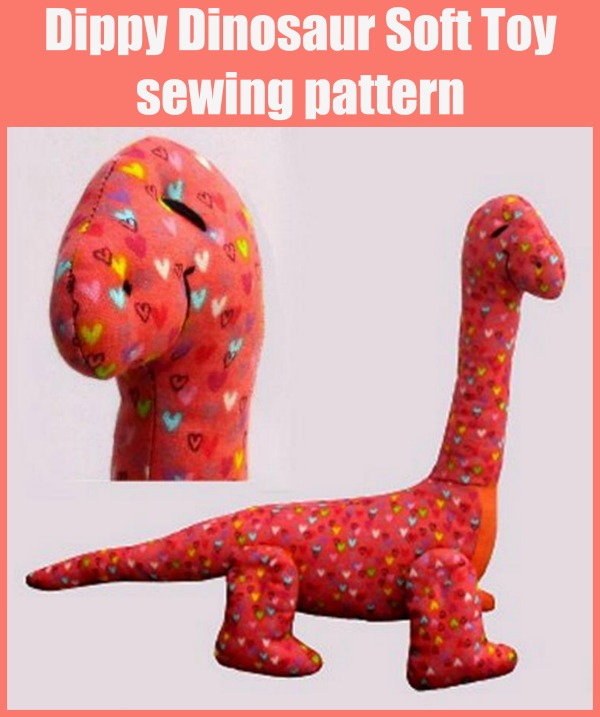 This is a very exciting sewing pattern for a Dippy Dinosaur Soft Toy. It's an easy pattern to sew and makes a cute little dinosaur – a diplodocus, the designer was reliably informed.
When you have finished making your very own Dippy Dinosaur Soft Toy she will stand 10 inches (25 cm) tall and the same in length.
Diplodocus is a genus of diplodocid sauropod dinosaurs whose fossils were first discovered in 1877 by S. W. Williston. Diplodocus dinosaurs walked the earth around145 million years ago.
The designer, Angela Jardine of pcBangles, says her pattern has step by step, easy to follow instructions with lots of reference photos and illustrations. This is the digital version for immediate download in pdf format, while a printed version is also available.
Angela used a patterned cotton quarter to make her dino, but if you wish you can make yours in a short pile plush or fur for a softer hug and is very easy to sew in felts. Angela hopes you'll enjoy making a whole herd of these little characters.
---
---
More sewing patterns for toys on Pinterest ->
It's so much fun to sew toys and they make the perfect handmade gifts. We've saved lots of our favorite
toy sewing patterns
here to our Pinterest board. You can follow the board below, and don't forget to save some of the ideas to your own boards for later. Happy sewing.