FREE plush rattle sewing pattern in 3 designs
|
All articles may include affiliate links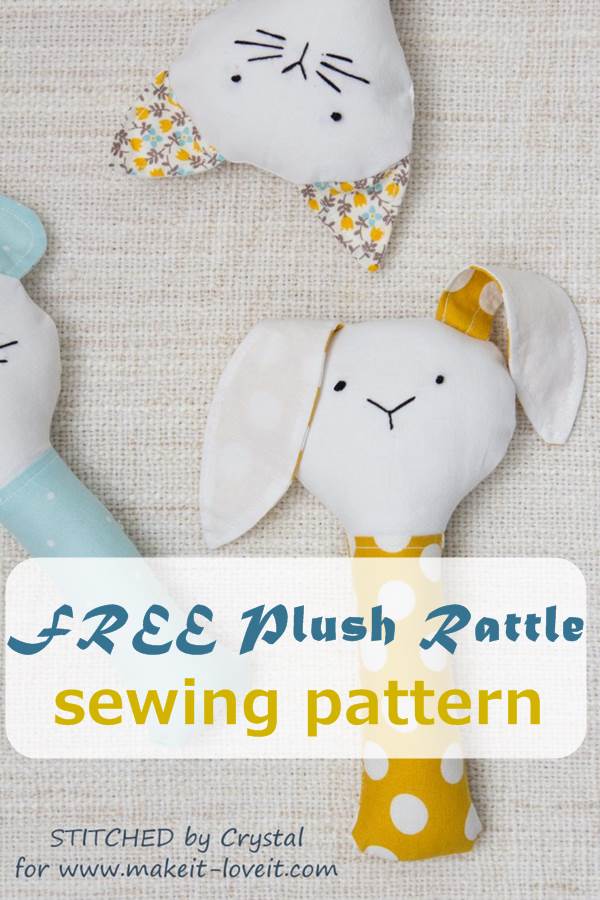 Baby rattles are colorful, fun, and safe toys that have been loved for generations. Rattles have been used for this purpose since antiquity. The history of baby rattles goes back at least 2500 years. Rattles are made from wood, plastic, or fabric. Many rattles are brightly colored, have animal or flower shapes, and when shaken typically make a sound. Baby rattles are made specifically for the enjoyment of an infant, and child development experts believe that they help the infant enhance hand-eye coordination by stimulating their senses.
Modern rattles come in all sorts of shapes, but their objective is the same: entertain curious tots. Between 3 and 4 months, most infants can hold a rattle placed in their hands. They will soon discover that they were the one that made that noise when they waved that rattle!
The designer of these cute rattles has provided the pattern and tutorial for free. And this FREE plush rattle sewing pattern comes in 3 designs – a bunny, a mouse, and a cat. You can choose which one to make for your little one, or you can simply make all three of them. With three rattles included in this awesome pattern, your baby will never run out of ways to have fun. 🙂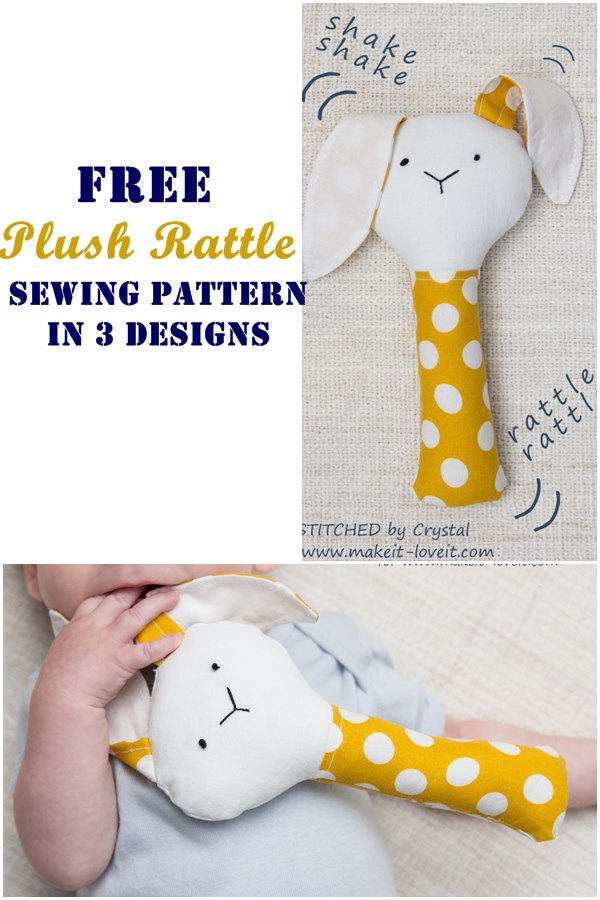 The FREE plush rattle sewing pattern is a great project for beginners. It's an easy and quick project to sew for babies and it can also be a great shower gift because you can never have too many of them!
The ears on the rattles are great for chewing on, and they make fun sounds when you shake them, so there is no doubt that your little baby will love them.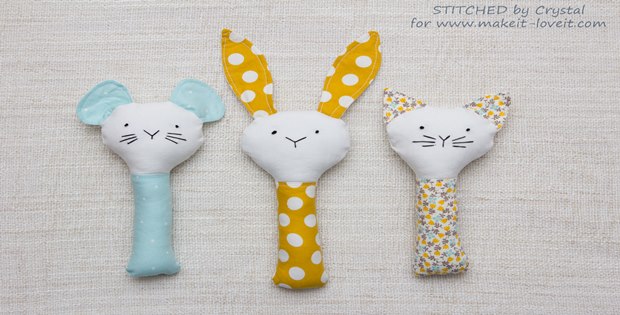 Another great thing about this sewing project for baby is you don't need much fabric. Use fabric leftovers or even combine different fabrics, the more colors you use, the more interesting it will be for your baby. Just keep in mind that the best fabric to use when you make these rattles is a natural organic fabric, to keep your baby safe from irritations.
To make these sweet little rattles you will need:
Scrap fabrics,
Poly-fil,
Embroidery needle and thread,
A small bell or plastic rattle insert (you can buy those online),
Download your FREE sewing pattern here
Downloading this free pattern? Great! You would make our day if you 'bought us a coffee' to help with the site running costs. Thank you.