Cute Onesie Dress sewing pattern (birth-24mths)
|
All articles may include affiliate links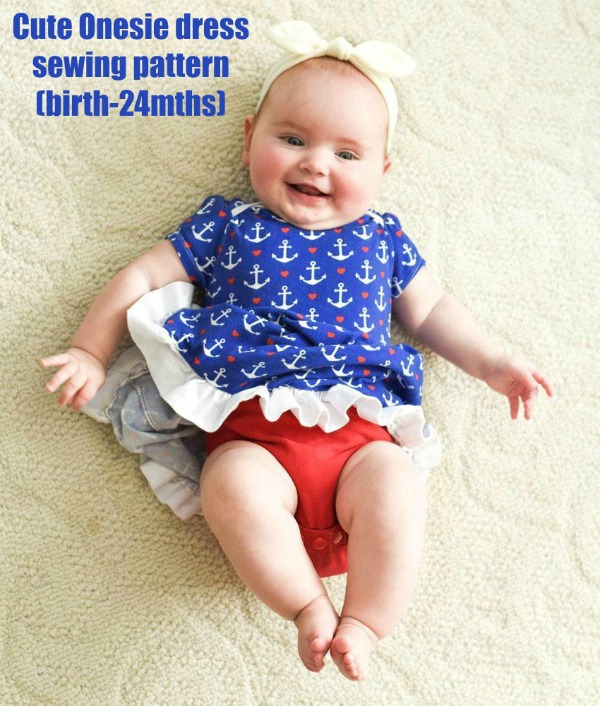 SORRY, EVERYONE, THIS PATTERN IS NO LONGER AVAILABLE. WE HATE IT WHEN THAT HAPPENS, BUT THINGS THAT HAPPEN ON OTHER WEBSITES ARE OUTSIDE OF OUR CONTROL.
Here's a fabulous and very popular Onesie Dress Pattern where the designer has given you multiple options for a perfect fit each time. It's a great project for an adventurous beginner and with all those features you can make a lot of different looking Onesie Dresses.
Design features include:
'Envelope Style' shoulders for easy on and off,
Two lengths – top and dress,
Three sleeve options – none, short and long,
Two sleeve styles – regular or sleeveless,
Two fits – regular diaper or cloth diaper,
Bottom snap or Velcro design for easy diaper changes,
Optional ruffle for dress length or tunic length.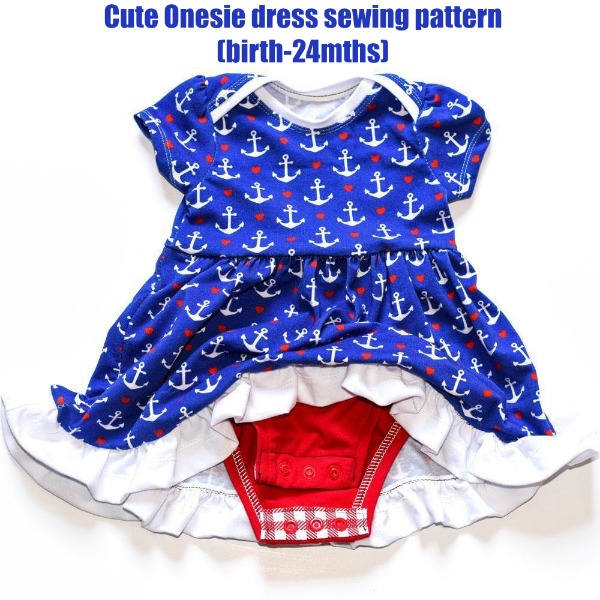 This Cute Onesie pattern comes in seven baby sizes as follows – newborn, 3 months, 6 months, 9 months, 12 months, 18 months and 24 months. The designer has included a detailed sizing chart in the listing photos.
What you will need to make a Onesie Dress:
1/2 to 2/3 of a yard of the main fabric,
1/4 of a yard of skirt fabric top,
1/4 to 3/8 of a yard of skirt fabric dress,
1/4 to 3/8 of a yard of skirt fabric ruffle dress,
1/8 to 1/4 of a yard of optional ruffle fabric,
3 snap sets or 2″ of 3/4 inch Velcro,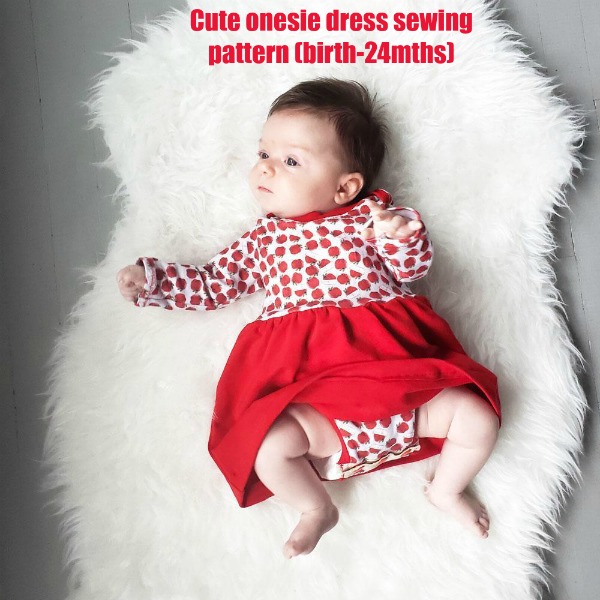 For your Onesie Dress you should use knit fabric. It should be 58-60″ wide with at least 2 way 60% stretch for the main fabric and 4 way 50% stretch and good recovery for bands.
The designer recommends you use cotton jersey, cotton interlock or cotton lycra. Ribbing or cotton lycra are perfect for bands. If you use a higher percentage of stretch, the fit will seem looser, and you might decide to size down for less ease. Regular single brushed polyester and double brushed polyester are not recommended for this pattern because this fabric is not very breathable and may be too hot for young babies.
The designer recommends for the most accurate sizing of your baby, you should go by their chest and height measurements.
If you would like to add this pattern to your collection then you can click on the link below.
Click here to see alternative dress patterns
More girls dress sewing patterns here -->
We think sewing a pretty dress for a pretty girl is one of the most rewarding sewing projects. There are so many gorgeous dresses you can sew and we like to save all of our favorites to our
girls dress sewing patterns
Pinterest board. Follow the board here, and don't forget to pin and save your favorites to your own boards for later. Happy sewing.