FREE Long Sleeve T-shirt with Envelope Neck sewing pattern (Newborn to 2T)
|
All articles may include affiliate links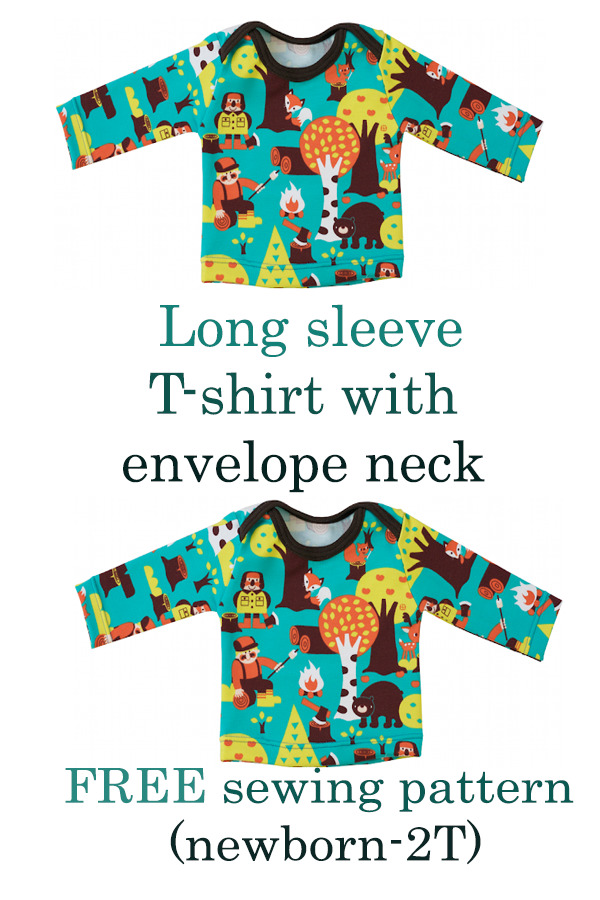 This FREE sewing pattern is all you need to create a long sleeve t-shirt for your baby! It's absolutely perfect for everyday use. In one of these t-shirts, your baby will be super comfy and therefore super happy. All you need is some material and you're ready to go!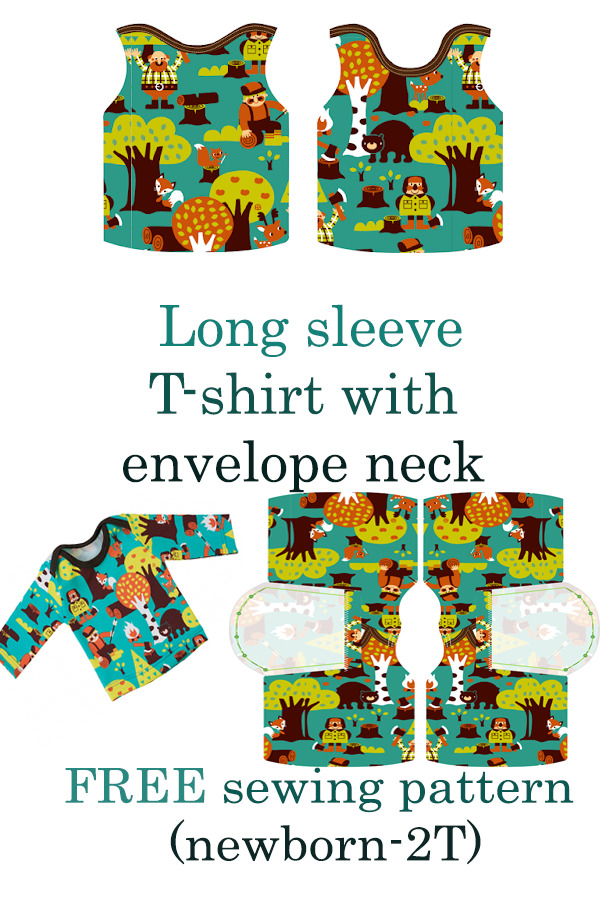 This sewing pattern comes in sizes from newborn baby to a 2-year-old toddler. Depending on which size of the pattern you choose you will need the following material:
Knit fabric (long sleeve)
100 cm by 30 cm (40 inch by 12 inch) – (size newborn)
100 cm by 35 cm (40 inch by 14 inch) – (size 3 months)
110 cm by 40 cm (44 inch by 16 inch) – (size 6 months)
130 cm by 45 cm (52 inch by 18 inch) – (size 9 months)
140 cm by 45 cm (55 inch by 18 inch) – (size 12 months)
150 cm by 50 cm (60 inch by 20 inch) – (size 18 months)
150 cm by 60 cm (60 inch by 24 inch) – (size 2T).
Jersey / Interlock / ribbing (neckband)
4.5 cm by 70 cm – 1.8 inch by 28 inch (newborn – 9 months)
4.5 cm by 80 cm – 1.8 inch by 32 inch (12 months – 2T).
The fact that this is an envelope t-shirt, makes it very easy to dress and undress. That's a great feature in one's baby wardrobe, according to every parent out there. The creator of this pattern chose a fabric with a forest theme, some trees, a fox, and a squirrel, accompanied by a logger. It's a very cute theme, but as always, you are more than welcome to choose your own color, print, or text. I am sure that when it's made with love, it will certainly be worn with lots and lots of love.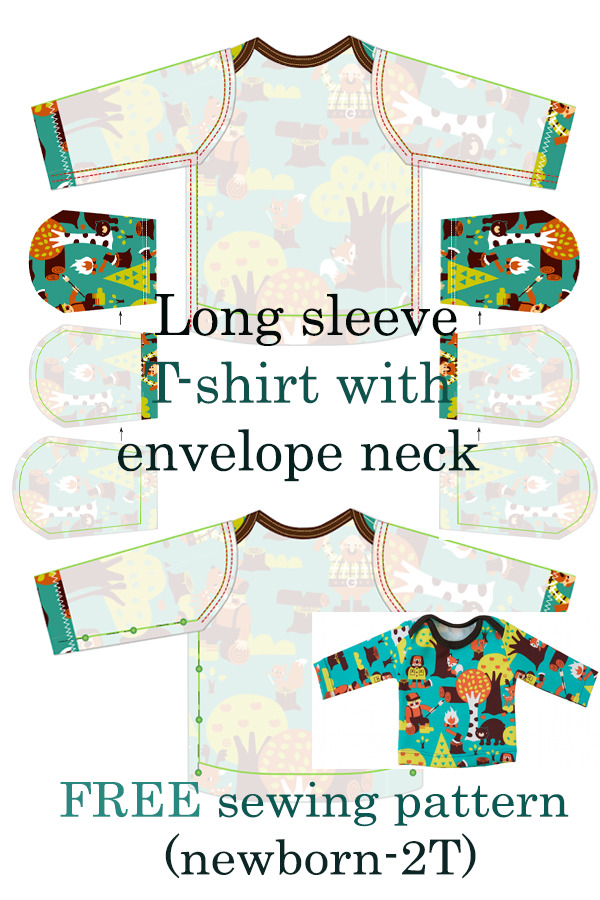 When you are ready you can click on the link below to download the free digital pattern. Enjoy your time creating this lovely envelope neck long sleeve t-shirt and as always – have fun sewing!
Click here to get the FREE pattern
Downloading this free pattern? Great! You would make our day if you 'bought us a coffee' to help with the site running costs. Thank you.

Even more free kids sewing patterns here -->
If this isn't quite what you are looking for but you really want a free pattern, then do take a scroll through our
Free Kids Sewing Patterns Pinterest board.
Pin and save all of your favorite sewing patterns to your own boards to make them easy to find later. Don't forget to pin this pattern too.