Leather Baby Shoes FREE sewing pattern (with video)
|
All articles may include affiliate links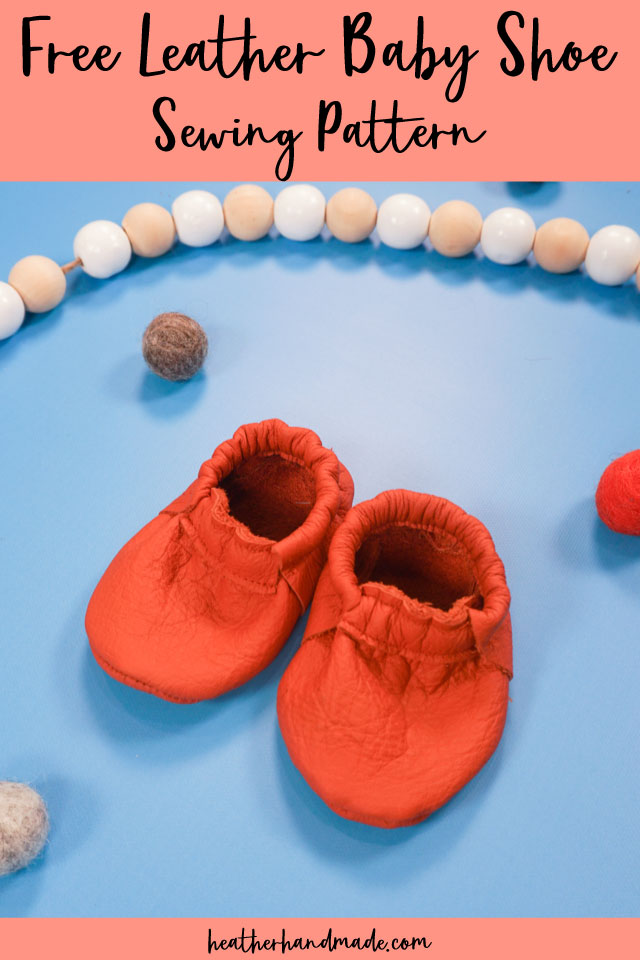 As parents, we always want to provide the best for our little ones. From food to clothing, we want them to have the best quality possible. That's why making handmade leather baby shoes is a great option. Not only do they look adorable, but they're also comfortable, durable, and easy to clean. Luckily, we have found you the perfect sewing pattern – the FREE Leather Baby Shoes Pattern by Heather Handmade.
The designer started making leather baby shoes for her kids about ten years ago. She tried lots of different patterns and styles for all her babies, and she tested them to find the perfect leather baby shoe pattern. She put it all together to create the best leather baby shoe pattern!
Leather Baby Shoes are the deigner's favorite gift to make for baby showers or baby gifts. She can sew a pair in about thirty minutes!
The designer's favorite fabric to use for leather baby shoes is real leather that is about 3 to 4 oz. per square feet or a 1.2-1.6 mm thickness. This is a medium to lightweight leather that is still strong and sturdy, easy to sew with a sewing machine, but it's still soft enough for baby feet to be comfortable.
She has also used faux leather fabric that was a similar weight and thickness as leather. It's just as easy to sew, it's easy to find, and it's strong and sturdy. The only thing she doesn't like about using faux leather is that it's a little less breathable for your baby feet.
The designer has various tips for working with leather, as follows:-
Leather is easy to draw pattern pieces on, and it's easy to cut with scissors. Leather cannot be pinned with pins so you must use clips to hold pieces together.
You need a thicker sewing machine needle like a 100/16 or a leather sewing machine needle. Sewing on leather creates holes that will never go away even if you seam rip to fix a mistake.
If the leather has a hard time moving through the sewing machine under the foot, then put a piece of scotch tape on each side of the foot (sticky side up onto the bottom of the foot) to create a more slippery surface for the leather to move under.
The pattern comes in three different sizes: Newborn, 3 months and 6 months.
Besides being able to follow through the designers written tutorial she has also made a 15-minute video tutorial on her YouTube channel that you can watch below.
What you will need to make a pair of Leather Baby Shoes:
A fat eighth of leather of faux leather,
10″ of ¼" elastic,
Marking tool like a pen or a pencil,
Scissors,
Clips,
The pattern has clear instructions and pictures, which makes it easy to follow even if you're a beginner. You'll start by cutting out the leather and fabric pieces, marking the seam allowances, and sewing the fabric lining to the leather. Then you'll sew the elastic to the back of the shoe, turn it right side out, and sew the front and back pieces together.
In conclusion, making leather baby shoes is a fun and rewarding project. Your little one will look stylish and be comfortable at the same time. With the Free Leather Baby Shoes Pattern by Heather Handmade, you'll have a great guide to follow. So why not try it out and see how cute your baby looks in their new shoes? Happy sewing!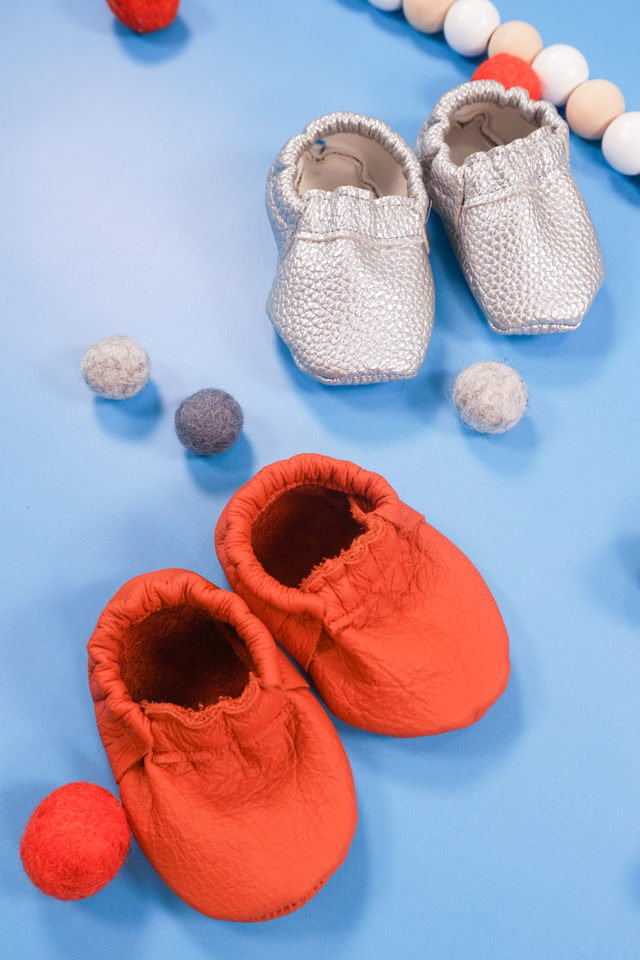 If you would like to download the FREE pattern and follow through the step-by-step written tutorial on the blog you can click on the purple button below. The designer also provides an optional paid download which includes a printable version of the tutorial – but this totally optional.
Click here for the FREE sewing pattern
Downloading this free pattern? Great! You would make our day if you 'bought us a coffee' to help with the site running costs. Thank you.