Opossum Stuffed Animal sewing pattern
|
All articles may include affiliate links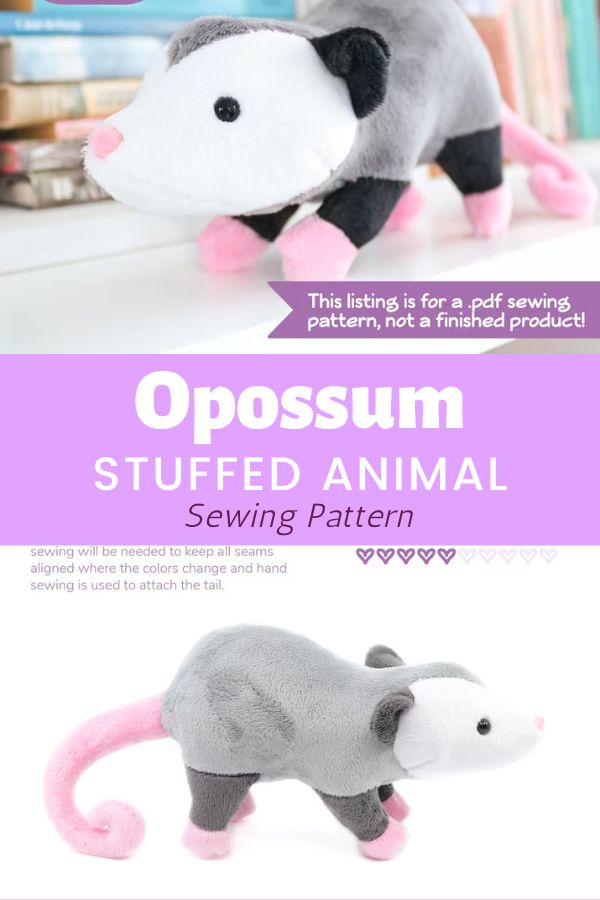 This is an Opossum Stuffed Animal pdf sewing pattern from the designer BeeZeeArt.
This is a fun and unique sewing project that will delight your little ones. If you've ever wanted to snuggle your own Opossum then now is your chance! This pdf pattern provides everything you need to create your very own cuddly trash loving Opossum Plushie.
The finished Opossum measures approximately 9″ long (not including the tail) by 5″ tall by 3.5″ wide making it the perfect size for little hands to hold and play with. The pattern includes a variety of details to give your opossum a realistic and adorable look, including a pointy nose, cute little ears, and a curly tail. The finished plushie can provide comfort and companionship to your child.
The designer rates her sewing project as a solidly intermediate (5/10) pattern. She points out that there are two areas with extreme opposing curves that may be difficult to those unfamiliar with the techniques used. Careful sewing will be needed to keep all seams aligned where the colors change and hand sewing is used to attach the tail.
One of the great things about this pattern is its versatility. You can choose your own fabrics to give your opossum a unique look that suits your personal style. You can also experiment with different colors and textures to create a collection of opossums with their own personalities.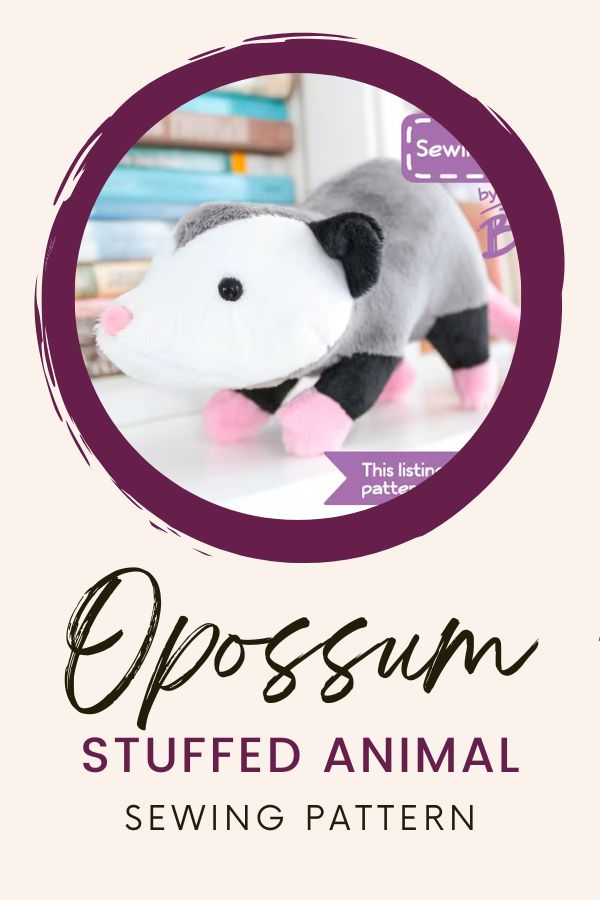 Video tutorial:
There's also a free 28-minute video tutorial on the designers YouTube channel showing you how to make this fabulous toy that you can watch below.
The designer kindly points out that you do not need to purchase the pattern to view the video tutorial so if you are worried this project may not be suitable for you, you can watch the tutorial for an idea of what will be involved.
What's needed to make the Opossum Stuffed Animal:-
Grey Minky (12″ by 10″),
White Minky (7″ by 7″),
Black Minky (8″ by 9″),
Pink Minky (9″ by 8″),
One pair of 9mm sfety eyes,
One 12mm safety nose,
Matching thread,
Stuffing,
And optionally a sewing machine.
In conclusion, this Stuffed Animal Opossum pdf sewing pattern is an excellent choice for anyone who loves to sew and wants to create a unique and adorable plushie for their child or loved one. With its detailed instructions and fun design this pattern is sure to provide hours of fun and creativity. So why not download the pattern today and start sewing your own little Opossum friend?
Your pdf download will include the Opossum pattern itself, printing instructions, suggested cutting layouts, two pages of sewing tips, and a step-by-step written tutorial along with accompanying full color photographs to help you complete your project. All instructions etc are in English.
If you would like to download the pdf pattern you can click on the blue button below. This is not a finished product, a kit, or a printed pattern.