I Spy Bag sewing pattern (with video)
|
All articles may include affiliate links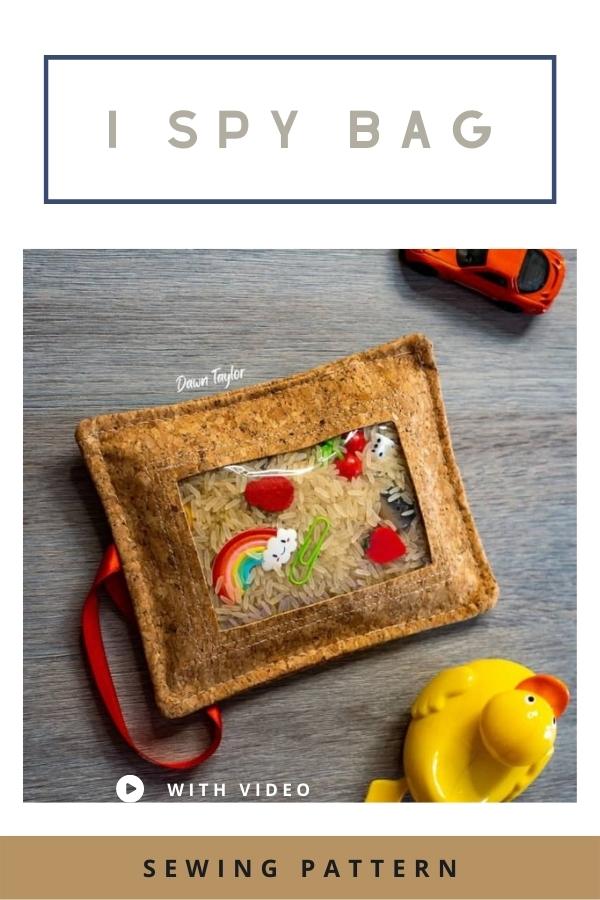 The I Spy Bag is a super fun fidget toy that both kids and adults will like. The designer hasn't met anyone yet who doesn't love playing with it! It's especially great for anyone with extra needs or for use as a calming down tool. You can choose which trinkets you'd like to include inside for people to find – from buttons to letters!
It's a great toy to take on a car trip, or use in a restaurant or even at church.
Skill level:
Confident beginner – there is a clear vinyl window that you may not be used to but the designer has added lots of tips to help you along the way.
Video tutorial:
As well as full written instructions that you can print out and sew along too, there is a full video step-by-step tutorial on the designers' YouTube channel. You can watch the free video tutorial to see how it's made before purchasing or to sew along too by clicking on the play button below.
You should check out the four (A, B, C, and D) different sewing options as all are included in the pattern instructions.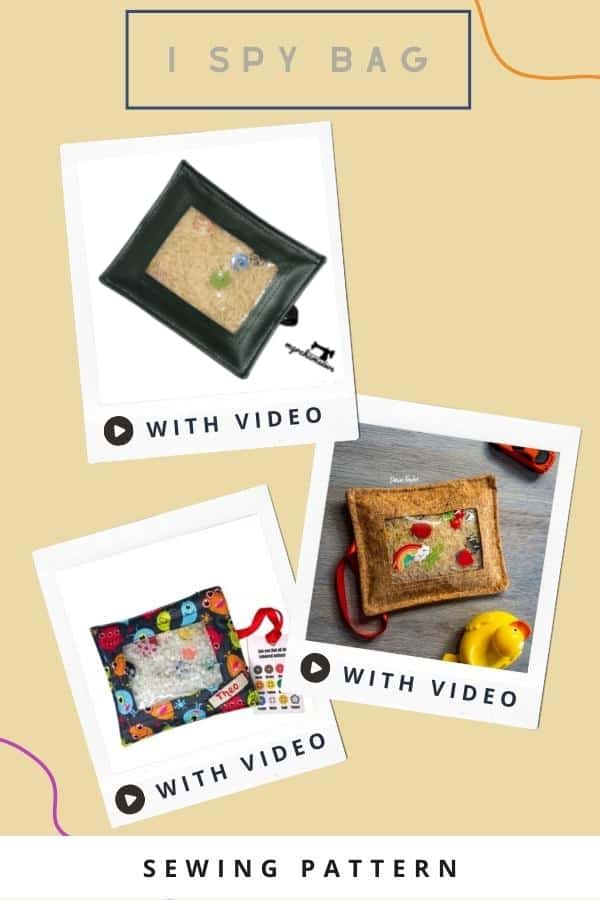 Materials list:
Vinyl (table protectors are great if you are struggling to source clear vinyl) that measures 5″ (13 cm) by 6″ (15 cm),
Options A and C: Vinyl or PUL at least 13″ (35 cm) by 15″ (40 cm),
Options B and D: Quilting Cotton grade fabric at least 13″ (35 cm) by 15″ (40 cm),
3⁄4-1 cup of small plastic pellets or rice (Teddy bear pellets are best),
Small trinkets of your choice – or follow the supplied button colors on the card. (see pictures on page 17),
Thread to match the outer fabric,
Ribbon measuring 10″ (26 cm) by 0.39″ (1 cm) wide,
3/16″ (5 mm) Double-sided tape,
(Optional): Small piece of white cotton fabric,
(Optional): Small piece of 'bondaweb'/ fusible webbing,
(Optional): Fabric paint.
What's included:
Printable PDF Patterns for US Letter and A4 size.
Full step-by-step written instructions with photos.
Full video tutorial for you to sew along with or if you get stuck, on Youtube.
You will also receive SVG files for a cutting machine (totally optional) as well as a projector file if you prefer these cutting methods.
The sewing patterns have full seam allowance included.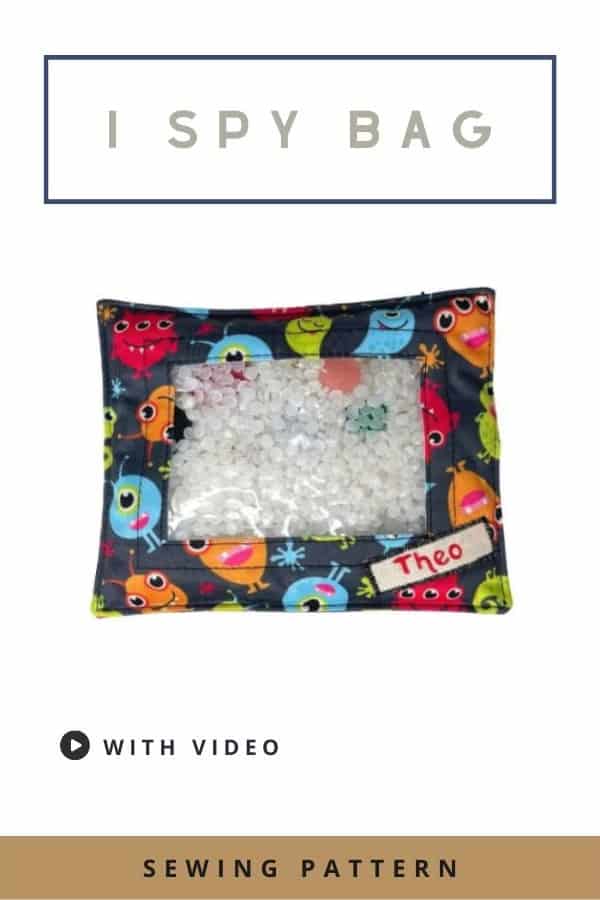 If you would like to download the pattern you can click on the blue button below.
And if you would like to see other bag sewing patterns from this designer then you can click on the red button below.
See all the patterns from this designer here
More sewing patterns for toys on Pinterest ->
It's so much fun to sew toys and they make the perfect handmade gifts. We've saved lots of our favorite
toy sewing patterns
here to our Pinterest board. You can follow the board below, and don't forget to save some of the ideas to your own boards for later. Happy sewing.