All articles may include affiliate links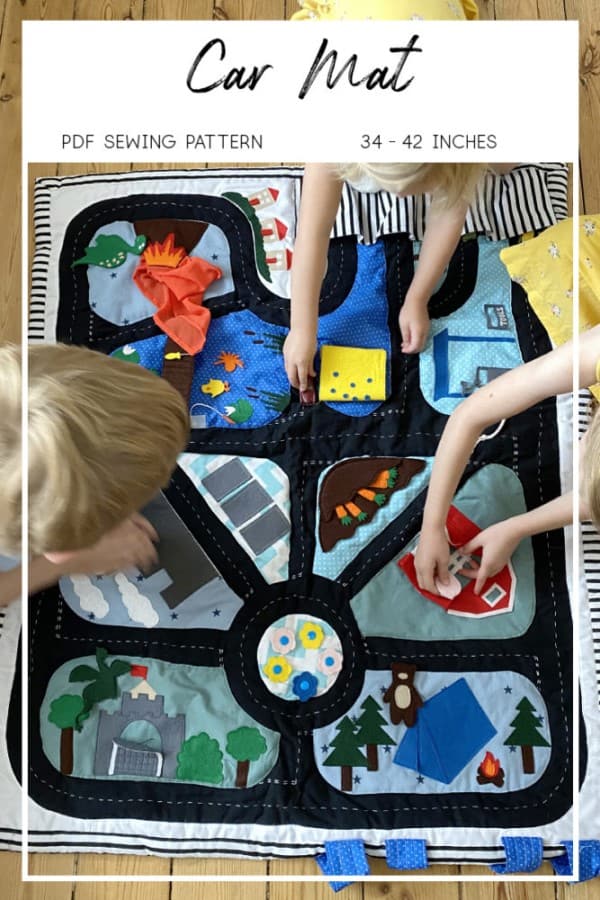 This is the Car Mat pdf sewing pattern from the designer Rebecca Page.
Here's your chance to sew a simple play mat or an intricate labor of love for hours of interactive play. This car mat sewing pattern features roads, blocks to decorate with loads of optional interactive pieces, a pop-up carpark, and convenient carry handles.
Options:-
Optional straps and carry handle.
Optional interactive, quiet book type blocks:
Gas station with pump and tool box,
Mailbox with flag and envelopes,
Drive through car wash with curtain,
Volcano with lava and a dinosaur,
Lake with fish, frogs, lily pads, reeds, octopus, and a bridge,
City with buildings and clouds,
Parking lot,
Farm with soil and carrots,
Barn with a pig, sheep, and chicken,
Castle with a drawbridge, tower, trees, and a dragon,
Roundabout with flowers,
Campsite with tent, trees, campfire, and a bear,
Houses.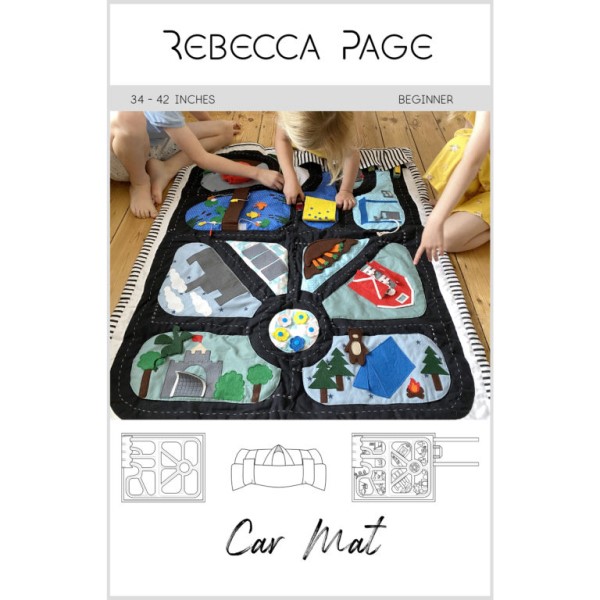 Features:-
Beginner friendly,
Packed with pro tips and expert advice,
Includes full size, print-at-home pattern pieces,
Includes step-by-step tutorial with photos,
Instant-download digital sewing pattern.
The Car Mat when finished is approximately 42″ long by 34″ wide.
What's needed to make a Car Mat:-
Fabric – Main fabric and lining – You will need any medium weight woven (non-stretch) fabric such as quilting cotton, cotton, or poly cotton.
Optional Quiet Book fabrics – You will need a non-fraying fabric such as felt for the decorations on each block (e.g. the volcano, the dinosaur, the frog etc.). If you are adding the optional lava to the volcano you will need a lightweight fabric such as chiffon or georgette that will be the Fabric Lava inside the volcano.
Thread – various colors to match.
Approximately 1 ½ yards of thin and stable batting.
Optional 1 yard of fusible webbing or iron-on adhesive, or fabric glue.
Optional 1 yard of medium or light-weight fusible interfacing.
Optional ¼ yard of iron-on interfacing or pre-made webbing straps/ handles.
Optional 5 by ½ inch wide press studs / buttons for the roundabout flowers.
Optional 1 yard of hook and loop tape (Velcro).
Optional trims for deocrating – embroidery floss, fabric paints, buttons, ribbons etc.
A sewing machine, but it is possible to hand sew this pattern.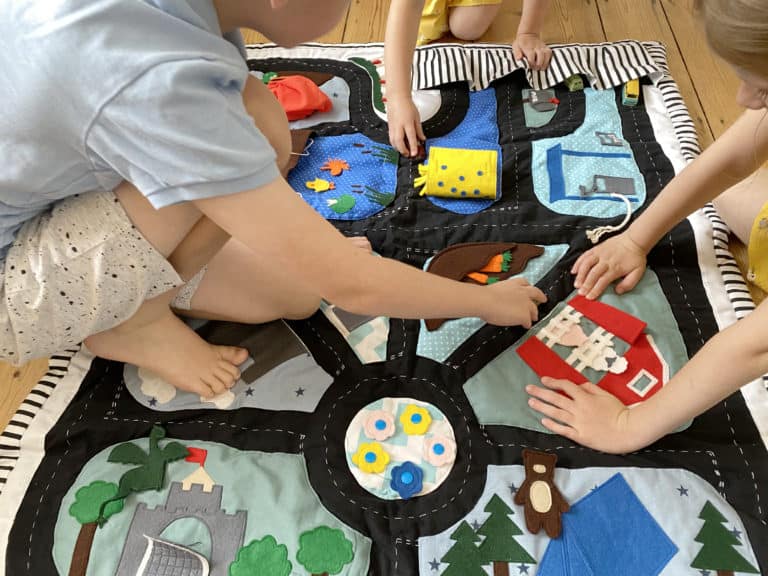 If you would like to download the pdf pattern you can click on the blue button below.