Stable Mates Unicorn, Horse & Donkey sewing pattern
|
All articles may include affiliate links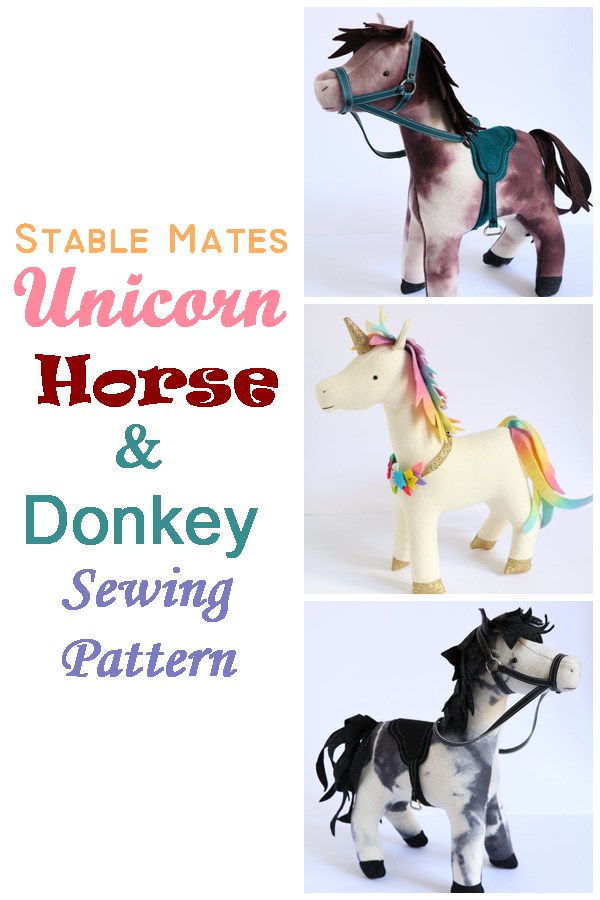 Looking for some awesome toys for your little ones? In this article, we've found you a pattern that will give you the chance to make not just one such toy, but three instead: a toy horse, donkey or unicorn. This pattern will take you through what is needed to construct a friendly horse, a steadfast donkey or a magical unicorn.
Unicorns are likely to be, or are already, at the forefront of the imagination of little girl's mind. Now rather than just imagining what it would be like to play with unicorns, girls are now given the chance to do that with this toy that you can make from this awesome pattern. One of the biggest benefits of encouraging girls to play with these unicorn toys is that it stimulates their creativity, indeed it helps their imagination to develop. The more girls can stimulate their creative side, the more they are able to develop. These toys can really help to improve their creative thinking.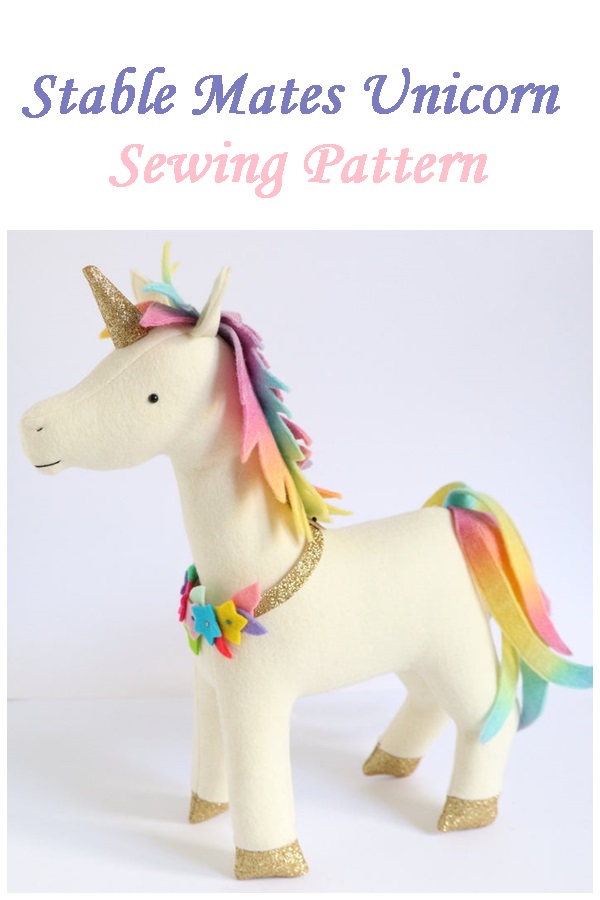 Everyone loves horses and donkeys and there's no doubt your boy or girl will love to have one or both of these stuffed little friends! These lovely friends, made from this pattern, all stand 12-inches high.
With diagrams to help, this pattern makes up beautifully in wool felt. Of course, no stable is complete without some tack. The pattern also includes the bridle, saddle and a cute horse rug to keep your friends happy.
You can use various felts to make a custom horse yourself. By choosing different colors and details, this will help to develop your imagination too. The pattern also includes a blaze or star for the forehead of your horse but you can easily modify the markings according to the wishes of yourself or your little one.
Such kinds of toys are a great gift to any child, whether as a Christmas or as a birthday present. Both parents and children can have fun with these toys and experience quality bonding time.
With the lovely, detailed design, a horse, unicorn or donkey, could easily become your kid's favourite little companion from one adventure to the next and it will be cherished for many years to come.
Pick this very talented designers pattern and make an adorable stuffed toy, and surprise your baby with a new cuddly companion!
You can add this pattern to your collection by clicking on the link below. This pdf pattern comes highly recommended. The great designer continues to receive 5-star reviews like the following ones:
Maria said – I have bought three patterns from this store, and all easy to read instructions, I will buy more from this store.

Sarah and Rachel said – I made this little girl for my mother for Christmas out of her old wool Hockaday blazers that she had saved since she graduated in '72. Their mascot is a UNICORN! She absolutely loved it! Thanks for such a great little pattern.

And Pamela Patterson said – Like all Jodie's patterns–perfect! Easy to follow and a classic result that looks like an heirloom.
---
---
More sewing patterns for toys on Pinterest ->
It's so much fun to sew toys and they make the perfect handmade gifts. We've saved lots of our favorite
toy sewing patterns
here to our Pinterest board. You can follow the board below, and don't forget to save some of the ideas to your own boards for later. Happy sewing.