Wonder Woman Costume FREE sewing tutorial
|
All articles may include affiliate links
What makes a little girl a superhero? We're sure that it all comes down to the little everyday things that she does. Like helping to set the table for dinner, helping around the house, taking care of her toys and teaching and guiding her younger brother.
If you have a little super girl in your life then it is time to make something special for her! It's time to make her this Wonder Woman costume that represents just how wonderful she is! This wonder woman costume for kids is cute and easy to sew. Your girl is going to feel like a real superhero while wearing it! It features a skirt, cape, armbands, and headband. This costume is fantastic, or should we say Wonder-Full!
We'd like to say a huge thank you to the designer, Crazy Little Projects, for providing us all with this FREE tutorial on how to make a Wonder Woman costume.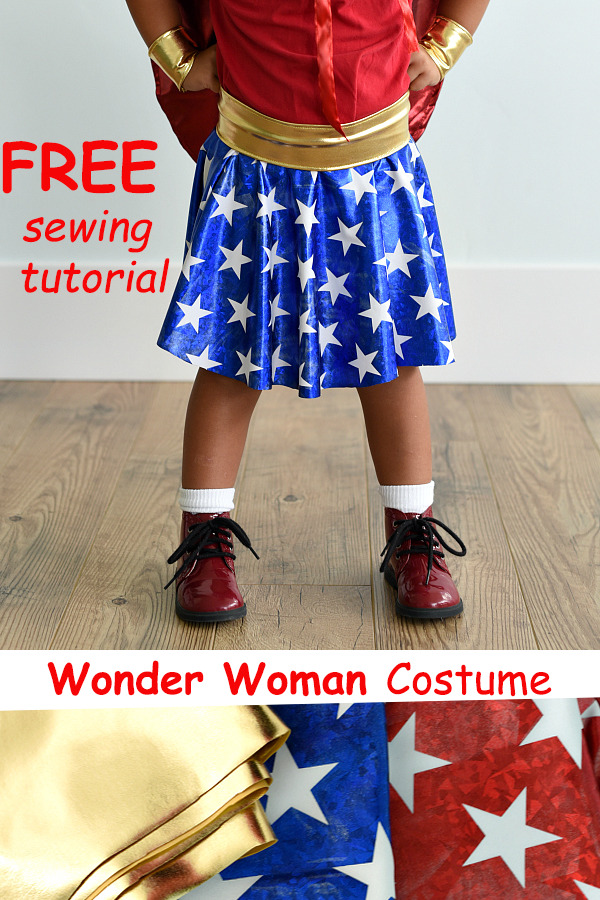 This Wonder Woman costume is perfect for the next Halloween party, or it's simply great for any little girl who wants to dress up as Wonder Woman. She will look so cute wearing it, she might want to wear it every day!
First of all, you will need to do a little math to make the measurements depending on the age of the child you are making this for. The creator of this pattern has made it for a 3-year-old as an example, but you will need to measure your little superhero and adjust the measurements accordingly.
What you need to measure:-
Around her waist where you want her skirt to sit,
The length from her waist to her knees for the skirt length,
Around her head where you want the tiara,
The back of her neck to just past her waist for the cape length,
Around her wrists.
Supplies that you will need:-
Blue with white stars fabric for the skirt. You will need to think about the length you want it and the waist size of your girl. For a 3-year-old the designer used a 1/2 yard,
Red with white stars fabric for the cape. You will want to know the length you are making it and then figure your width. For a 3-year-old, the designer used about 1/2 yard,
Red fabric for the underside of the cape. Use the same amount as the red and white stars fabric above,
Gold fabric for the belt and the armbands and the tiara. The designer of the pattern used a little less than 1/2 yard,
Elastic,
Red ribbon-at least 1 inch wide. This is for the neck of the cape,
Red glitter heat transfer vinyl or Heat n Bond and a small bit of red metallic fabric above,
Wonder Woman tiara pattern piece.
The designer chose to use metallic style fabrics which we think look really fabulous.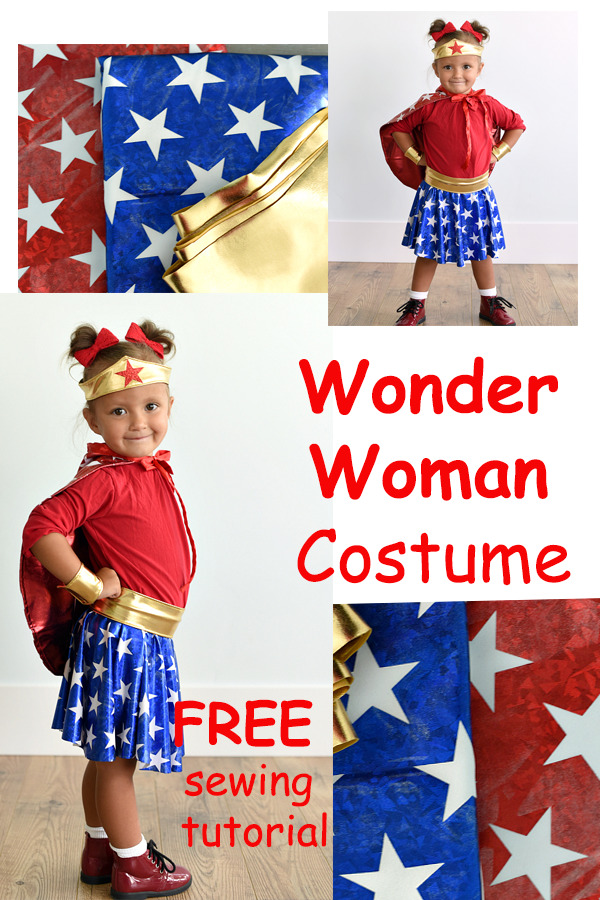 Now your little girl will be ready to conquer the world! You just need to click on the button below to get the FREE tutorial and you can start making your own wonder and make this Wonder-Full superhero costume.
Make your little girl happy and a proud little superhero! Start making one today!
Click here to get the FREE pattern
Downloading this free pattern? Great! You would make our day if you 'bought us a coffee' to help with the site running costs. Thank you.