The Oscar Boys Shorts sewing pattern (Ages 1-16)
|
All articles may include affiliate links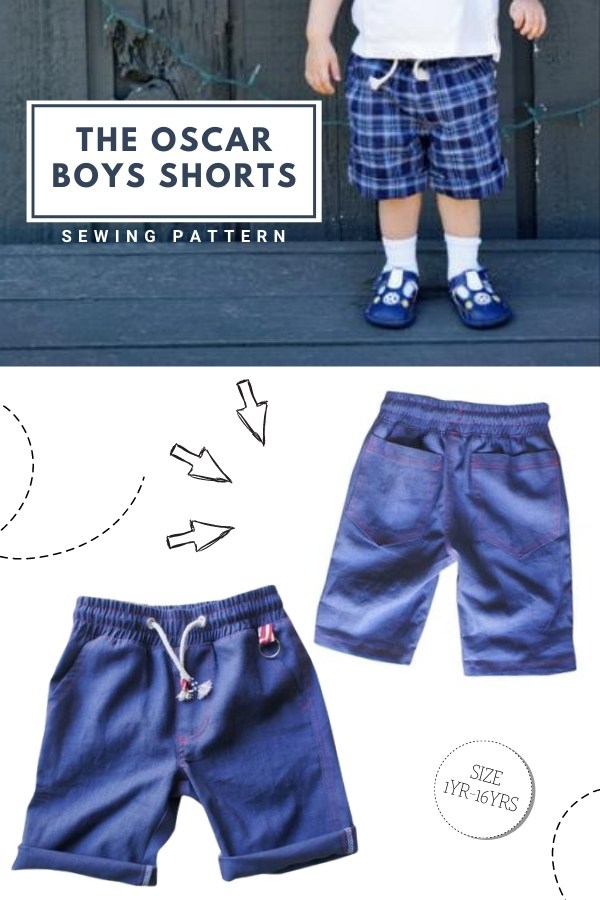 This is the pdf sewing pattern for the Oscar Boys Shorts which comes in sizes for ages 1 to 16.
This pattern is designed by Frocks & Frolics and they describe their shorts as a total breeze! They have a faux zipper flap and an elasticated waist which makes this a quick afternoon project. There are a few new tricks to sewing this one, making it look totally professional. The fit is perfect too.
Once you have made one you will be running them up all the time. Best of all it only takes just over half a yard of fabric to make one of these.
The back pockets are oversized and just beg for a name embroidery or favorite badge. The designer didn't do this for the sample but it would be great. The designer extended the pattern and added these slim-fit shorts, which will be loved by teens and little boys.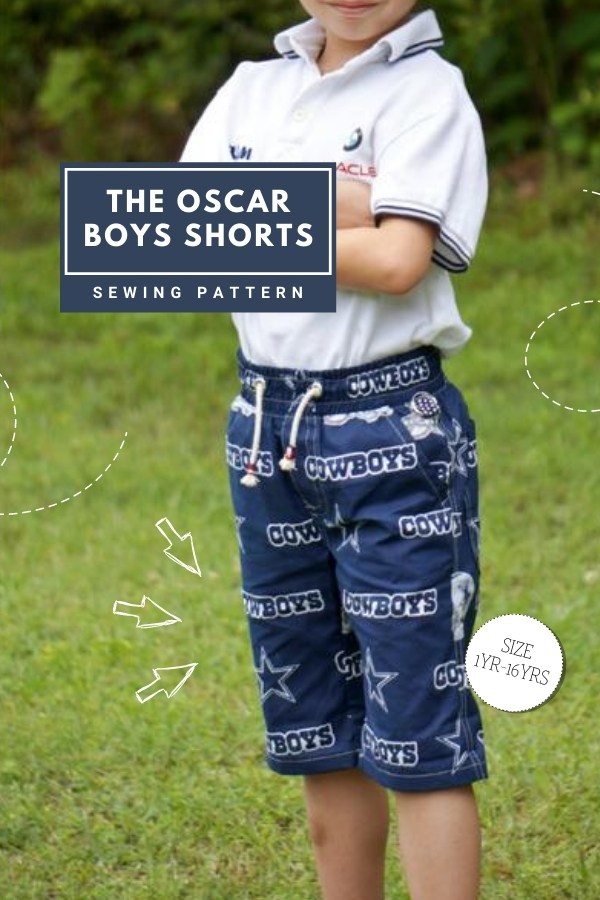 The shorts also include a sewing course which you can access at academy.frocksandfrolics.com. On frocks&frolics.com you will find the project page with more tips and examples plus all videos to this project in one space.
Whether you are an expert or just starting out the video tutorial will make it very clear what you have to do. If you are unsure if you can handle this pattern then simply watch the video to reassure yourself before you purchase the pattern. And for all those of you that love to keep all instructions neatly in a folder, the designer's instructions booklet (attached to size 2) contains page after page with photo's just to make doubly sure you know what to do. You can watch the video tutorial below by clicking on the play button.
The Oscar Boys Shorts sewing pattern comes in FIFTEEN sizes (ages) as follows:-
1-2,
2-3,
3-4,
4-5,
5-6,
6-7,
7-8,
8-9,
9-10,
10-11,
11-12,
12-13,
13-14,
14-15,
15-16.
The designer says – None of my patterns are multi-sized so there is one size per file, this saves a lot of paper and confusion as to which line you have to cut. Every pattern is hand-drafted and then imported into a CAD program to make sure you have a pattern that fits and looks good too! No pattern is automatically graded or computer-generated with software. Having trained as a tailor 30 years ago I know that pattern generating software can never replace the skill of a pattern drafted by hand. Try my patterns and you will love the fit. At least I hope you will 🙂
A serger/overlocker is an advantage when making the shorts.
This listing includes three zip files for the A4, US letter size, and German language version. Just download the one you need. If you are unsure that you have an unzip program a quick convo with your email and the designer will send the files the old-fashioned way by email.
The pattern pack includes:-
A pattern in PDF format ready to print on regular A4 and US letter size paper with assembly instructions,
Detailed step by step photo tutorial,
Detailed video instructions on YouTube – http://youtu.be/TBP-b3kUZtA,
Fabric requirements.
If you would like to download the pattern you can click on the blue button below.
More boys sewing patterns here -->
There aren't as many great sewing patterns for boys as there are for girls, but we are saving all of our favorites to our Pinterest board for boys sewing patterns here. Check it out and pin and save your favorites to your own boards for later. Enjoy!