Llama Plush Stuffed Animal sewing pattern
|
All articles may include affiliate links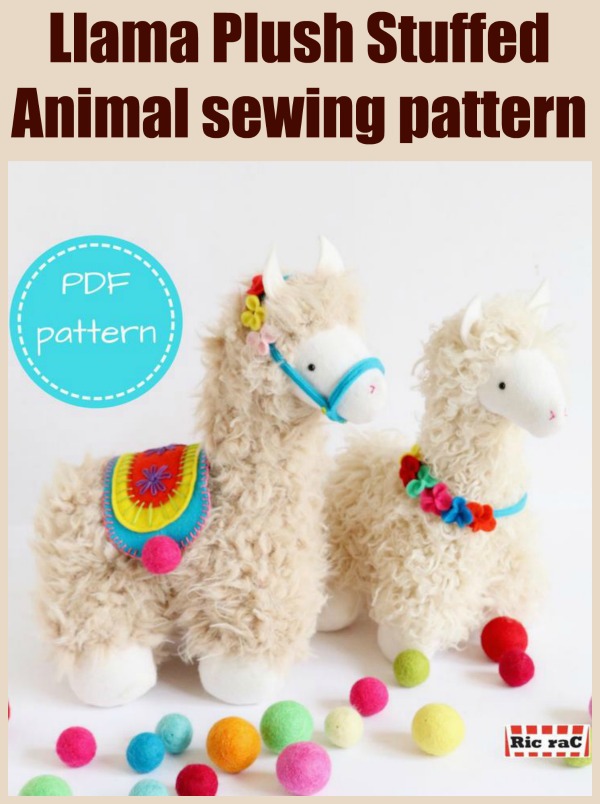 The llama is a domesticated South American animal that is widely used as a meat and pack animal by Andean cultures since the Pre-Columbian era. Llamas are very social animals and live with others as a herd. Their wool is very soft and lanolin-free.
Jodie of Ric raC Sews brings us Tassel and Pom, who are very cute and fluffy llamas. The pattern includes Llama's in two sizes, plus the blanket, harness, collar and flowers. With full-size templates and illustrations, this is a simple yet effective pattern.
This detailed sewing pdf pattern has full-size pattern templates for you to print. The illustrated sewing pattern will guide you through making a gorgeous llama in your preferred size as well as his accessories, including his fantastic blanket, harness, collar and flowers.
When you finish making yourself a pair of these lovely llamas, Tassel and Pom will measure approximately:-
The small llama is 11 inches high.
The large llama is 13 inches high.
What you need to make the large llama:-
14″ by 20″ (36 by 51 cm) curly fur fabric,
8″ by 16″ (21 by 42 cm) white 100% wool felt,
5 1/2″ by 11″ (14 by 26 cm) blue felt for blanket/harness,
3″ by 7″ (8 by 18 cm) yellow 100% wool felt,
2″ by 6″ (5 by 15 cm) orange 100% wool felt,
One pair of 1/4″ (4.5 mm) safety eyes,
Hobby fill or stuffing of your choice,
Embroidery threads for the blanket.
What you will need to make the small llama:-
12″ by 18″ (31 by 46 cm) curly fur fabric,
7″ by 14″ (18 by 36 cm) white 100% felt,
2″ by 11″(5 by 28 cm) 100% wool felt for the collar,
Scrap felt for flowers,
Eyes and hobby fill as above.
---
---
More sewing patterns for toys on Pinterest ->
It's so much fun to sew toys and they make the perfect handmade gifts. We've saved lots of our favorite
toy sewing patterns
here to our Pinterest board. You can follow the board below, and don't forget to save some of the ideas to your own boards for later. Happy sewing.