Kids Flare and Straight Pants sewing pattern (12mths-18yrs)
|
All articles may include affiliate links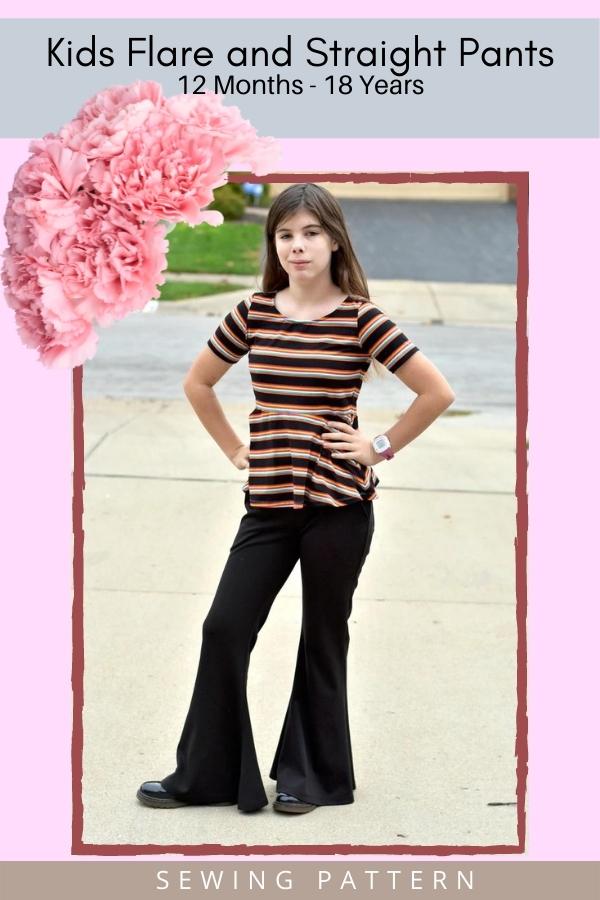 This is the Kid's Flare and Straight Pants Sewing Pattern from the designer Ellie & Mac.
These pants are not only comfy to wear but they also look super trendy and cute, as well! You can make straight, flared, or exaggerated flared pants Your little one will want to live in these comfortable pants!
This pdf pattern has the following excellent features:
Straight, Flared, and Exaggerated Leg Options,
No trim pattern pages for quick and easy assembly.,
The Layers printing feature is included for this pattern for your convenience.
This PDF sewing pattern comes in sizes from 12 months all the way up to big kid 18 in the designer's regular sizing and 4E – 18E in the designer's extended size chart, as follows:
Regular Sizing:
12-18 months,
18-24 months,
2T,
3T,
4 years,
5 years,
6 years,
7 years,
8 years,
10 years,
12 years,
14 years,
16 years,
18 years.
Extended sizing:
4E,
5E,
6E,
7E,
8E,
10E,
12E,
14E,
16E,
18E.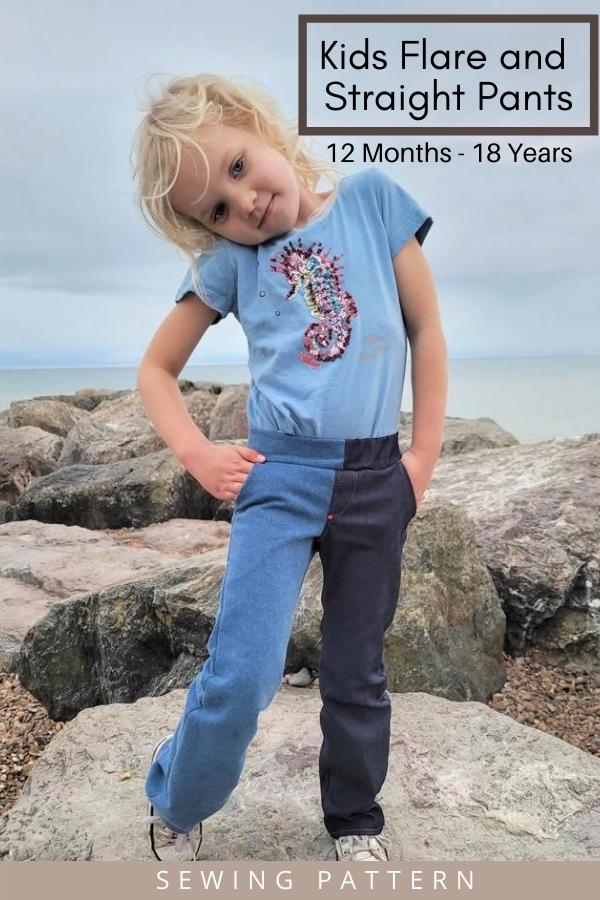 All you have to do now is pick your size by hip measurement and use this size for the waistband as well.
Advised waistband elastic width: ¾" elastic for sizes 12 months to 3T and 1″ – 1½" elastic for sizes 4T and up.
To determine the length of the pants use the height size (for crotch depth, etc) and look at inseam measurements on the pants pattern piece for the length of the legs. The straight fit should hit right under the ankle after it's being hemmed and the flared on heel length.
This pattern is most successful when a sturdy knit fabric with a minimum of 25% horizontal stretch is used. For example jacquard, Ponte, and scuba. Stretch woven fabric like stretch denim, stretch cotton and stretch corduroy with a minimum amount of 25% horizontal stretch can be used as well for sizes 5 to 18 (for sizes 12/18 months to 4T a stretch knit is advised for comfort).
If you'd like to check out the making of these pants further then click on the play button of the YouTube video below.
What's included with the pdf pattern:
Pattern pieces for all parts,
Projector File with Layers,
Copy Shop A0 File,
French and English Instructions,
Fabric Requirements Chart,
Size Chart,
Tips and Notes,
Glossary,
Table of contents,
Pattern Piece Diagram,
Printing Instructions,
Supply List,
Step-by-step instructions. Each step has a color photo as a visual aid.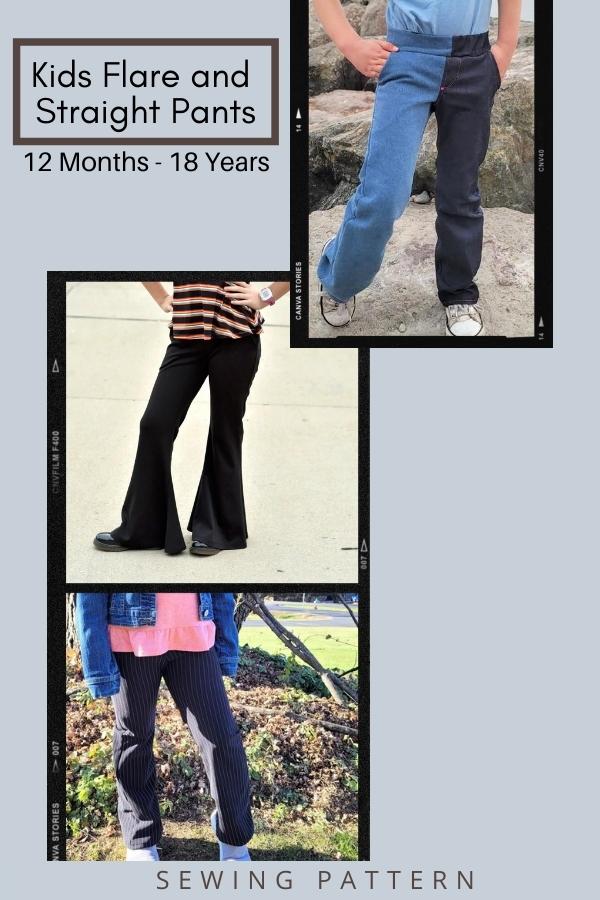 These are digital PDF Sewing Patterns. They are NOT paper patterns that you would receive in the mail.
If you would like to download the pattern you can click on the blue button below.