JELLY Sweatshirt / T-Shirt sewing pattern (0-10 years)
|
All articles may include affiliate links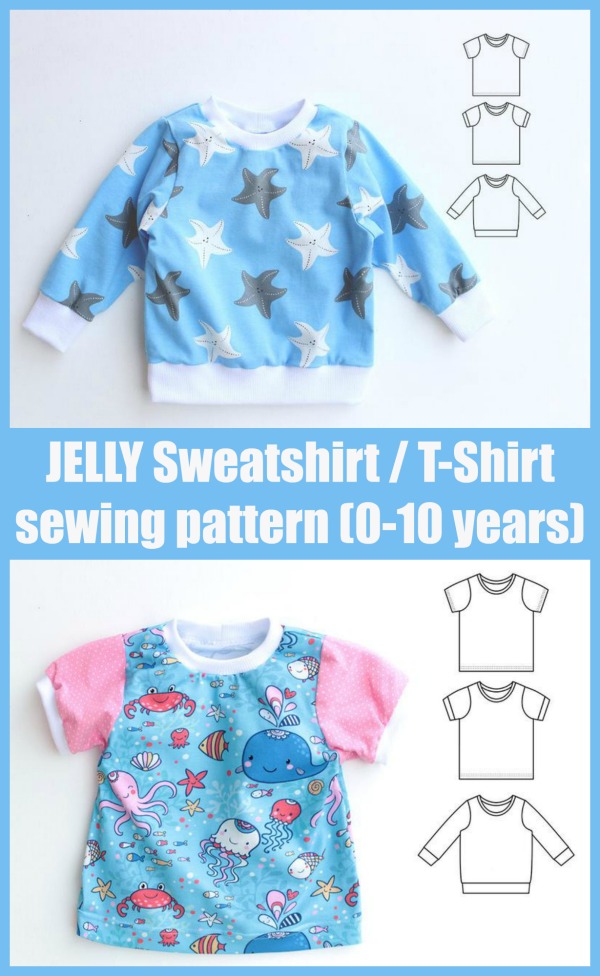 This is the JELLY Sweatshirt / T-shirt sewing pattern.
The very popular designer, Puperita, has made it as a wardrobe staple for your children! It comes in fourteen sizes from newborn up to 10 years old, so as your little one grows you can make another and another, as we are sure they're going to love this JELLY Sweatshirt / T-Shirt.
It's a beginner's level sewers dream pattern, that is easy to sew and looks super cute. The pattern has been designed to use the lowest amount of fabric.
The designer has made her popular project in three styles. The three versions are as follows:-
T-shirt with short sleeves.
T-shirt with short sleeves and sleeve band.
T-shirt with waistband, long sleeve and cuff.
For suggested fabrics, the designer recommends Jersey Knit, Interlock, Stretch fabrics.
This pattern comes in an amazing number of sizes. There are FOURTEEN sizes as follows:-
Newborn-birth = 22" (56cm) height,
3 months = 25" (64cm) height,
6-9 months = 28" (72cm) height,
12 months = 32" (80cm) height,
18 months = 34" (86cm) height,
2 years = 36″ (92cm) height,
3 years = 38 1/2" (98cm) height,
4 years = 41" (104cm) height,
5 years = 43 1/4" (110cm) height,
6 years = 45 3/4" (116cm) height,
7 years = 48" (122cm) height,
8 years = 50 1/2" (128cm) height,
9 years = 52 3/4" (134cm) height,
10 years = 55" (140cm) height.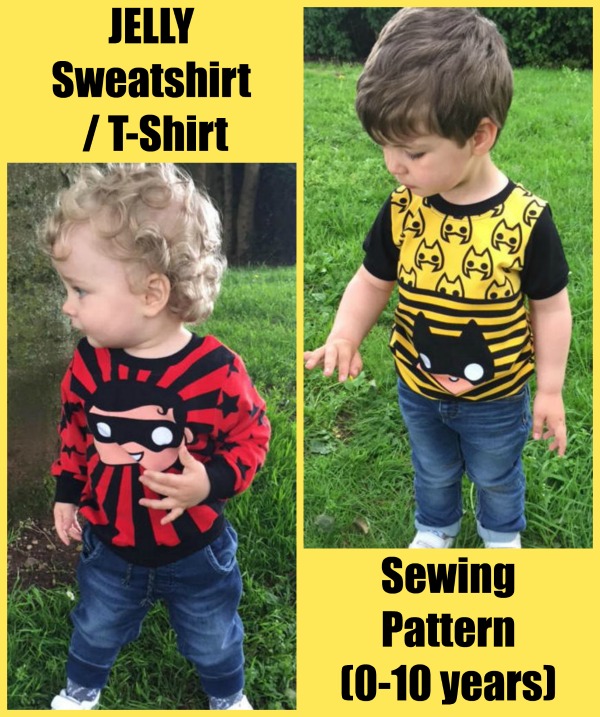 The designer, Puperita, consistently receives great customer feedback. Here are some of her 5-star reviews:-
Suzi Rodrigues said – really love this pattern so much! I've made 5 already for my girls, so quick and easy to do! I'm new to jersey and even so it was so simple and looks so professional!

kayleighmichael1 said – Such a great little pattern and so easy. My first attempt at a Jelly was my first time using stretch fabric, and my second Jelly was the first time using an overlocker so they are perfect for a beginner. Both times the end result was great and really wearable for my little girl. I'm sure I'll be making lots more of them in the future.

melaniehorne21 said – Great pattern, so quick and easy to sew. Came out perfectly!
You can see from these reviews that the designer makes wonderful patterns that are quick and easy to make and are perfect for beginner sewers.
The pattern is a PDf pattern and is layered. A size chart and finished measurements are included. Cutting layouts on 44" (110cm) and 60" (150cm) fabrics are included. Seam allowances are included in the diagrams. There are step-by-step instructions included and no serger is required. The PDF file is printable with both A4 and US letter (8.5″ by 11″) size paper. Measurements are in inches and centimeters. There are English instructions, while the diagrams are in 4 languages (English, French, Spanish, and Italian). The lowest number of pages to adhere to. There is an overview table. The pattern is full size and the PDF has numbered pages. If you would like to download the pattern you can click on the light blue button below.
And if you like this pattern then there are some linked patterns like the JELLY Shorts that match the JELLY T-shirt. You can download the pattern for the JELLY Shorts HERE. Or there is the JELLY T-shirts and Shorts in a bundle pattern HERE.