FREE Faux Vest Onesie with interchangeable bowties
|
All articles may include affiliate links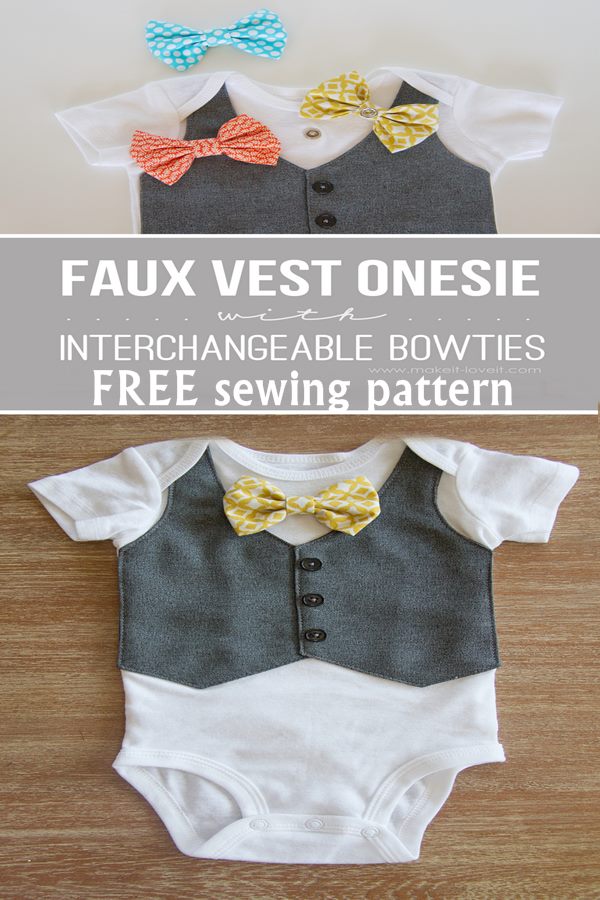 Onesies are a must-have for babies regardless of the season or month of birth. You probably have a large number of onesies that are usually all somewhat the same. With this FREE Faux Vest Onesie with interchangeable bowties sewing pattern, you can turn one, or as many as you want, of those onesies into an irresistible piece of clothing that your baby can wear on a daily basis or on special occasions.
Baby clothes aren't always easy to figure out, ask any dad who is not very skilled in dressing small restless baby. Your man will probably find it difficult to dress your child without supervision, so choose a onesie with expandable shoulders for easy dressing. This saves your baby as well as daddy from crying 🙂
These onesies could also be the perfect gift for your friends newborn because they are simply irresistible.
If you want something cute for your baby to wear this Faux Vest Onesie with interchangeable bowties would be a perfect choice. Your little gentleman is going to catch everyone's eye.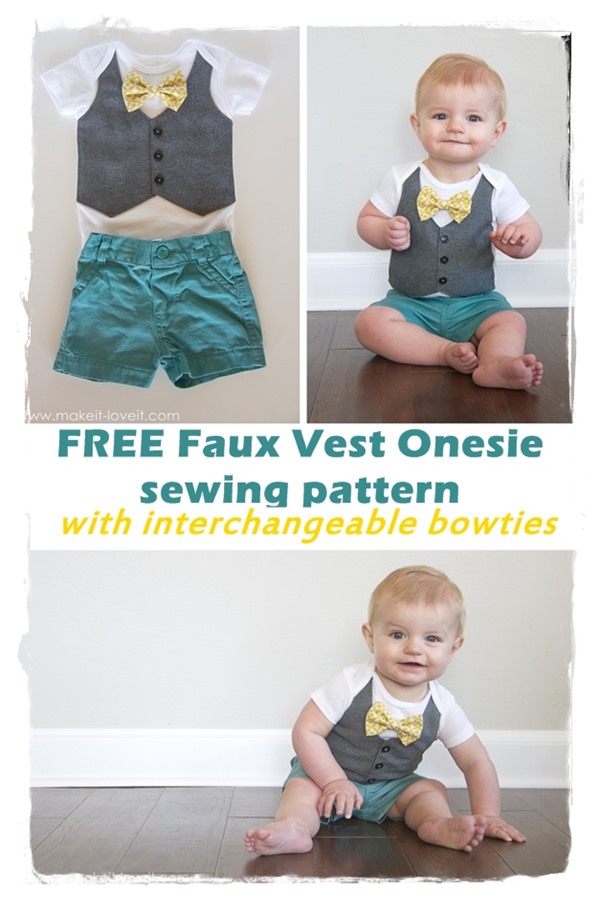 A sweet bow tie is the perfect detail for this onesie. You can make the bowtie using the tutorial (link provided with the pattern). The best thing is that you can make as many bowties as you want, in different colors, so that the onesie can look different for every occasion. You can also pair bow ties with other garments.
The sewing pattern is very simple and easy to follow. The designer has provided a clear explanation of each sewing step, and we have no doubt that you will be able to make this cute vest without any difficulty. Best of all, all you need is a tiny piece of fabric. It can be some leftover from your fabric stash.
Grab the supplies you need for sewing and turn a boring piece of clothing into something special and unique.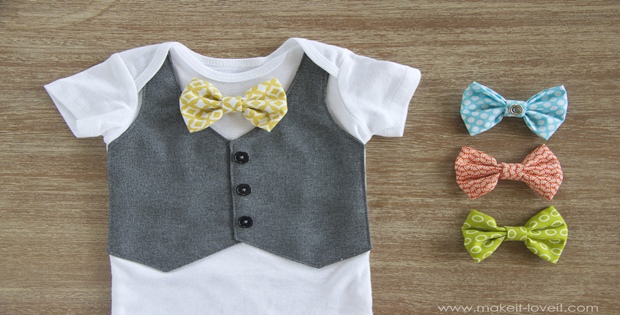 To make this beautiful Faux Vest Onesie you will need:
Vest Fabric: cotton, suiting, etc. (amount varies, depending on vest size)
Onesie or Tee Shirt
3 buttons
1 snap
Bowties (use the Interchangeable Bowtie Onesie tutorial)
Grab your FREE sewing pattern HERE
More boys sewing patterns here -->
There aren't as many great sewing patterns for boys as there are for girls, but we are saving all of our favorites to our Pinterest board for boys sewing patterns here. Check it out and pin and save your favorites to your own boards for later. Enjoy!