Free Apron sewing pattern (toddler/tween/adult)
|
All articles may include affiliate links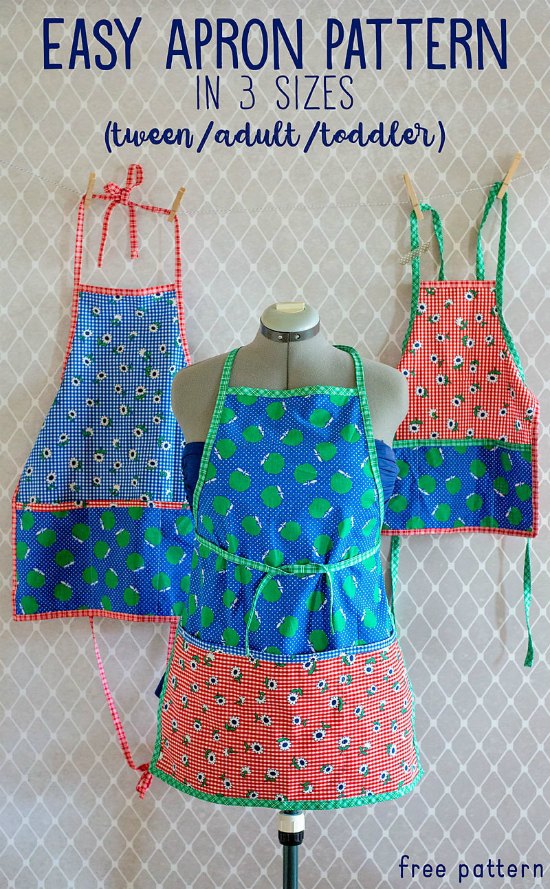 When a designer gives you their pattern for FREE it is amazing but what makes it awesome is when the pattern comes in different sizes, three in this case. You get a FREE Apron sewing pattern in toddler, tween, and adult size.
Can you imagine the fun you will have baking with your little ones in matching aprons? I'm sure the family will love it. The cute aprons come in adult size, toddler size that will fit about a size 2 to size 7 child and then everything in-between for the tween size which will fit a girl's size 8 to 14.
Aprons are great for kids. They can give them permission to be arty and crafty. Signify that it's time to be creative and enjoy, whether that's with paint and craft supplies, or cooking and baking supplies. I don't mind telling you when eating spaghetti bolognese I've often pulled on my apron to avoid splatters of the tomato sauce on my shirt. I never did quite get to grips with the proper twirling of the spaghetti on the fork!
These fun aprons are super easy to make, basically two pieces of fabric wrapped in bias tape to neaten the edges and provide the ties. You can use store-bought bias tape, which will make the project even easier and will shave off a significant amount of time. But if you have a special fabric, you may want to add that custom touch by making your own bias tape, if you are able. Check out these bias tape makers.
There is an adjustable tie neck strap, long ties to go around the waist and large pockets at the bottom of the apron for your wooden spoon, a kitchen towel, your phone or your recipe sheet.
Downloading this free pattern? Great! You would make our day if you 'bought us a coffee' to help with the site running costs. Thank you.