DIY Headband with a Knotted Bow FREE sewing pattern (Baby to adult sizes)
|
All articles may include affiliate links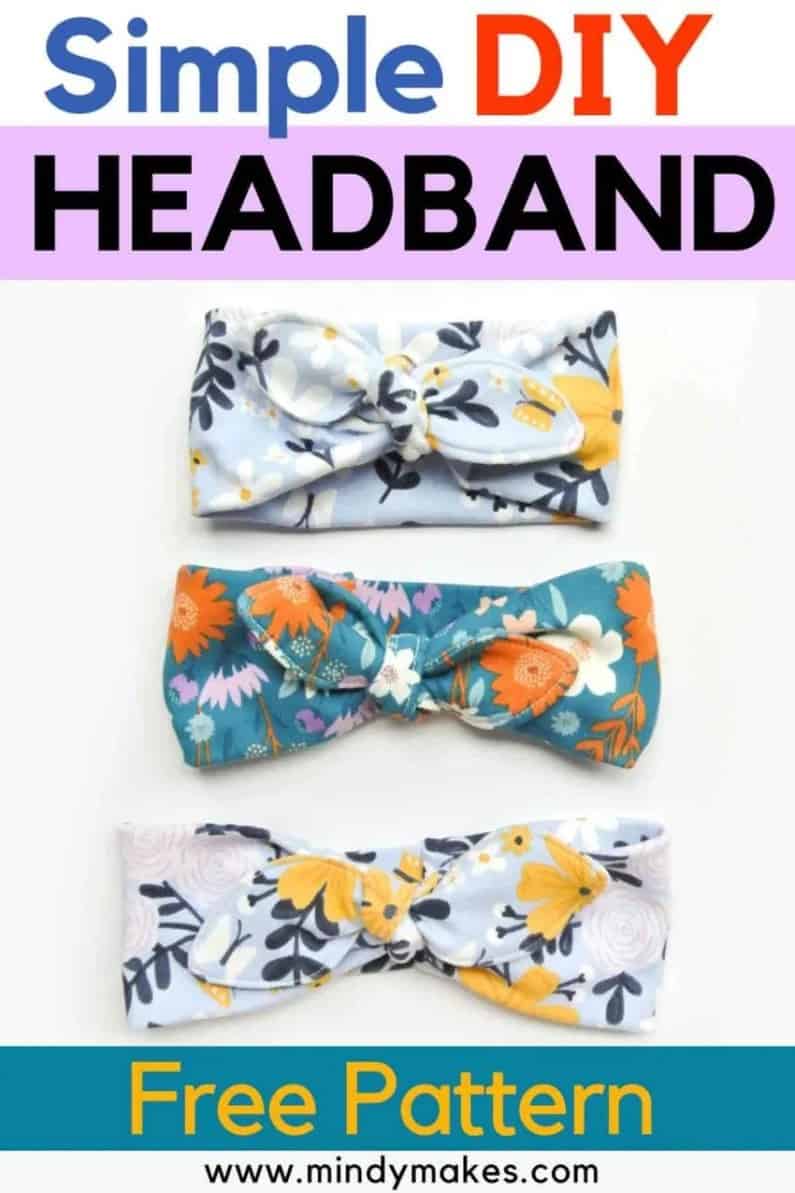 This is the DIY Headband with a Knotted Bow FREE sewing pattern (Baby to adult sizes) from the designer Mindy Makes.
With this FREE pattern and tutorial the designer shows you how to make this Simple DIY headband using stretchy knit fabric (or upcycle an old T-shirt).
Wear as it is or if you like you can dress it up with a bow.
This is a quick and easy project that should take you 15 minutes to sew. You can make lots and give them away as great gifts!
Mindy Makes is absolutely fabulous. She didn't just give you this project for FREE. She also spent a lot of time testing several types of headbands and here is her summary:
100% Elastic – This headband can be made with knit fabric or woven (non-stretchy) fabric. There is a piece of elastic that goes inside the fabric. Unfortunately, this was also the one that made her head hurt the most. If she tried to loosen the elastic, the headband didn't stay on. However, the tightness gave her hair a nice Bouffant that she couldn't achieve with the other headbands!
100% Non-stretchy fabric with partial elastic – she liked the versatility of using non-knit fabrics as there are more pretty prints and options. Overall the headband stayed on well and it wasn't too tight. However, this one was harder to put over your head. You could only stretch the bottom 1/4 of the headband (where the elastic was).
100% Knit fabric (No elastic) – This headband was comfortable but didn't stay on so well. It's good for regular use as you go about your day. However, if you engage in activity with a lot of head movement (sports), this headband tends to slide right off. You can counter this by using stretchy fabric with higher Spandex content.
100% Knit fabric with with partial elastic – This headband is made completely with knit fabric. A small section of the fabric has a piece of elastic sewn inside. This was her favorite as it was super comfortable and stayed on well even while being active. This is the one she will be showing you how to make in the tutorial.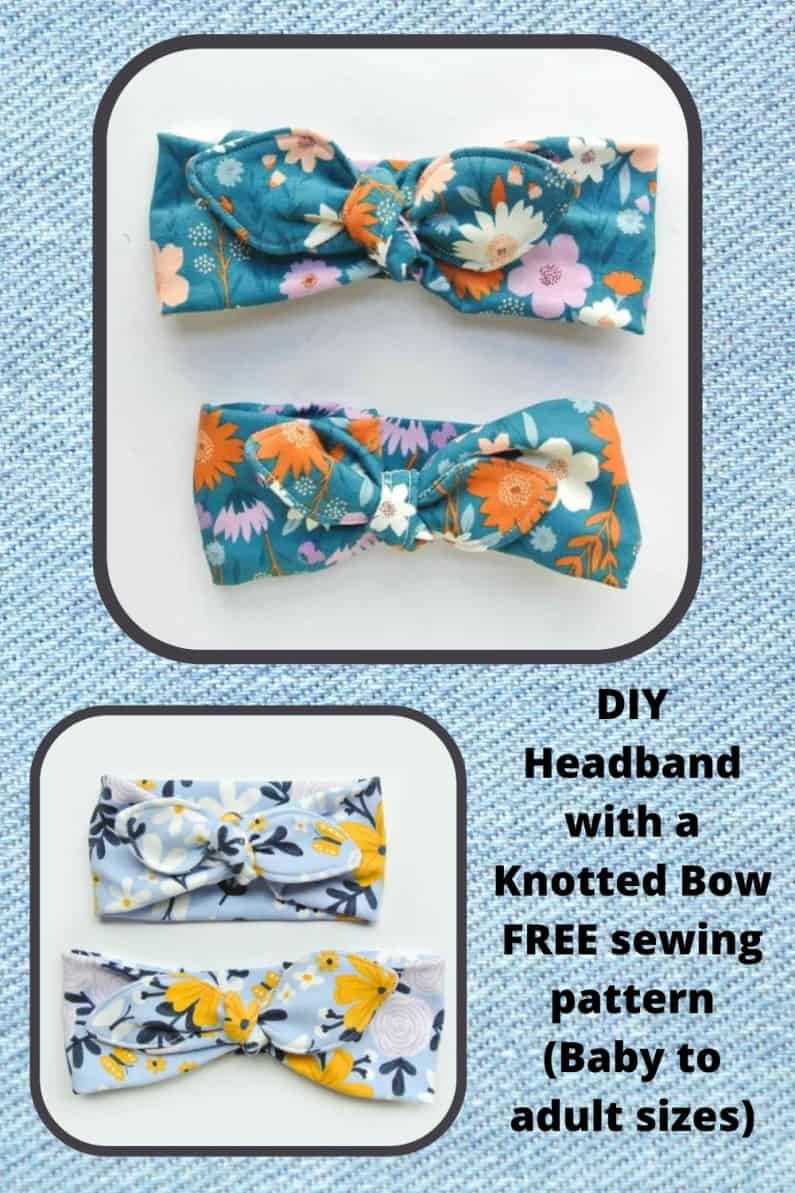 So the designer decided to dress her headbands up a bit by adding an optional bow tie. She also made them in lots of sizes from babies all the way up to five adult sizes. That way if you like you can make them as Mommy-and-Me headbands.
The headband sizing chart comes in five baby/child sizes and five adult sizes as follows:
Baby sizes:
Newborn,
6-12 months,
12-24 months,
Child sizes:
2-4 years,
5-12 years,
Adult sizes showing the head circumference:
16.5″,
17.5″,
18.5″,
19.5″,
20.5″.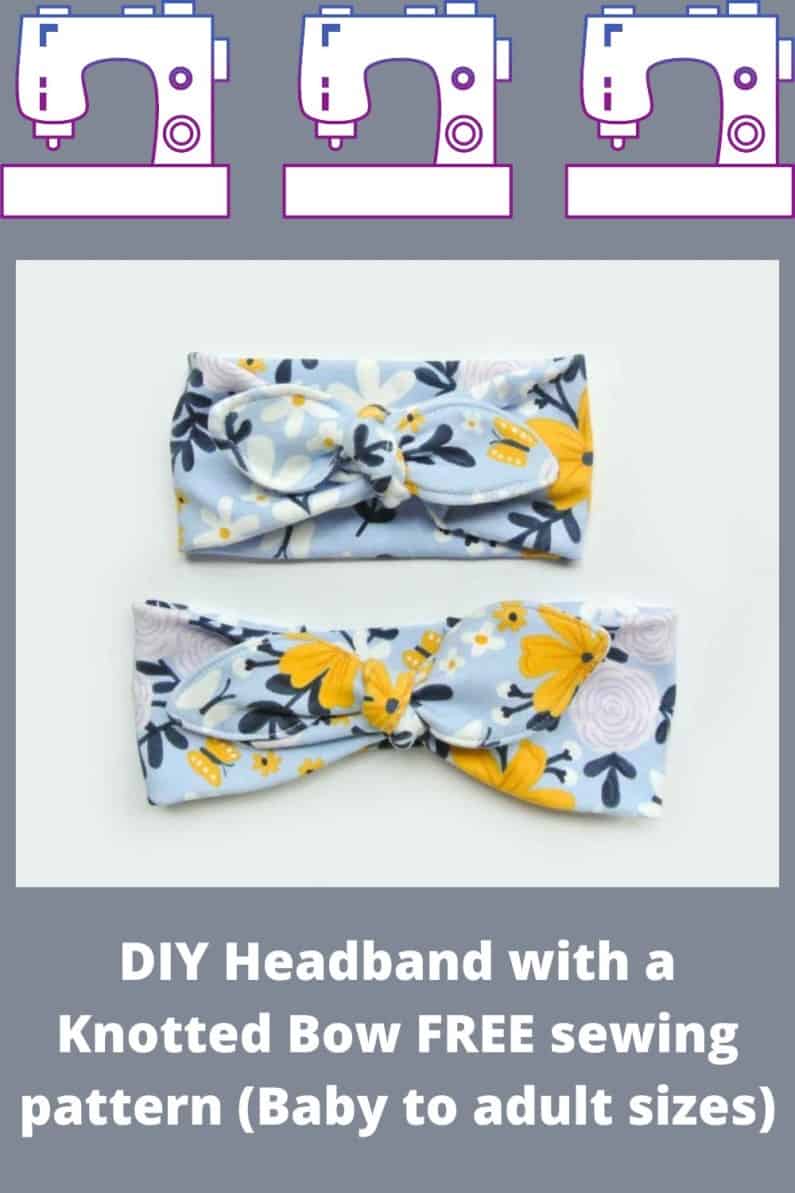 The designer again did a lot of work deciding on exactly which fabric was best to use to make her DIY headbands. Here are her findings:
For these simple DIY headbands she used stretchy (knit) fabrics. However, you should keep in mind that different knit fabrics vary greatly in their ability to stretch and to recover. All this will affect how tight or loose your headband is.
The designer recommends using a fabric that contains Spandex. Spandex (brand name Lycra) is a synthetic fiber that is very elastic. We've all encountered Spandex (think competitive swimsuits, cycling shorts, and triathlon suits). When you add spandex to a fabric, the fabric starts to become elastic (stretchy). Another advantage of Spandex is it's ability to return to the original shape once stretched.
Both these traits (elasticity and good recovery) made Spandex a good material for headbands. You want the headband to stretch over your head so you can put it on (elasticity). But, you also want the fabric to recover so the headband will conform to the shape of your head.
A good guideline is that the amount of Spandex corresponds to how "tight" the fabric feels. Given that all other material percentages are the same, a fabric with a higher percentage of Spandex will recover better (and thus feel "tighter") than one with a lower percentage.
This means that a knit fabric with 90% Cotton and 10% Spandex will feel "tighter" than one that's 98% Cotton and 2% Spandex. Similarly, a knit fabric with 85% Viscose and 15% Spandex will feel tigther than one that's 95% viscose and 5% spandex.
For this tutorial, the designer used knit fabric that is 98% Cotton and 2% Spandex. Since the Spandex content is so low, the headband was sized smaller for a better fit.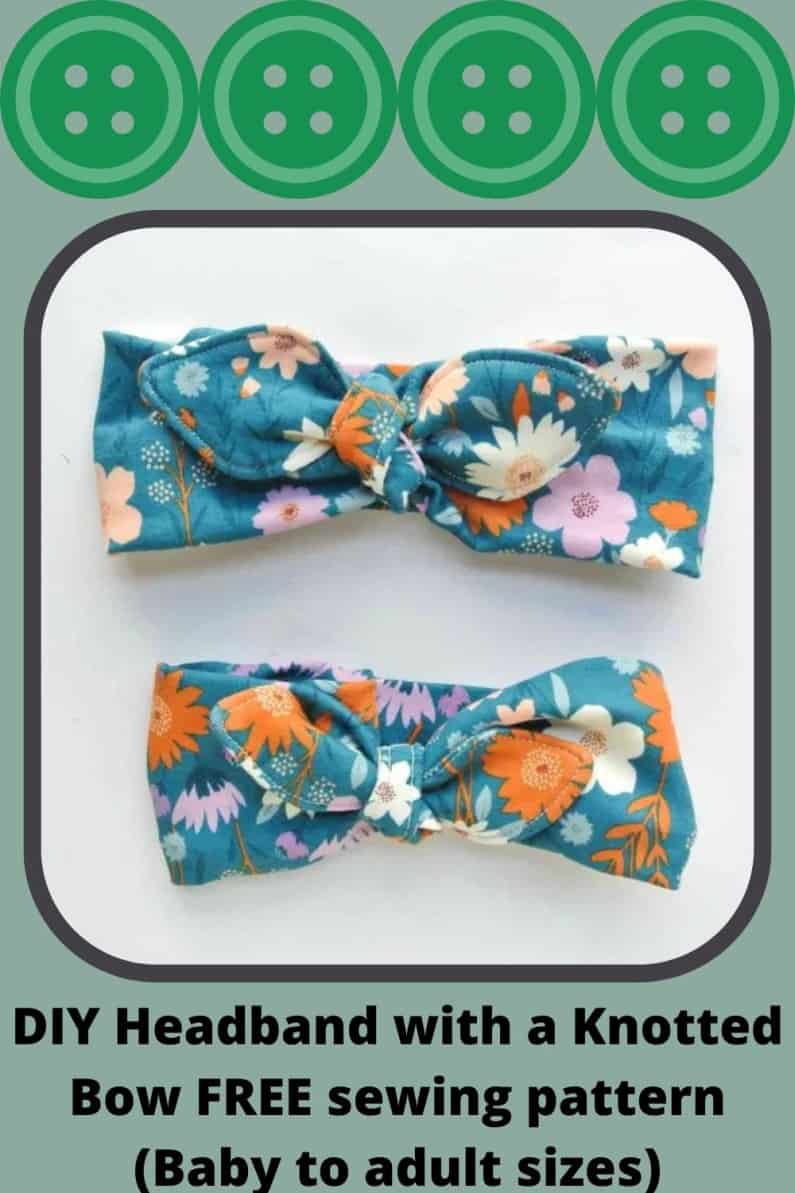 If you would like to download the FREE pattern you can click on the purple button below.