Baby Bandana Bib FREE sewing pattern
|
All articles may include affiliate links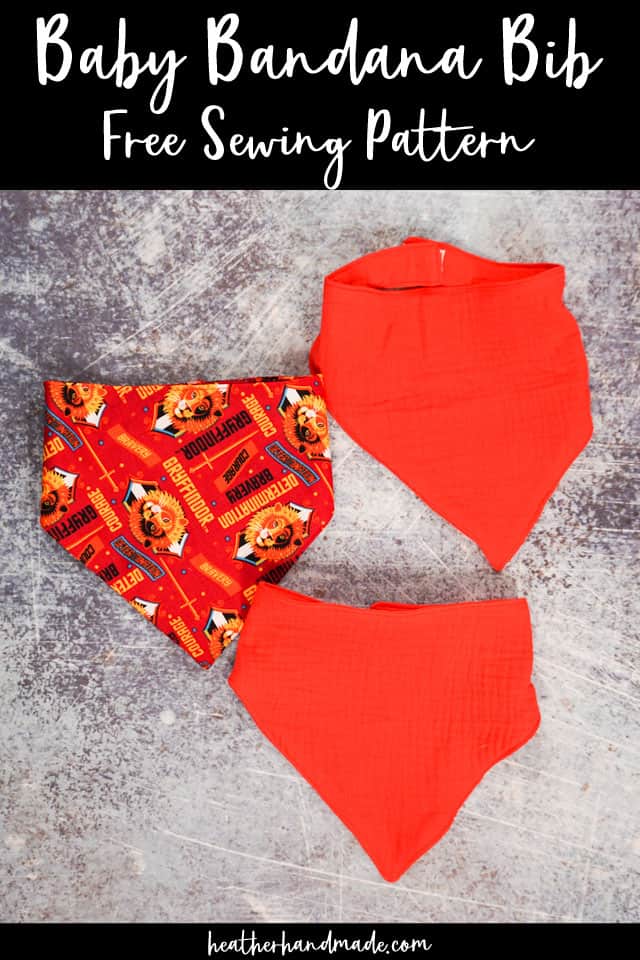 This is a Baby Bandana Bib FREE sewing pattern from the designer Heather Handmade.
You can now learn how to make a baby bandana bib with a free sewing pattern. As Heather says – these drool baby bibs are cute to wear and easy to make.
One of the designer's own babies never spit up a lot, but she was always drooling or just spitting up a little. So Heather was constantly changing her baby daughter's shirts to keep her dry.
To fix the problem Heather made a bunch of baby bandana bibs. She loved that they were shaped like triangle scarves so they looked cute, and they kept her baby daughter's shirt dry. She could just switch out a couple of different bibs during the day.
These bibs are so fast and easy to make that Heather would often make a bunch at once so she could give them away as baby gifts!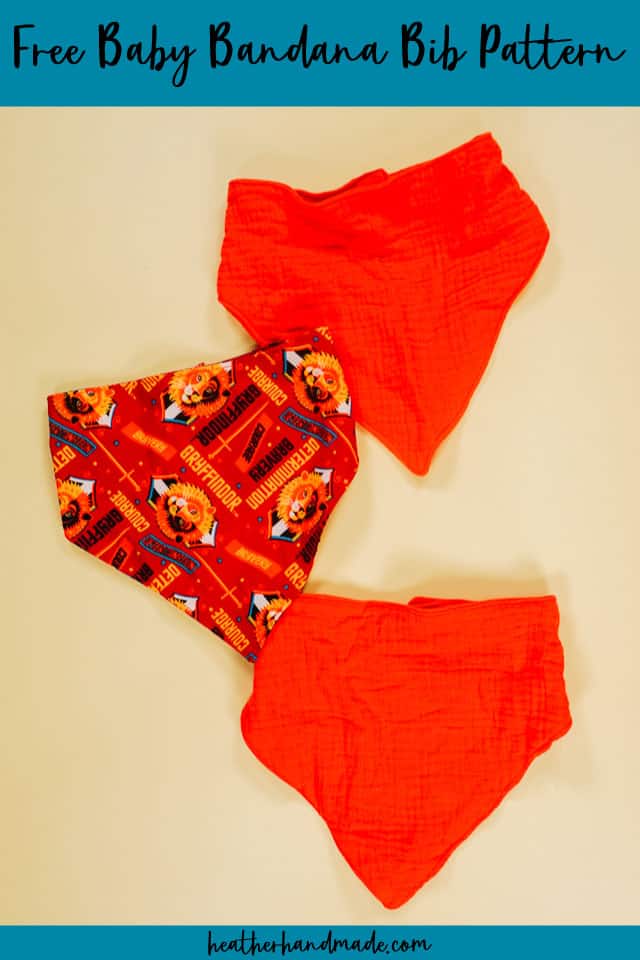 So what fabric should you use?
Heather prefers using quilting cotton or double gauze. Flannel is the most absorbent, but it's not that comfortable to wear all day long.
Quilting cotton works great, but sometimes it's stiff so if it's a non-direction print she will cut the neckline on the bias. Double gauze is Heather's favorite because it's right in between absorbent and soft.
So should you use Velcro, snaps, or buttons for a baby bib?
Heather used to use plastic snaps all the time, but she worries about the snaps falling off and being swallowed by a baby. That's the same problem with buttons, and doing a button in a buttonhole on a wiggly baby is pretty tricky.
Any fastener will work great for a baby bib, but Heather's favorite is Velcro. It's easy to get on and off, it can pull apart if pulled hard, and it's easy to sew on. But be careful when washing it so that the Velcro doesn't attach to anything precious in the washer or dryer.
What is needed to make a Baby Bandana Bib:-
If you would like to see Heather's post showing you how to make a FREE Baby Bandana Bib and download her FREE Baby Bandana Bib sewing pattern (no instructions) you can click on the purple button below. However, if you have $3 available you can get the Bib pattern and photo tutorial as a PDF. That way you won't need to access the internet every time you want to make it.
Click here for the FREE pattern
Downloading this free pattern? Great! You would make our day if you 'bought us a coffee' to help with the site running costs. Thank you.

Even more free kids sewing patterns here -->
If this isn't quite what you are looking for but you really want a free pattern, then do take a scroll through our
Free Kids Sewing Patterns Pinterest board.
Pin and save all of your favorite sewing patterns to your own boards to make them easy to find later. Don't forget to pin this pattern too.