Baby Animal Softies Sewing Pattern
|
All articles may include affiliate links
Here's a great toy for a baby or toddler which are fun and simple to make, and a great scrap buster. Their simple design makes them ideal for smaller hands and for younger children and toddlers. You can make the animals from the pattern or mix and match, or use your imagination to come up with animals, designs or even fun 'monsters' of your own!
These baby animals are soft and adorable, and there are instructions included to make six different animals. You can make one or as many of the following as you like:
a teddy
a panda
a monkey
a sheep
a dog
a frog.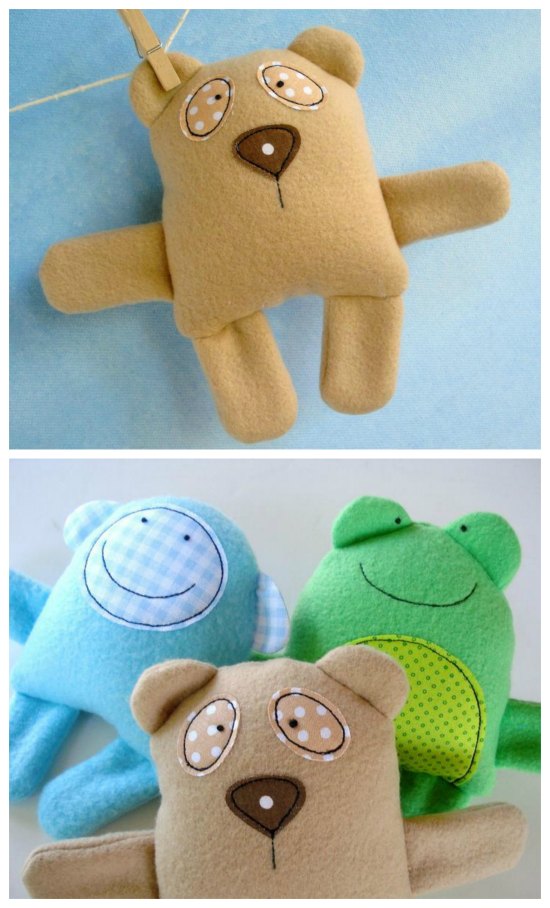 Each toy measures approximately 6 1/4" tall by 7 1/2" wide. The animals are stuffed with polyester fiberfill (polyfill stuffing).
Fleece is used for the body, arms and legs on all the animals, and also for the ears of the teddy and panda and the eyes of the frog. Cotton fabric is used for the appliqués on all the animals, except for the panda eyes and for the monkey, sheep and dog ears. Fleece or cotton fabric can be used for all the pieces if you prefer working with one or the other. We think felt would also be a good fit for this pattern – it comes in an amazing array of colors too.
Whatever you pick to work with, you're sure to have a blast sewing up these fun softies. Wouldn't this be a great pattern to sew for charity?