Aria's Bow Back Top and Dress pattern 2T-12YRS.
|
All articles may include affiliate links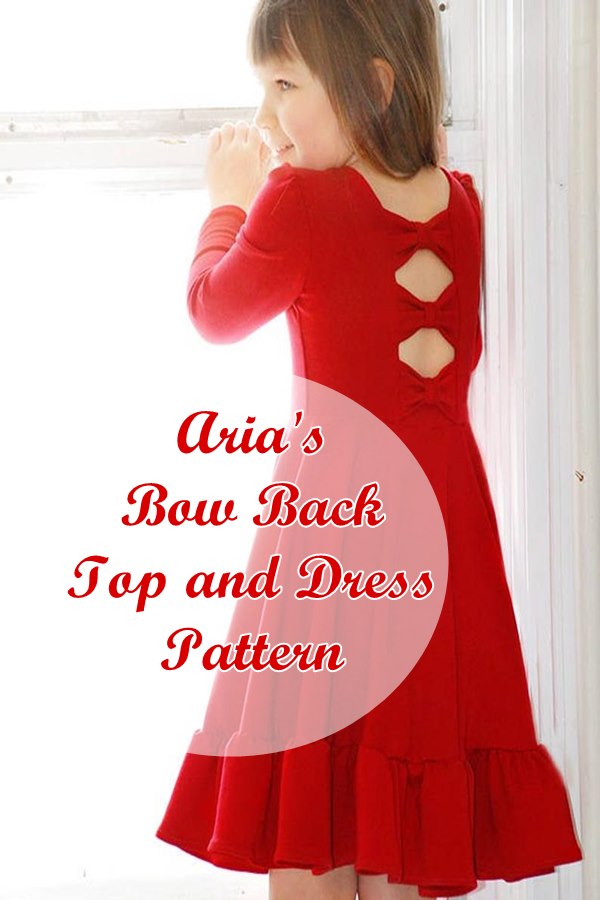 We don't know about you, but we love the trend of open-back dresses and tops. It is so breezy and elegant. Open back dresses are getting more and more popular every day. They're stylish, comfortable and cool, too. Your little girl will look like a princess with this Aria˙s Bow Back Top or Dress.
Aria's Bow Back Top and Dress pattern has so many options, and you can choose from the bow back version or a simple back version. The bow back version includes two types of backs as well, a short panel (shows skin) and a tall modest panel (covers skin).
And then when it comes to the sleeves the options are numerous. You can choose from a fitted sleeve cap or a gathered "poof" sleeve cap. And both of those sleeve options can be made as short sleeves, 3/4 sleeves or long sleeves. If you want you can also make a tank version, flutter sleeves or flutter with long sleeves. That is an incredible number of sleeve options.
And after all those options the designer has also included skirt options. You can make a gathered or circle skirt. You can have a top or dress length. And if you choose dress length you have the option of a gathered or circle skirt with a ruffle hem. The circle skirt with ruffle hem has amazing twirl factor that will absolutely delight your little princess.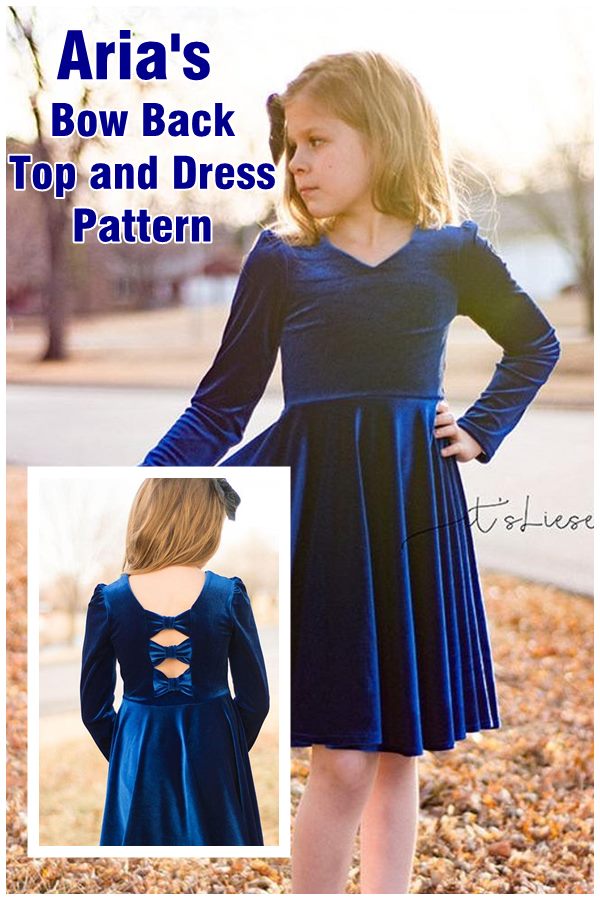 The Aria's Bow Back Top and Dress pattern comes in sizes from 2T all the way up to a 12-year-old princess, and the pattern is intended to advanced beginner sewers.
The designer recommends that you use knit fabrics when making her pattern. However, she says
New to knit? Don't worry!! The pattern has helpful tips and tricks to make sewing with knits a breeze! You learn about what type of knit to buy, the preferred needles for sewing knits, and which stitch to use on your sewing machine. The best part about knits is that they don't fray, so it is not necessary to hem them, although that is an option explained in the patterns. You'll find that sewing knits is much faster than sewing wovens! These patterns will help you jump in and discover a love for knits (if you haven't already)!
The designer has made a great pattern with loads of different options. She has included detailed step-by-step instructions with photos that cover all those different options mentioned above. She happily guides you through the complete sewing process.
This digital pattern features a layered printing option where you can print out only the size that you need, without having to print all the sizes. The pattern pieces are all computer drawn with the exception of square or rectangle pattern pieces. The designer has listed the square and rectangle pieces in a cutting chart to save you paper and ink.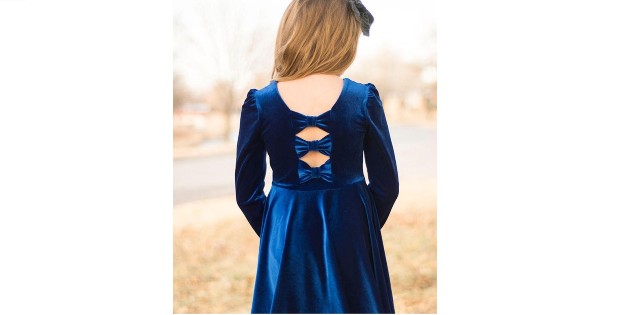 A dress or top like this fits all occasions. Depending on what type of material you choose, it can be your girl's everyday light summer dress, or it could even be her red carpet-worthy dress.
So don`t wait, grab your Aria's Bow Back Top and Dress sewing pattern and start making it today.
---
---
More girls dress sewing patterns here -->
We think sewing a pretty dress for a pretty girl is one of the most rewarding sewing projects. There are so many gorgeous dresses you can sew and we like to save all of our favorites to our
girls dress sewing patterns
Pinterest board. Follow the board here, and don't forget to pin and save your favorites to your own boards for later. Happy sewing.