Unicorn Hooded Towel FREE sewing pattern
|
All articles may include affiliate links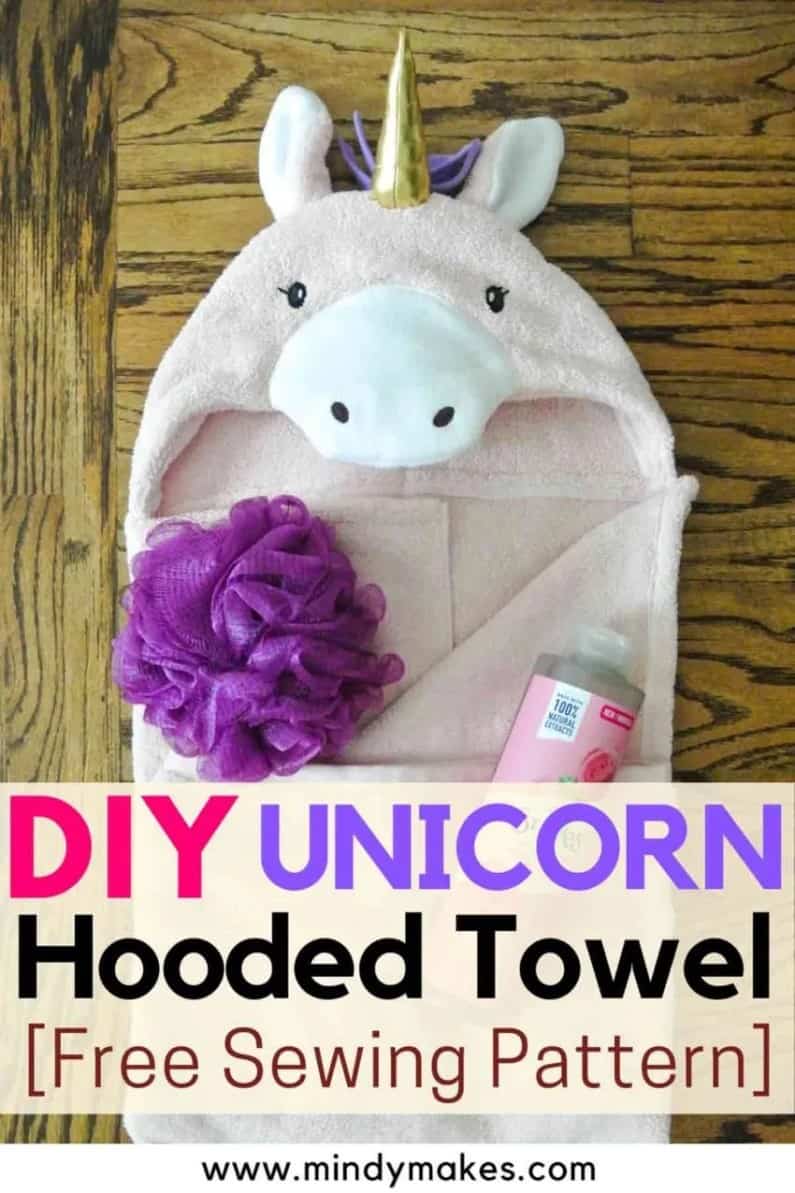 This is the Unicorn Hooded Towel FREE sewing pattern from the designer Mindy Makes.
Unicorns seem all the rage at this particular moment. Now's your chance to make this Unicorn Hooded Towel with this easy step-by-step tutorial. As the designer says – guaranteed to be a big hit for little unicorn fans, while adding an extra touch of Magic to bath times!
Hooded towels, and especially ones with a theme, are very popular with little ones. Besides being super practical, they are also super cute and fun for kids to wear.
This sewing project isn't hard to make at all, but it does require several steps as the Unicorn has quite a few details (eyes, ears, nose, horn, and mane). However, the designer says – don't let that discourage you as the end result will be completely worthwhile!
The designer has broken down the steps in the Table of Contents so you can jump to the step that you need. She says if you consider yourself a beginner, work on one or two details a day, until you get this aesome sewing project finished.
If you've made a number of Hooded Towel patterns before then this project should be relatively easy for you. However, if you are unfamiliar with how to sew a basic hooded towel, then the designer has a Basic Hooded Towel Post that you should read through as you will need it to make the hood part. You can view that post HERE.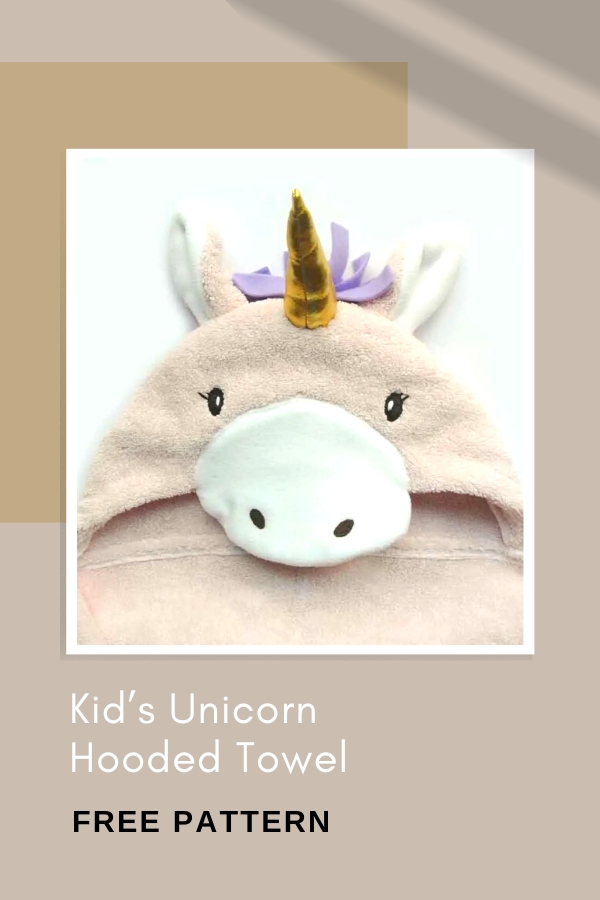 What's needed to make a Unicorn Hooded Towel:
A Store bought bath towel. The designer particularly likes Threshold Bath Towels from Target, as she says they are nice and thick. She used a pink bath towel that measured 30″ (76.2 cm) by 54″ (137.16 cm). You'll need to buy one bath towel for the infant/toddler size, or two bath towels for the kids size.
6″ White Fleece for the nose and the inside of the ears.
Other varying Fleece colors for the Unicorn Mane (6″ length).
Black and Brown Craft Felt for the eyes and nostril.
6″ Gold fabric for the Unicorn Horn.
A small amount of Polyester fiberfill for stuffing the Unicorn Horn.
White and black Embroidery Floss for adding the whites of eyes and eyelashes if desired.
Hand Sewing Needles.
Matching Thread.
Medium Weight Fusible Interfacing or Quilt Batting.
The designer has included a lot of photos in her tutorial to help guide you through every single step necessary to make the perfect Unicorn Hooded Towel. It's always better having lots of photos than not enough and then wondering what is needed to complete a certain step.
The Basic Hooded Towel Pattern and the Unicorn Hooded Towel Pattern is available in the designers free resource library. You will get the password from her by subscribing.
If you would like to download the FREE pattern you can click on the purple button below.
Click here for the FREE pattern
Downloading this free pattern? Great! You would make our day if you 'bought us a coffee' to help with the site running costs. Thank you.