Simple Skirt FREE sewing tutorial with options for 3 different looks
|
All articles may include affiliate links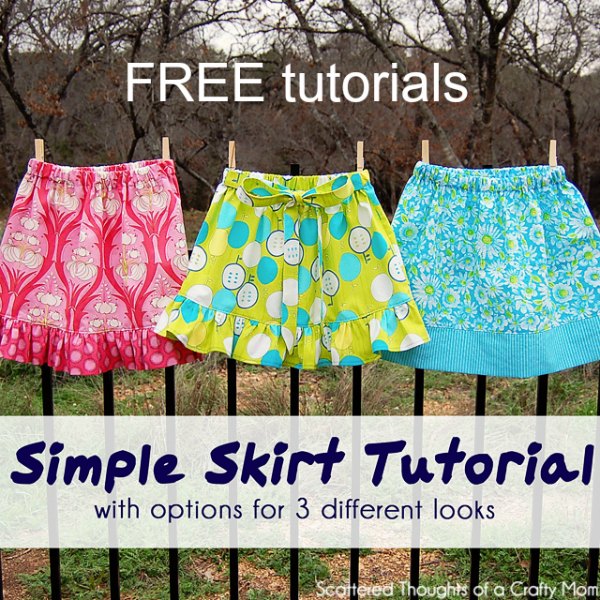 When a designer gives you a FREE tutorial it is always great, however, this generous designer has given you a FREE tutorial for 3 different looking simple skirts, which is amazing. You can choose to make one or all of the following simple skirts:
A simple skirt with a contrasting band
A simple skirt with a ruffled bottom
A simple skirt with a fabric belt
All these skirts are a very simple style and are all easy to make. In the tutorial, you simply use the width of fabric for your skirt which makes the cutting and measuring simple. However, this amount of fabric would produce a very different result depending on if you are sewing for a 2-year-old or a 10-year-old. We suggest taking the waist measurement and using a multiple to get the right amount of gathers. Depending on how full you want your skirt, multiply the waist measurement by a smaller or larger multiple. 2 x the waist should be a good rule of thumb to start.
What you will need to make the Simple Skirts:-
Main skirt panel fabric (+/- 1/3 yard for main skirt panel ) (amount needed will depend on the desired length),
Fabric for contrasting band ( 1/4 yard to 3/8 yard depending on which skirt you make),
An additional 1 yard of contrasting fabric for the fabric belt if you choose to make that simple skirt,
Coordinating thread,
3/4 inch of elastic,
Click here for the three tutorials
Downloading this free pattern? Great! You would make our day if you 'bought us a coffee' to help with the site running costs. Thank you.

Even more free kids sewing patterns here -->
If this isn't quite what you are looking for but you really want a free pattern, then do take a scroll through our
Free Kids Sewing Patterns Pinterest board.
Pin and save all of your favorite sewing patterns to your own boards to make them easy to find later. Don't forget to pin this pattern too.