Quilted Christmas Stocking FREE sewing pattern
|
All articles may include affiliate links

This is the Quilted Christmas Stocking FREE sewing pattern from the designer Heather Handmade.
So let's talk about quilting for this awesome Christmas sewing project! Seriously, it's like adding a touch of magic. You've got this classic, traditional look going on with some seriously beautiful texture. And guess what? You can rock it with solid or printed fabric – it's all up to you and your festive vision!
Now, when it comes to quilting, the world is your oyster. You can go for a simple quilting style that kind of blends in for that cozy, subtle vibe. Or, if you're feeling a bit fancy, why not dive into some intricate quilting that really steals the show? It's all about making this project your own!
For the designer's quilted stocking she went for a charmingly simple approach, using a lovely red fabric. Then, she jazzed it up with some straight line quilting, creating this adorable diamond pattern. Trust us, it might be simple, but it's pretty as can be!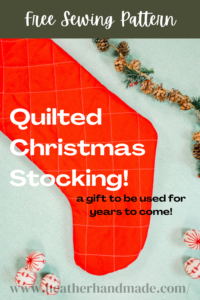 But wait, there's more! For the lining, she picked out this gorgeous holly-printed fabric that just makes her heart sing. You'll love how it peeks out at the top – it's like a little surprise of holiday cheer! So, there you have it, the makings of a perfect stocking for the season.
When it comes to picking the perfect fabric for your stocking, let's keep it simple and cozy! Cotton or quilting cotton is the way to go.
Why, you ask? Well, first off, it's a breeze to find in all kinds of solid colors and fun prints – so you can really let your creativity shine! And the best part? It's like a dream to sew with. Cotton quilts like a champ, giving your stocking that extra touch of homemade love.
Now, to make it all nice and fluffy inside, you'll need some batting. You've got options here – you can go for fusible fleece or any batting that's light or medium loft. So, wrap your stocking project in comfort and let's get sewing!
So let's talk stocking care, shall we? Here's the deal: since your stocking won't be hitting the washing machine too often (who washes stockings, right?), you can skip the prewash step for your fabric. Easy peasy!
But, here's a nifty tip: If you're aiming for that charming, handmade quilt-like look with some shrinkage and crinkles, then go ahead and skip the prewash. Instead, once your stocking masterpiece is all sewn up, give it a gentle wash and dry before proudly hanging it up. It's like a little secret recipe for that cozy, rustic vibe!
What's needed to make a Quilted Christmas Stocking:-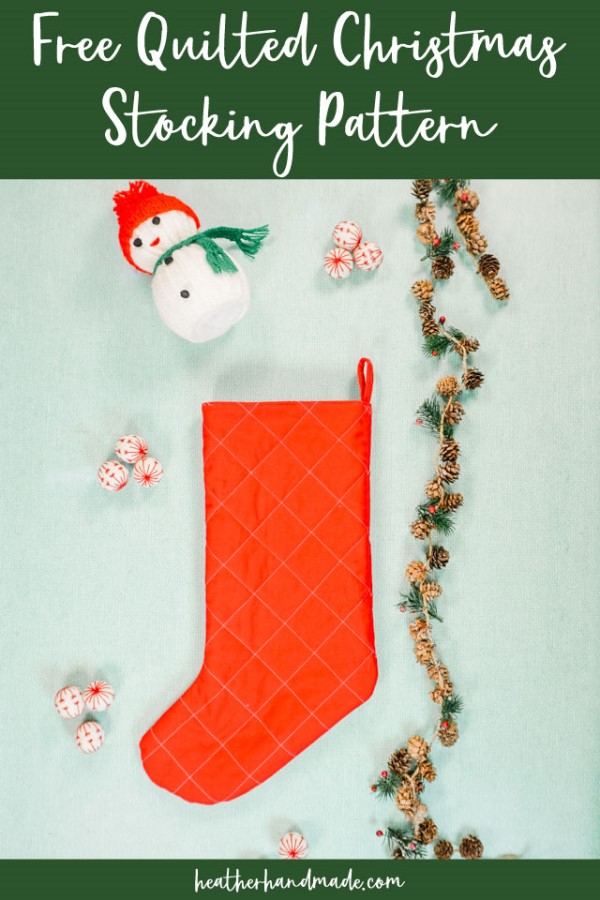 If you would like to see Heather's post showing you how to make a FREE Quilted Christmas Stocking and download her FREE Quilted Christmas Stocking sewing pattern (no instructions) you can click on the purple button below. However, if you have $3 available you can get the Quilted Christmas Stocking pattern and photo tutorial as a PDF. That way you won't need to access the internet every time you want to make it.
Click here for the FREE pattern & tutorial
Downloading this free pattern? Great! You would make our day if you 'bought us a coffee' to help with the site running costs. Thank you.