Lucky Layers Tiered Dress in Size 2T – free pattern
|
All articles may include affiliate links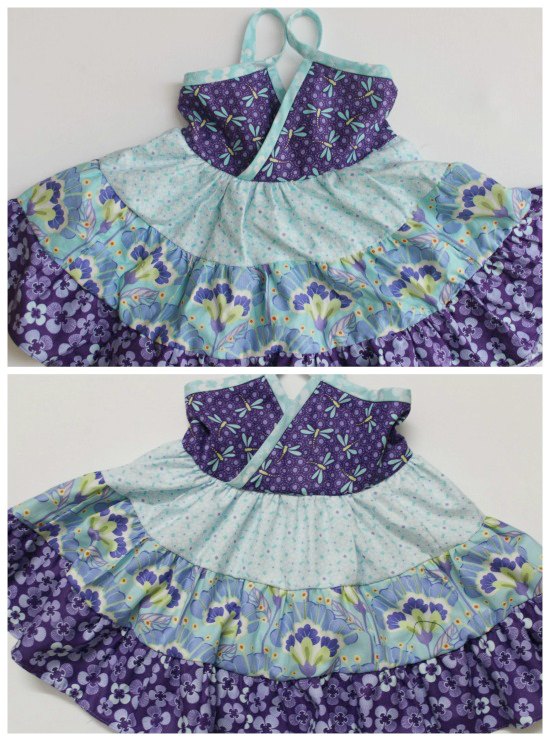 [UPDATE – sadly the entire Moda Bake Shop blog including this pattern and tutorial has now been removed. However we have managed to track down a PDF download on the United Notions site HERE. Fingers crossed this remains for this pretty dress.]
Here's a FREE pattern in size 2T for a dress called The Lucky Layers Tiered Dress. You can download the pattern and tutorial below. I used to have a dress really similar to this one when I was a girl. We called it a gypsy skirt back then, being a skirt with different tiers of fabric gathered into the tier above. My mother would make me a new one every summer in a patchwork design using up all the leftover pieces of fabric from the other sewing projects. These are perfect for twirling and swirling. The wrap over front bodice with the bound edges is so sweet.
It's made in a size 2T, however, if you want to make it bigger the designer has some very good tips for how to resize the dress pattern which are shown below.
The dress is made up of a bodice piece and 3 further pieces of material for the skirt. You can, therefore, chose at least four of your favorite pieces of material to make each dress. Mix and match, make it scrappy from leftover pieces, or sew all in one fabric if you prefer.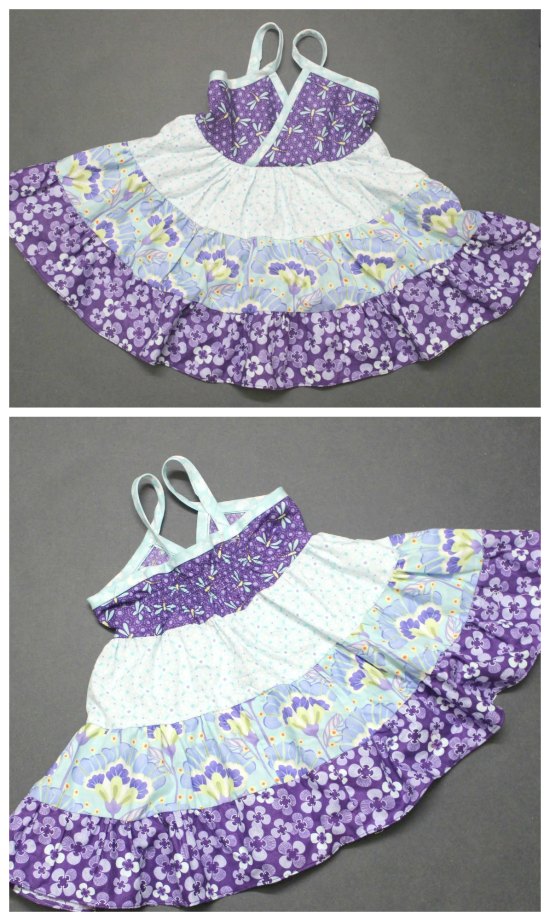 For a two-year-old size you will need:
3 layer cake squares for the bodice (10 inch squares)
4 fat quarters – 3 for the skirt, 1 for the shoulder straps and bias tape on the bodice.
Elastic thread for shirring
SewingMachine.
The dress can be made in a variety of sizes with the same basic construction. To make it bigger you could use any/all of the following tips from the designer:
Keep more of the shirred bodice piece you prepare. About half had to be cut off of it to make it in a two-year-old size. So if you like to make it in a bigger size keep more of it, that would add a few inches to the bodice width. Also, shirring at the back ensures that the dress fits for a long time on a growing child.
Add longer shoulder straps. For older kids, you could easily add about two inches to the shoulder straps. In fact, the designer keeps about two inches of shoulder straps hanging off at the inside of the dress, just so she can extend the dress length if she needs to.
Add one more tier to the skirt. The thing to keep in mind here is that the maximum 4.5-inch strips possible from a fat quarter are 4. So if you want to add one more tier, you may need more than a fat quarter. However, you could always mix two prints and make a patchwork tier.