Juliet's Playground Moccasins sewing pattern
|
All articles may include affiliate links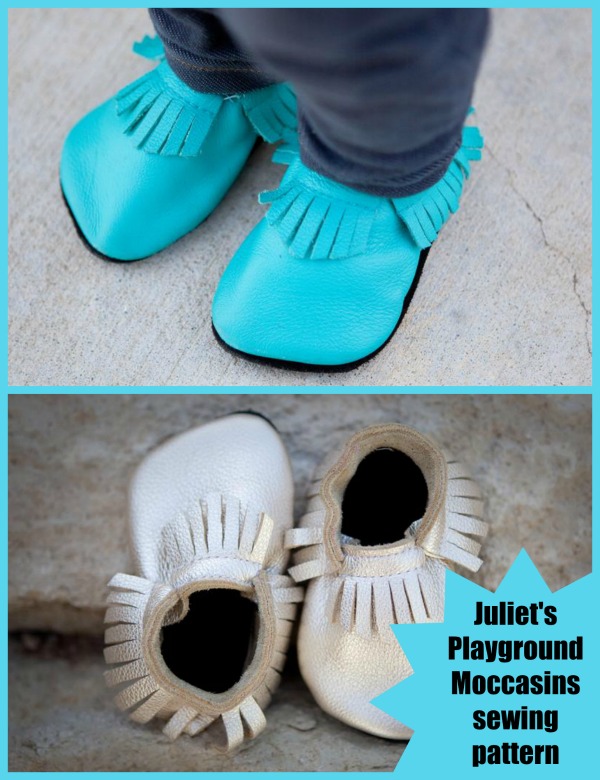 These Juliet's Playground Moccasins are simply adorable leather (or synthetic) moccasins. They're really comfy and durable for indoor and outdoor wear, which is just perfect for busy little explorers.
These fabulous shoes are designed to be sewn on a home sewing machine from leather or synthetic alternatives.
They come in lots of baby/toddler sizes as follows:- 0-3 mo, 3-6 mo, 6-9 mo, 6-12 mo, 12-18 mo, and 18-24 mo, with finished soles ranging from 3.5″ to 6″. As a separate download, they also come in US kids sizes 8, 9, 10, 11, 12, 13. Other sizes are available in the designer's shop.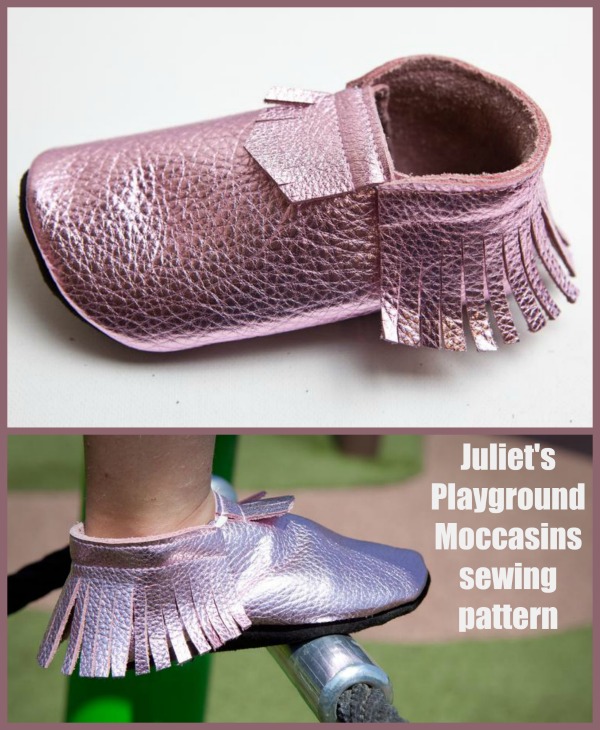 What you will need to make a pair of Juliet's Playground Moccasins:-
Leather – one 8″ by 10″ piece for sizes 0-3, through 9-12; one 12″ by 12″ piece for sizes 12-18 or 18-24; PLUS scrap leather for the sole,
Leather – one 12″ by 12″ piece for sizes 8-11; one 12″ by 12″ piece and one 8″ by10″ piece for sizes 12-13,
1/8" or 1/4" elastic,
The downloadable pattern and instructions include complete and clear instructions with photos for every step. Relevant sewing tips are included and there is a size check feature to verify your printer settings. Every pattern piece is marked with sizing information and each size has its own pattern pages to print out – you don't have to wonder where to cut.
If you want baby/toddler sizes then click on the light blue button below.
Click here to get the pattern (0-24 months)
But if you want US kid sizes 8 to 13 years then you should click on the red button below.