How to Shir Fabric FREE sewing tutorial
|
All articles may include affiliate links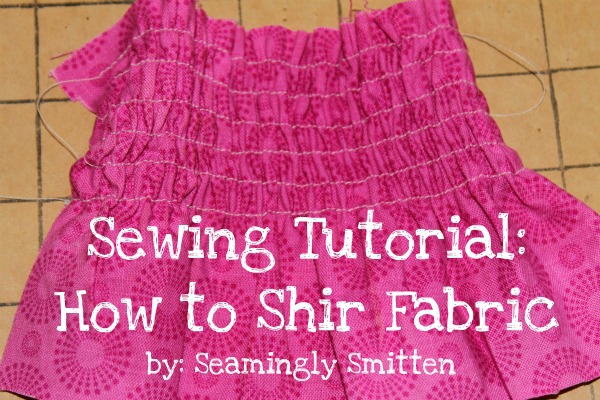 We always love it here at Sew Modern Kids when we are able to bring you a "How To" post, and we haven't done one of those for quite a long time.
So here is a great educational tutorial from Jenny Hall of Seamingly Smitten showing you "How to Shir Fabric". And even better it's a FREE sewing tutorial.
Over the years so many sewers asked Jenny how to shir fabric. Lots of those sewers mentioned to Jenny that when they looked at something shirred it intimidated them. They didn't know where to start and didn't have a clue how to make something so amazing. So the designer has made this great free tutorial. Now, this is your chance to read through the tutorial, get what you need, and give it a go, and become an expert.
Jenny says that – "once you try it, you will see that elastic thread is nothing to be afraid of and actually quite fun! It can take a plain piece of fabric and gather it beautifully and then when you see that pre-shirred material in fabric stores selling for $19.99 a yard you will look at it and think to yourself, "I can do that myself!" Don't you love that sewing confidence when it follows you around the craft store?".
Lots of newbie shirers read through the tutorial and gave it a go, and here are some of their comments:-
Justine of SewCountryChick said – This is so great thanks! I didn't know about the ironing trick and wondered why my shirring was so wonky!

Molly said – Wow that is awesome! I feel like a fabric magician now! Thanks!

Cassandra Holdeman said – Thanks for the tutorial. As a new sewer, this is a skill I am happy to see a tutorial for and to try out.
So now it's your go. Just click on the red button below and learn that super new skill.
Click here for the free tutorial
Downloading this free tutorial? Great! You would make our day if you 'bought us a coffee' to help with the site running costs. Thank you.