Bubble Romper for baby long pant style FREE tutorial
|
All articles may include affiliate links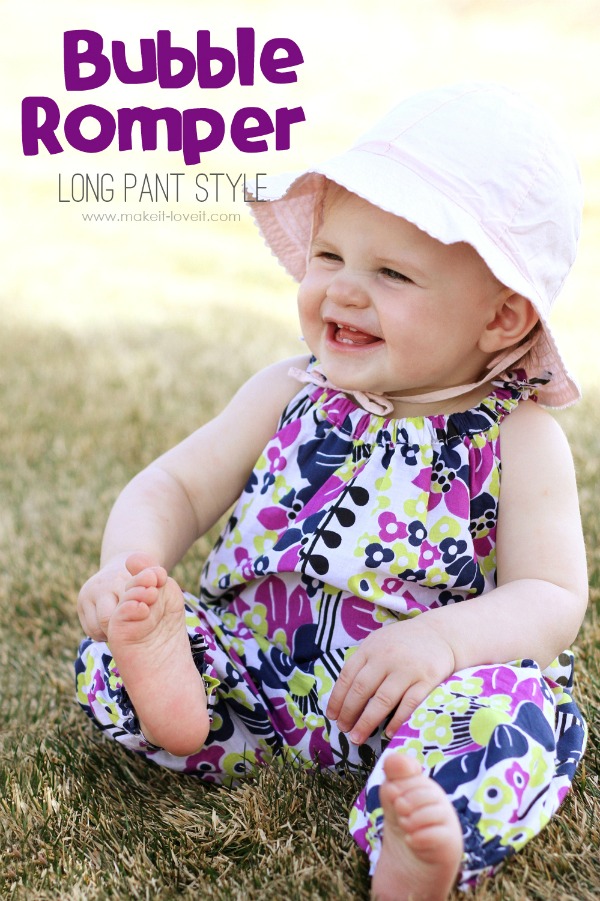 We really like everything that Ashley from Make It & Love It produces. She makes great patterns and tutorials, her step-by-step instructions are excellent and the photos that she takes are awesome.
This is her Bubble Romper for baby long pant style pattern. She designed it a while back now for one of her 1-year-old kids who was spending most of her time on her knees. Making one of these long pant style Bubble Rompers meant those little knees were covered so everything was perfect.
But it will also work well and look really cute on older children. The top part of the Bubble Romper is encased elastic which means it is easy to take off and put on. The little legs are cinched in with elastic as well and the designer has added simple little bows on each shoulder.
And because this romper has been made as a Bubble Romper, then there is plenty of room for standing up and down and moving all around.
The Bubble Romper is simple to sew. To keep things extra simple the designer has made it without a snap crotch to deal with. And because it has an elastic top, taking it on and off for diaper changes is actually quicker than unsnapping/re-snapping the leg area.
If you would like to follow through with this step by step tutorial (including how to make your own bubble romper pattern in the right size you need), then you should click on the button below.
Click here for the bubble romper tutorial
Even more free kids sewing patterns here -->
If this isn't quite what you are looking for but you really want a free pattern, then do take a scroll through our
Free Kids Sewing Patterns Pinterest board.
Pin and save all of your favorite sewing patterns to your own boards to make them easy to find later. Don't forget to pin this pattern too.