Baby Tights FREE Tutorial
|
All articles may include affiliate links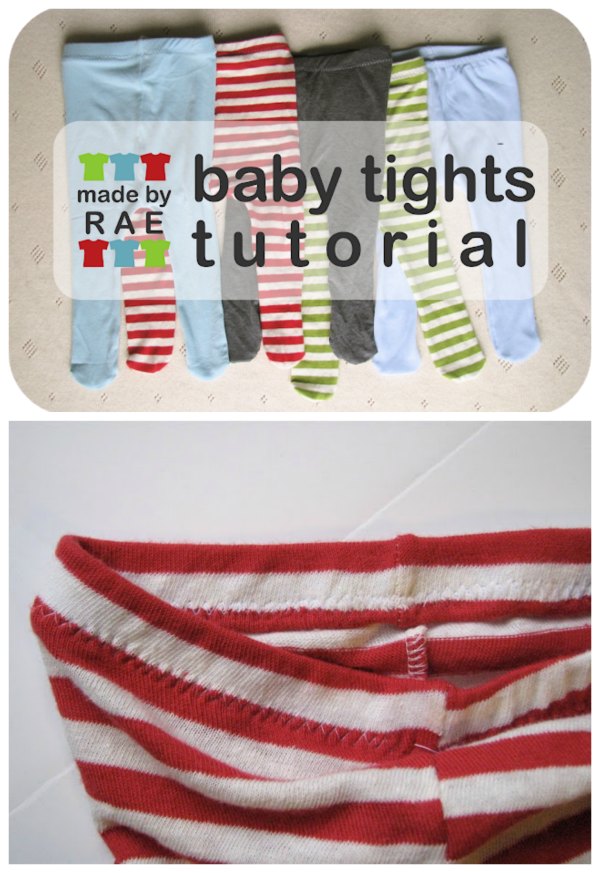 Here's a quick and simple and FREE tutorial showing you how to make a pair of tights for baby by tracing another pair.
This designer has thought of everything as she says – IF you don't have a pair on hand to trace, then she has made a PDF baby tights pattern in size 3-6 months and 6-12 months. These baby tights can be sewn with either a serger or a regular sewing machine. Stretchy knit jersey or old t-shirts make the best materials, and you'll also need some 3/4″ wide elastic.
The designer also advises that for baby tights, you'll need very little fabric. An 18″ square of fabric will probably do it if you're making tights for an infant, obviously more if your baby is larger.
What types of fabric will work for sewing baby tights?
The type of fabric needed for these tights is a lightweight knit jersey with lycra/spandex. Jersey is different from interlock as it does not look the same on both sides and tends to curl on the edges. Interlock is the same on both sides, doesn't curl or stretch as much, and will not work as well for this project.
Some ribbed knits might work, but most ribs tend to stretch mostly in one direction. When you select your knit, make sure it is thin, it is very very stretchy, and that it stretches in both dimensions (called 4-way stretch). This is why the addition of lycra/spandex is helpful. One way to tell if a fabric will work is to take the fabric in your hands and try stretching it widthwise and then lengthwise. It should feel pretty stretchy both ways, even if one is a little less than the other. If it is significantly less stretchy in one direction, it's probably not a good choice for these tights.
WHERE TO BUY THE SOFTEST KNIT FABRICS
Here are some ideas for suppliers for the softest stretch fabrics, ideal for this project.
Spoonflower on Etsy – all of their fabric designs can be printed on any type of fabric. Try the organic cotton knit, the cotton jersey or the modern jersey for this pattern.
KnitFabric.com – well known for their patterns of course, but also stocking more than 1000 different fabrics, all perfect for sewing kids clothes. You'll find more than 500 beautiful soft knit fabrics here.
Art Gallery fabrics jersey knits– a beautiful range of jersey knit fabrics for clothing for babies, children and adults
Cali Quilt Co on Etsy– lovely range of knit fabrics from Riley Blake, Dear Stella, Stof Fabrics, Art Gallery, Birch Organics and more
Stylish Fabrics on Etsy – huge choice with more than 2,000 knits. Good choice of solid colors and different types of knit fabrics
Koshtex fabrics – for bamboo, modal and rayon knits
Jelly Fabrics (UK Based) on Etsy – lovely range of organic knit fabrics and rib knits