Baby Romper / Dungaree Playsuit sewing pattern (0-24mths)
|
All articles may include affiliate links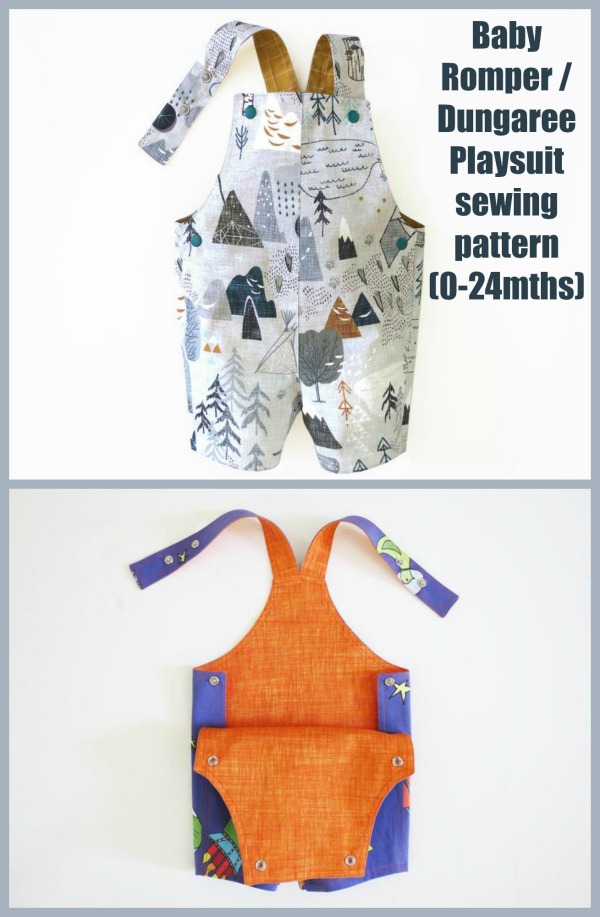 This is the ALEX Romper Sewing Pattern and Tutorial that comes in sizes 0m, 3m, 6m, 9m, 12m, 18m, 24m.
This cute shortie-dungaree is absolutely fabulous and is designed for both baby boys and girls. You can make it with pockets on the front and back or if you want with no pockets at all for a quick and easy project.
The optional contrast ruffles on the girl's dungaree add a quiet charm to the design.
The straps feature an adjustable chest snap closure for easy dressing and room to grow. The side closure will help to tuck a shirt inside easily and inseam snaps will make a diaper change a breeze.
The designer recommends that you use any of the following fabrics when you make one of her Alex Rompers:-
Please note that it is very important that when you make one of these Alex Rompers that you choose your baby size by chest and height, not by age. Sizes included are as follows:-
0 months = 22″ height and 16″ chest ,
3 months = 25″ height and 17″ chest,
6 months = 28″ height and 18.5″ chest,
9 months = 30″ height and 19″ chest,
12 months = 31.5″ height and 19.5″ chest,
18 months = 34″ height and 20.5″ chest,
2 years = 36″ height and 21″ chest.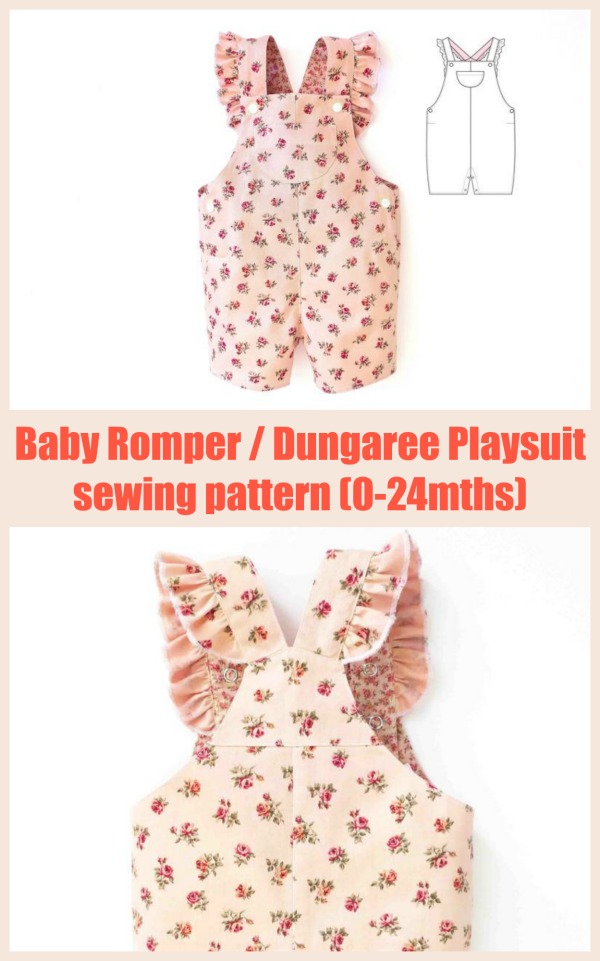 The designer, 5Berries, receives fabulous customer feedback, and some of the longest and most positive reviews that we have ever read. Here are just four of them:-
jmsch59 said – Adorable overalls for my grandson! I made the 12 months size and added 2 patch pockets on the back side also with the contrasting fabric. The pattern was very clear and easy to follow and fun to sew!

Diane Martel said – I ended up making 4 of these little outfits and I still have a few more to do. I've included a picture of my favorite one. I made it for my great-nephew out of my dad's dress shirt. It turned out so cute. I also made a little fedora to go with it. My favorite part about this little outfit is that I added the tag that was in dad's shirt so the pants now have a size 3x tag in them. So cute! Thanks for the great pattern.

Wumi Afolabi said – As a dressmaker, I usually draft my patterns but I was pressed for time and needed something quick and easy. This baby romper pattern did the trick. It's easy to follow and the finished romper is simply gorgeous. Thank you

Rachel Mc Kinney said – I still have to put the snaps on but I wanted to review this right away. This pattern is AMAZING! I made this as a baby shower gift and it has turned out fantastic. While I am an intermediate sewer, reading the directions I found they were some of the best pattern directions I've seen. They were clear, concise, came with full colour photographs to demonstrate the steps, and even had a guide of tips and terminology for beginners. I would say this would make an excellent pattern for anyone just starting out. I'm already planning to make this in several sizes for my new nephew!
The PDF pattern includes a professionally graded pattern and how-to-make tutorial (Letter (USA) and A4) with every-step-by-step pictures. If you would like to download the pattern then click on the light blue button below.