Baby Boy Shorts with Suspenders Free sewing pattern (size 3 months)
|
All articles may include affiliate links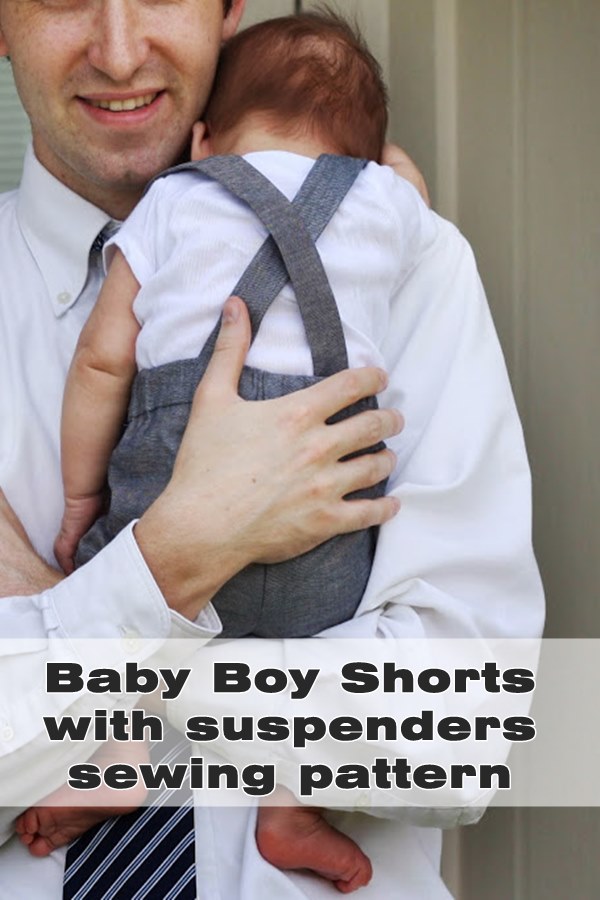 [UPDATE – the Crafting Zuzzy website has been closed. There has been no activity in the Etsy shop or Facebook page for years. This pattern is no longer available on the blog and we can't find it anywhere else. Sorry, we hate it when things like that happen, but its outside of our control.]
You might find an alternative you like in our section here for pants and shorts.
---
We all know that high-quality clothes for babies and children can be extremely expensive if they are not products for daily use. This is especially true when you want to buy your baby a cute, unique and retro piece of clothing as these baby shorts with suspenders are.
The good thing is that with this pattern you don't have to waste a lot of money anymore on clothes that your baby will wear only on special occasions and outgrow quickly because you can make it by yourself with the help of this free pattern. You will just have to buy the materials, or maybe you have some of the materials in your stash just waiting for the perfect project.
This pattern is completely FREE for size 0-3 months. The pattern is also available in sizes 3-6, 6-9, 9-12, 12-18, and 18-24 months, so at any time, you can make these shorts for your baby, but you will have to buy those patterns from the designer as she has only made the pattern for the smallest size free of charge.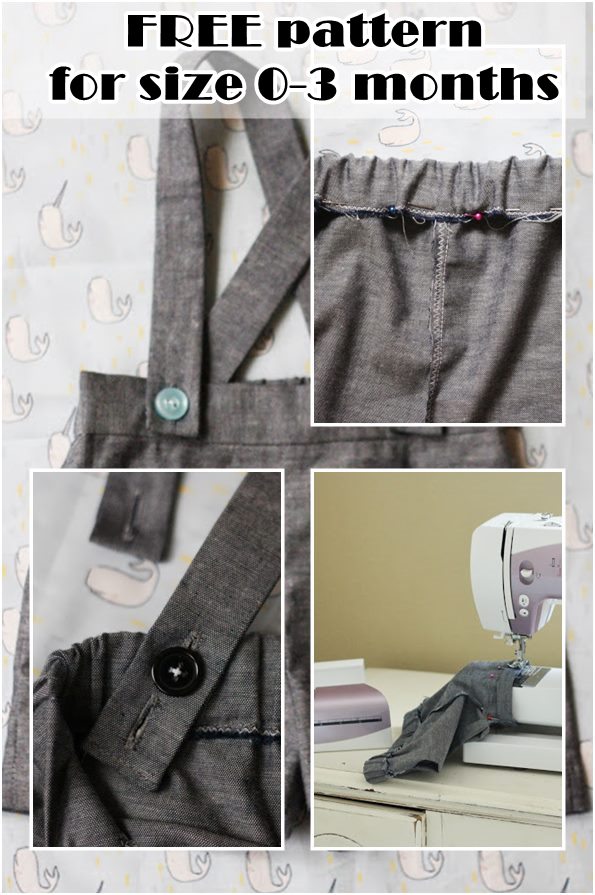 The shorts with suspenders make a wonderful outfit for your boy to wear on special occasions, weddings and photoshoots. If you add a shirt and bow tie, your little gentleman is ready to win many lady`s hearts.
The designer chose to make retro-inspired suspender strap shorts made of grey chambray with vintage buttons, but you can obviously choose whichever color, material and buttons you like best.
The PDF tutorial has 20 pages and is easy to follow. The pattern pieces are marked with colors for simple cutting and are also dashed for those who choose to print in black and white. Measurements are in imperial inches but if you prefer in metric units, simply multiply inches by 2.54 and you will have your measurements in centimeters.
For sewing these adorable baby suspender shorts you will need:
1/2 yard of fabric (the designer says you will have plenty of leftovers for another pair of shorts).
4 buttons.
8″ length of 3/4″ wide elastic.
matching thread.
Designer notes:
*all seams are sewn with a 1/2″ seam allowance (seam allowances are included in the pattern)
**after you sew each seam, finish the seam by using a zigzag stitch then trim the excess fabric (about 1/4″) or use a serger if you are lucky enough to have one.
Grab all the supplies you need and start sewing these cute Baby Suspender Shorts today!
More things to sew for babies -->
Babies are such a delight to sew for, and handmade items are the perfect baby shower gift. Check out our
Pinterest
board with all of our favorite baby sewing patterns here. Don't forget to pin and save all of your favorites to your own boards for later.