Andie A-Line dress pattern with appliques
|
All articles may include affiliate links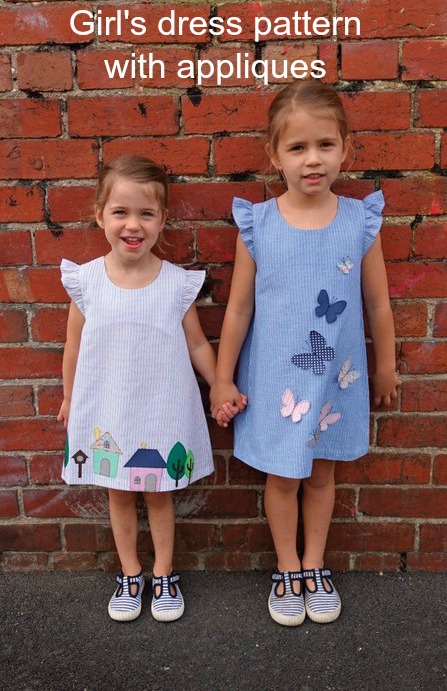 Here's a pattern for a very cute but simple A-line girl's dress which features frills at the shoulders and a loop and button back opening. I remember seeing photos of me as a little girl in a dress just like this which my grandmother had made. I LOVED that dress. It was so light and comfortable, I could run and skip with the a-line skirt, it wasn't tight around the waist, and I had applique butterflies on it (and flowers) just like one in the picture above. Mine has simple cap sleeves but the cute little frill sleeves that stand up at the shoulders on this dress are perfect.
What really makes this dress adorable are the wonderful appliques you can add, but equally it would be the perfect go-to a-line dress pattern without them.
The sewing pattern comes in sizes 1-7, with each size shown in a different colour. You must use the size chart in the gallery to choose the correct size for you.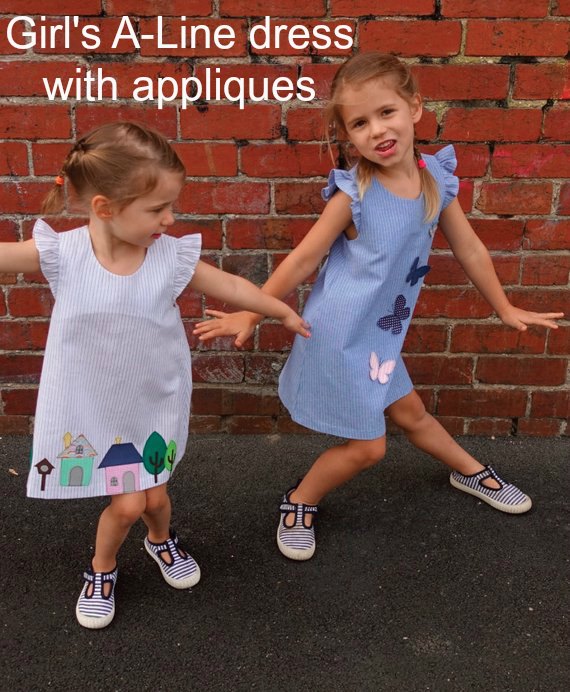 What you will need to make the Girl's Andie A-Line Dress
Recommended fabrics = Cotton or denim or rayon
For fabrics measuring 148 cm (58 in) wide, you will need 0.55 m (0.6 yd) for Sizes 1-3 and 1 m (1.1 yd) for Sizes 4-7
Applique Fabric with a width of 90 cm (36 in) you will need 20 cm (8 in) in total for all Sizes. Scraps from your fabric bin would most likely be perfect
One button – 10 mm