Swim Rash Guard and Boys Shorts FREE sewing pattern (with video)
|
All articles may include affiliate links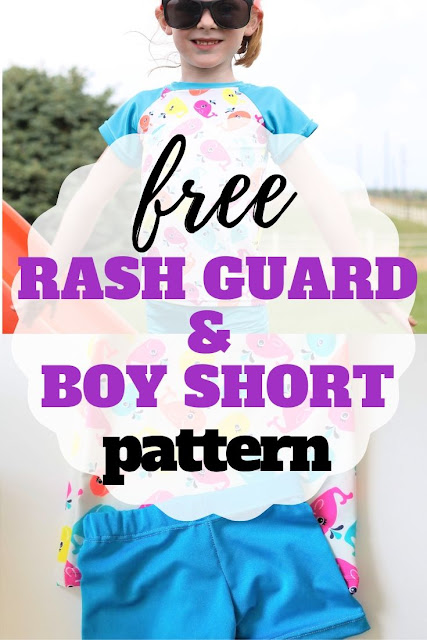 This is a Swim Rash Guard and Boys Shorts FREE sewing pattern (with video) from the designer Sew Simple Home.
This is a great pattern that gives you the comfort of a pair of Boy's Shorts with the sun protection of a Rash Guard! The designer made this project for her daughter who was particularly sun sensitive and she ended up with a Rash Guard that was cute, age-appropriate, and that made her happy.
Instead of trying to make a rash guard to go over a swimsuit, the designer wanted to make the entire swimsuit revolve around the rash guard! And not only does this pattern keep the sun off but this pattern is modest which was a big plus for the designer.
So sewing a swimsuit can be a little scary. The designer starts off her tutorial by giving you lots of great tips on how to sew a swimsuit. As she says – swimwear is not like most sewing projects. Her top tips are as follows:
The type of fabric is different, the fit is snug and the way it should be sewn may differ from other sewing projects. Get yourself a high-quality swim knit fabric. If you can find one with UV protection then that is the best!
Most swim knits will be a combination of polyester spandex or nylon spandex this is because they keep their shape. Make sure to have a good stretch in your knit.
Use polyester thread as chlorine deteriorates cotton.
Buy swimsuit elastic. Again it is also made for use in chlorine and has the right amount of stretch for your projects.
Use an overlock stitch, stretch stitch, or a double needle. You don't need a serger to sew a swimsuit, but it does help. The designer actually uses a double needle to sew my swimsuits. It gives the suit a nice finish and is a stronger stitch than just a zig-zag stitch.
Use stretch needles as these will help to ensure you don't snag your fabric as you sew on your sewing machine.
You should follow body measurements, not just the store-bought size, as sewing a swimsuit that fits well all depends on measurements. Make sure to follow the measurement guide for bust, waist, and hips or you'll end up with an ill-fitting swimsuit.
Besides providing a written tutorial the designer has produced a YouTube video tutorial showing you how to make A swim Rash Guard and Boy's Shorts. The video runs for 18-minutes and can be viewed below.
What's needed to make a Swim Rash Guard and Boys Shorts:
1/2 a yard of swimsuit fabric,
1/2 a yard of contrasting swim fabric,
3/4″ of swimsuit elastic,
Polyester thread,
A sewing machine (the designer says – you don't need a serger to sew a swimsuit, but it does help).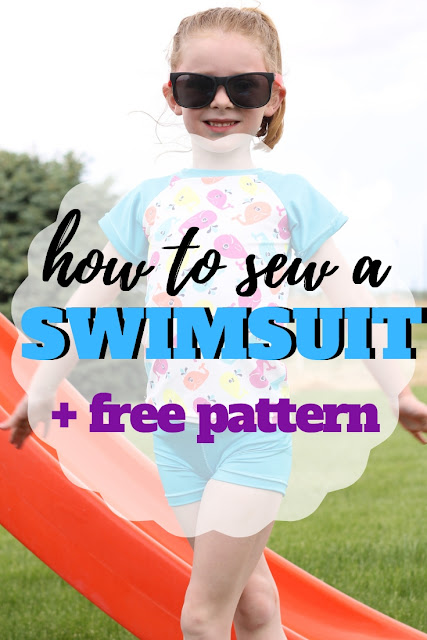 If you would like to download the FREE pattern you can click on the purple button below. This gives you access to the designer's webpage where you'll be able to read through the full step-by-step photo tutorial. However, this does mean that you need to access the internet each time you want to make your own. To get the pattern you will need to put your e-mail address into the link from the designer.
If you want the Swim Rash Guard and Boys Shorts pattern and full step-by-step photo tutorial then you can actually purchase a pdf version through Etsy which you can do HERE.
Click here for the FREE pattern
Downloading this free pattern? Great! You would make our day if you 'bought us a coffee' to help with the site running costs. Thank you.