Little Red Riding Hood – A Hooded Cape FREE tutorial
|
All articles may include affiliate links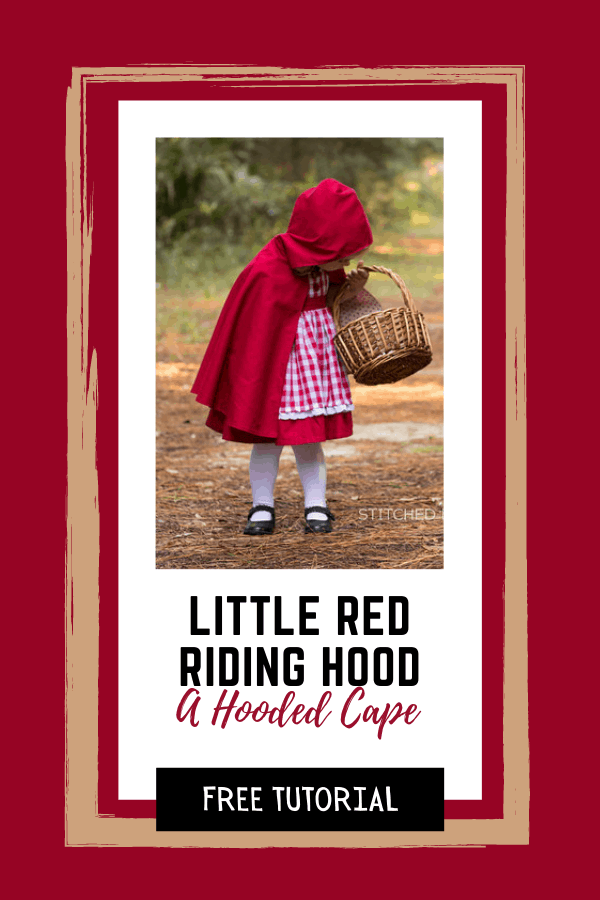 Here's a free sewing tutorial for a Hooded Cape for Little Red Riding Hood.
The designer, Stitched By Crystal, absolutely loves Halloween. It's her absolute favorite time to sew!
This year for Halloween, Crystal decided on the theme of Little Red Riding Hood for her daughter.
She decided on Little Red Riding Hood partly because she was Little Red Riding Hood herself once when she was a little girl and it was one of her most favorite costumes, but mostly she picked it because she thought her daughter would make the cutest Little Red Riding Hood! And looking at these pictures you can see why. She looks perfect.
Her cape is red (of course) on the outside and she lined it with a vintage-looking fabric that is cream colored with little red flowers. She then finished it off with a little toggle to keep it on.
For her costume, she made her THIS gingham dress. Little Red Riding Hood needed a red dress and a red hooded cape. She chose gingham fabric with some eyelet trim and didn't it turn out awesome.
And to finish off the whole costume, she added a basket for Little Red to carry all her goodies for Granny (or her candy for trick-or-treating).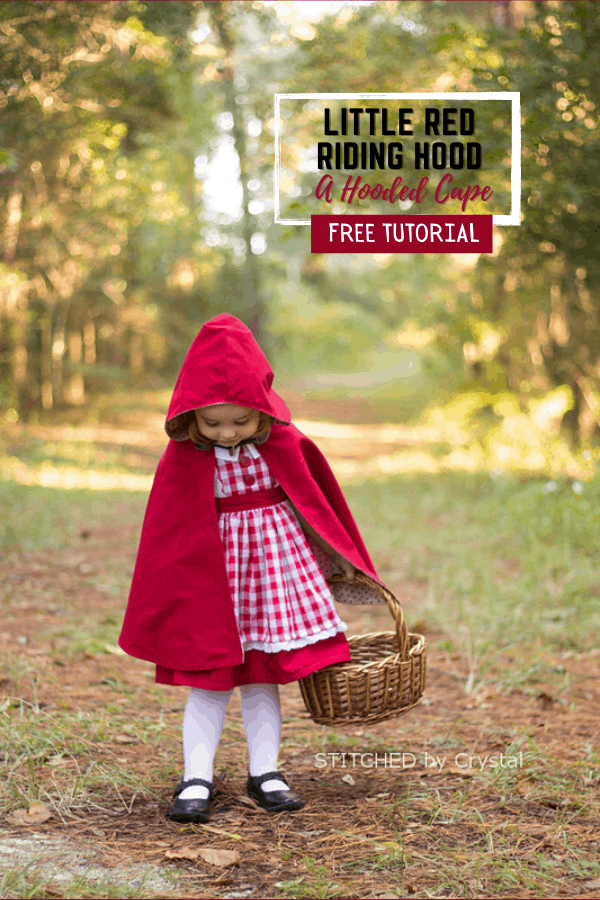 What you will need to make a Little Red Riding Hood Hooded Cape:-
Fabric for the outside of the cape, red if you are making little red but this cape could be used for lots of costumes…Like a vampire, Harry Potter, you could even modify it a bit to make a Frozen Anna cape. As far as how much you need, that depends on the size you want to make. The designer used 1 1/4 yards for her 2-year-old.
Fabric for the lining, the same amount as the outer fabric.
Something to fasten the cape. The designer used a toggle, but you could use something like a ribbon to tie or a button and fabric or elastic loop.
If you would like to download the free pattern you can click on the purple button below.
Downloading this free pattern? Great! You would make our day if you 'bought us a coffee' to help with the site running costs. Thank you.