Isla's Infinity Tunic and Dress sewing pattern (Sizes 2T to 12)
|
All articles may include affiliate links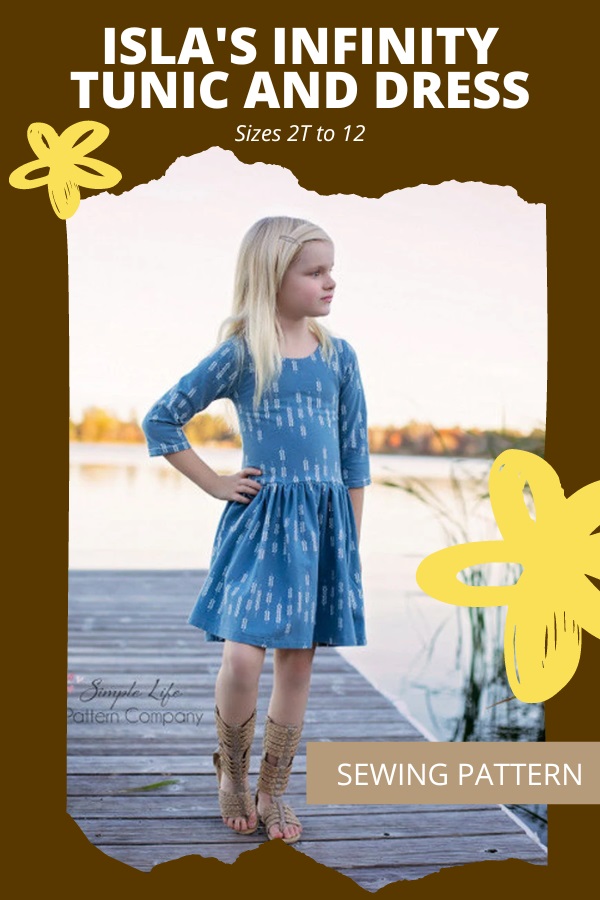 This is the Isla's Infinity Tunic and Dress sewing pattern from the designer Simple Life Pattern Co.
With this pattern, the designer gives you many many options to achieve an incredible number of looks.
To make this dress super adorable you'll have the option of adding an adorable heart shape cut-out in the back. However, if the heart cut-out is not for you then you can choose to do a simple back option.
As far as the bodice length is concerned you have three choices as follows:
Curved (for a slight high low effect),
Straight,
and Drop waist.
And you can also choose from a gathered skirt or a circle skirt in tunic and dress lengths. The skirt can be made with woven or knit fabric.
And then when it comes to the sleeves you have an amazing six options as follows:
Tank,
Flutter,
Short,
Elbow,
3/4,
Long sleeves.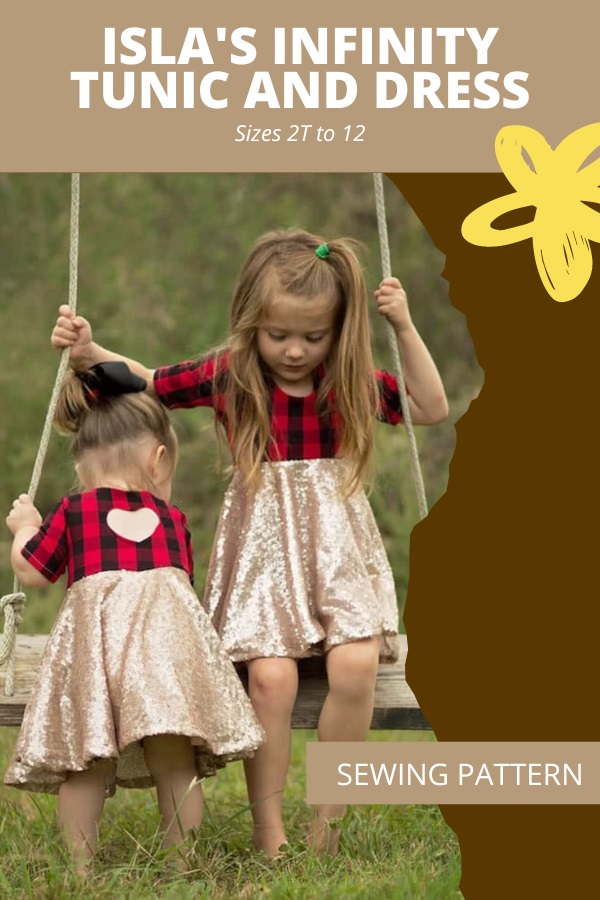 You can also choose to add ruffle sleeves in either a gathered ruffle or a circle flounce. The option to add ruffles down the center of the bodice adds a cute feminine touch. The sleeves and bodice ruffles can be made in knit or woven as well.
And you have the option to add side seam pockets to the dress-length skirts so your little one has a place to keep their little treasures.
This bodice is fully lined so there is no binding to fiddle with.
The designer rates her project as suitable for a beginner sewer IF they just sew the simple back option. However, if the sewer chooses to sew the heart back then they will need the skills of an advanced beginner sewer.
The pattern comes in nine sizes from 2T to size 12 as follows: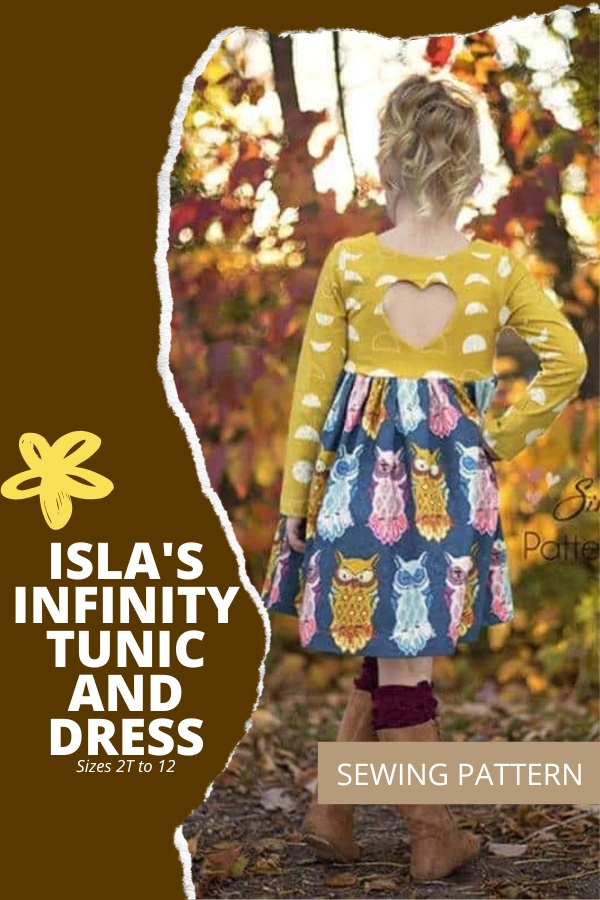 So this is a pattern where you will need to use knit fabrics. If you have not sewn with knit fabric before then you don't need to worry as the designer brings you loads of helpful tips and tricks to make sewing with knits as easy as possible!
The designer tells you about what type of knit fabric to buy. You'll also learn about the preferred needles for sewing knits, and which stitch to use on your sewing machine.
So what is the best part about knits? The answer to that is they don't fray, so it is not necessary to hem them, although the designer does explain that as an option in the patterns. You'll actually end up, probably to your surprise, finding out that sewing with knit fabrics is much faster than sewing with woven fabrics! The designer thinks, and we agree, that you'll end up loving sewing with knit fabrics!
Please note that this pattern features a layered printing option. Instead of having to print all the sizes out, you can choose to only print the size(s) you need. This will help you save that precious ink!
This tutorial includes detailed step-by-step instructions and pictures to help you sew all the sewing options listed. The pattern pieces are all computer drawn with the exception of square or rectangle pattern pieces, which are listed in a cutting chart to save you paper and ink.
If you would like to download the pdf pattern you can click on the blue button below.
More girls dress sewing patterns here -->
We think sewing a pretty dress for a pretty girl is one of the most rewarding sewing projects. There are so many gorgeous dresses you can sew and we like to save all of our favorites to our
girls dress sewing patterns
Pinterest
board. Follow the board here, and don't forget to pin and save your favorites to your own boards for later. Happy sewing.