DIY Contrast Bib Dress FREE sewing pattern and tutorial
|
All articles may include affiliate links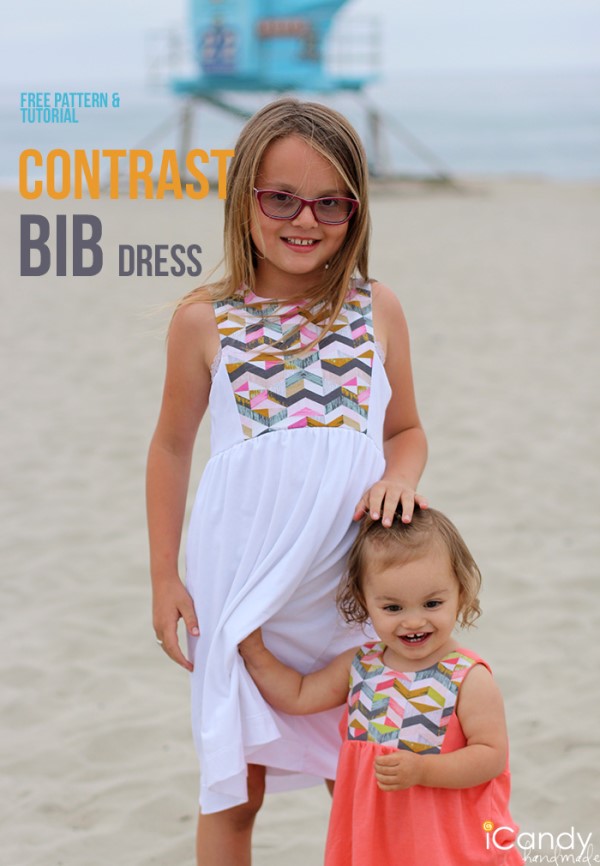 Let's dive into the world of the DIY Contrast Bib Dress, a fantastic creation by the designer iCandy handmade who wanted something equally charming for both big and little girls.
The front bodice of the Contrast Bib Dress adds a unique twist to traditional sewing patterns. Instead of the usual curve, it features angular armholes. This design choice adds a touch of excitement to the dress, making it stand out from the crowd. It's those little details that really make this dress special.
Getting dressed shouldn't be a struggle. That's why the back bodice of this dress has a deep, rounded V shape. This design element not only looks stylish but also makes it a breeze to put on and take off. No more fumbling with tiny buttons or zippers!
The Contrast Bib Dress doesn't just stop at its bodice. The bodice itself is in a high-low shape, which adds an extra element of sophistication to the design. This high-low feature extends to the skirt, creating a subtle hi-low effect that's just enough to make the dress interesting without being overly dramatic.
We all know how tricky sizing can be when it comes to kids' clothing. However, with the Contrast Bib Dress, you're in luck. Even if your little one typically wears a size 7, this dress in an 8-9 still looks utterly charming. In fact, it's so cute that it's worth considering even if your child typically fits into a smaller size. As shown in the images, Emily wears the dress with a tank because it's a bit roomy for her, and it still looks absolutely adorable.
So, there you have it! The DIY Contrast Bib Dress is a sewing project that combines fun and style effortlessly. With its unique bodice design, easy-to-wear back bodice, high-low elegance, and adaptable sizing, it's a must-try for any mom with a passion for crafting fashion. Whether you're making it for a big girl or a little girl, this dress will undoubtedly be a hit. So grab your sewing machine, pick out some fabulous fabrics, and get ready to create something special for your little fashionista. Happy sewing!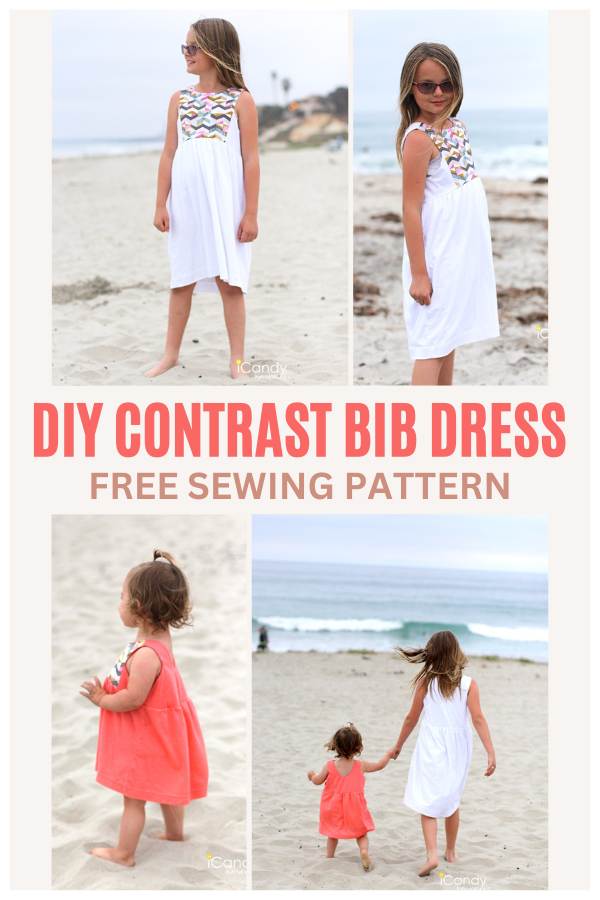 So what fabric will you need? You'll need a small piece of woven fabric for the front bodice, about 1½ yards of knit fabric for size 8/9, and about ¾ yard for size 18-24 months. You will use the same knit fabric for the bodice lining as on the main part of the dress.
If you would like to download the FREE pattern you can click on the purple button below. To download this pattern, you will need to click here and subscribe to receive the designer's bi-weekly email updates. Once you enter your email, you will get a confirmation email to confirm your subscription. Once you confirm, you will be sent another email from the designer containing the link to this pattern.
Click here for the FREE sewing tutorial and pattern
Downloading this free pattern? Great! You would make our day if you 'bought us a coffee' to help with the site running costs. Thank you.