Blanket Hoodie FREE sewing pattern (Kids + Adult sizes)
|
All articles may include affiliate links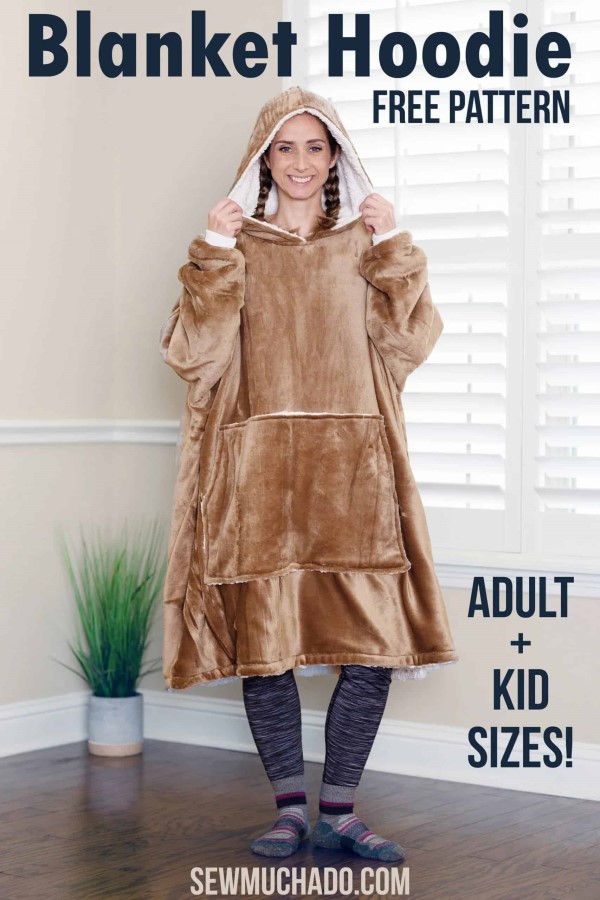 This is the Blanket Hoodie FREE pdf sewing pattern from the designer Sew Much Ado.
Blanket Hoodies are super popular at the moment and with this FREE pattern you'll be able to make one for all the family as the designer will guide you through all the steps you need to make.
From the pictures you'll see that this blanket hoodie pattern will create a (very) oversized hoodie and as a bonus it's completely reversible, meaning no visible seams outside or inside the hoodie! They are so oversized that you truly feel like you are wearing a blanket that you can tuck your feet right up into!
The download comes in two sizes – adult and kids – with the approximate sizes as follows:
Adult = 39.25″ center back length, 78″ chest and waist width.
Kid = 29.75″ center back length, 59″ chest and waist width. The kids size will fit a wide range of kids' ages, from 4 to 13 depending on the child's size and desired fit.
Please be aware that this Blanket Hoodie is NOT designed or safe to be worn while sleeping, and children should always be supervised while wearing it for safety.
These are perfect for cuddling up for a movie on those cold winter nights so much so that the hood keeps your head nice and warm.
The designer rates her sewing project as suitable for confident beginner sewers. She says the trickiest parts will be sewing through multiple bulky layers at once, but she has shared some tips to help you.
The other tricky steps are attaching the cuffs and sewing the bottom hem in a way that will result in no exposed seam allowances, which is how you make this DIY blanket hoodie totally reversible. It's a technique that is quite difficult but the designer shares detailed photos of each step of the process.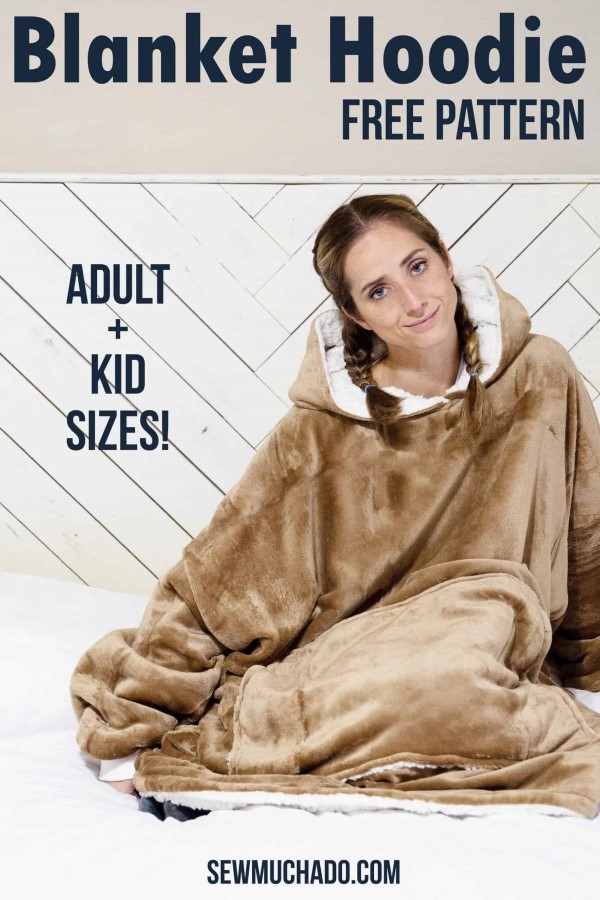 And so what are the best fabrics to make this Blanket Hoodie? This pattern is designed to be two layers, including a (faux) sherpa lining and a fleece exterior. Most are made out of polyester, although there are some cotton fleeces, and there are several different types of fleece you can use to make a blanket hoodie, from plush fleece (the designers favorite and what she actually uses in this post), to polar fleece. It should have a little stretch to it (10% is enough). Sherpa is also considered a fleece, but for this post the designer simply refers to it as sherpa, and refers to the exterior fabric as fleece.
You can of course substitute whatever other cozy fabrics you'd like, but the designers favorite trick to finding great fabric is to use a pre-made sherpa/fleece blanket for the fabric yardage.
For the blanket hoodies the designer used these sherpa and fleece blankets from Amazon. I purchased the king size (108″ by 90″), and it was enough fabric to sew an adult blanket hoodie with some left over. For the kids sized blanket hoodie pattern, the same quilt, but in queen size, provides enough fabric (90″ by 90″) with some leftover.
The designer says whatever pre-made quilt you're using, just be sure to double check that the yardage will be sufficient, accounting for any areas where the borders are stitched together.
Using pre-made blankets is often less costly than purchasing each fabric from a fabric store and it's great that they're already sewn together around the edges (make sure they're only sewn around the border and not quilted together throughout the middle), so you'll be able to keep both the exterior and lining together and cut both out at once.
You can also find sherpa fleece blankets at most local department stores.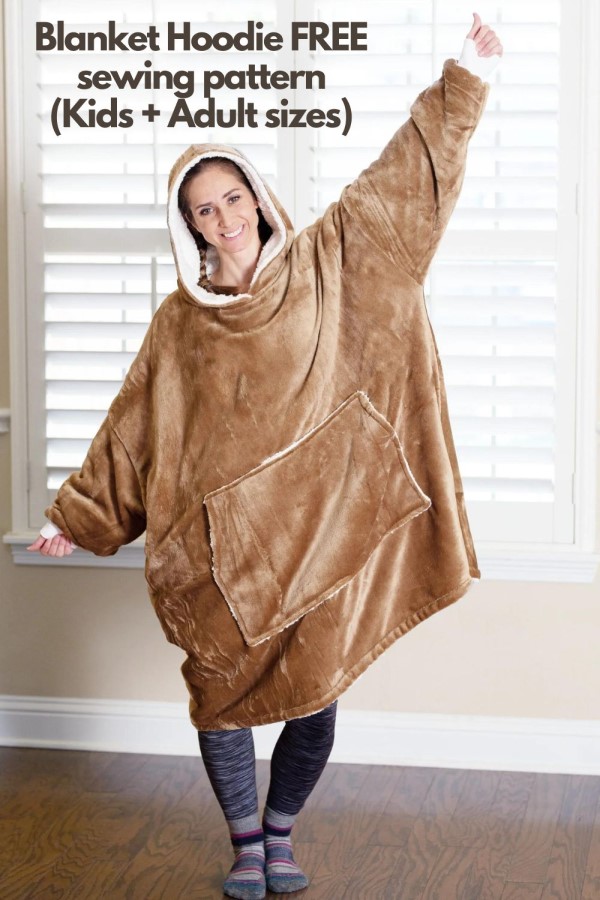 What's needed to make a Blanket Hoodie:
Fleece – 4.5 yards (57″ wide) for the adult size or 3 yards (57″ wide) for the kid size, OR use a pre-made quilt (a king size (108″ by 90″) is enough fleece and sherpa fabric for the adult size blanket hoodie, and a queen size (90″ by 90″) is enough for the kid size),
Sherpa (lining fabric) – 4.5 yards (57″ wide) for the adult size or 3 yards (57″ wide) for the kid size, OR use a pre-made quilt,
Cuff fabric – ¼ yard of knit with at least 75% stretch and excellent stretch recovery. The designer used a rib knit, and ribbing would also be ideal,
Size 14 or 16 ballpoint needle – important for stitching through bulky fabrics and layers and knit fabrics,
If you would like to download the FREE pattern you can click on the purple button below.
Click here for the FREE pattern
Downloading this free pattern? Great! You would make our day if you 'bought us a coffee' to help with the site running costs. Thank you.