Baby Bib FREE sewing pattern
|
All articles may include affiliate links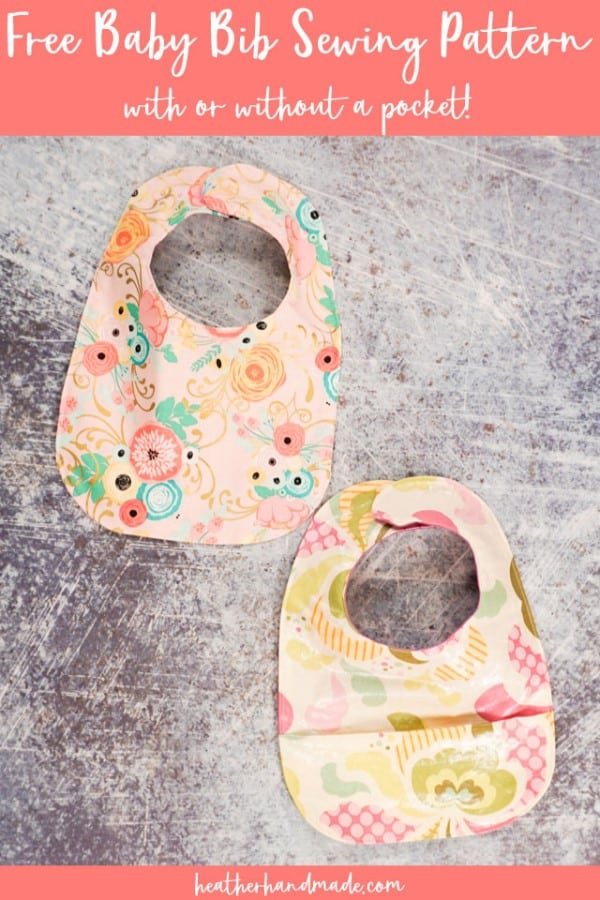 This is a Baby Bib FREE sewing pattern from the designer Heather Handmade.
Now is your chance to learn how to sew a baby bib with or without a pocket with this FREE sewing pattern. You can use quilting cotton or laminated cotton for two different bibs!
The designer says she loves having a bib to protect her baby's cute clothes throughout the day. Baby's clothes are just so cute, but they get stained so easily and quickly. Making a cute bib that can easily be changed as needed is a quick sewing project that makes a big difference.
She used a ton for each of her babies, and she loves making them for baby gifts. She likes to choose a pretty print to make the bib extra special. This free baby bib pattern comes with an optional pocket so you can make the bib exactly the way you want it.
The top bib, in the pictures, is made out of quilting cotton, and it does not have a pocket. The bottom bib is made out of laminated cotton and quilting cotton, and it does have a pocket. She loves both of these floral prints, but masculine prints are also great too!
When she makes the bib without a pocket she likes to use quilting cotton or double gauze for the front and back. It's easy to find in so many cute prints, it's easy to sew, and it's comfortable to wear. It does wrinkle easily when it's washed and dried, but she likes how absorbent the cotton is.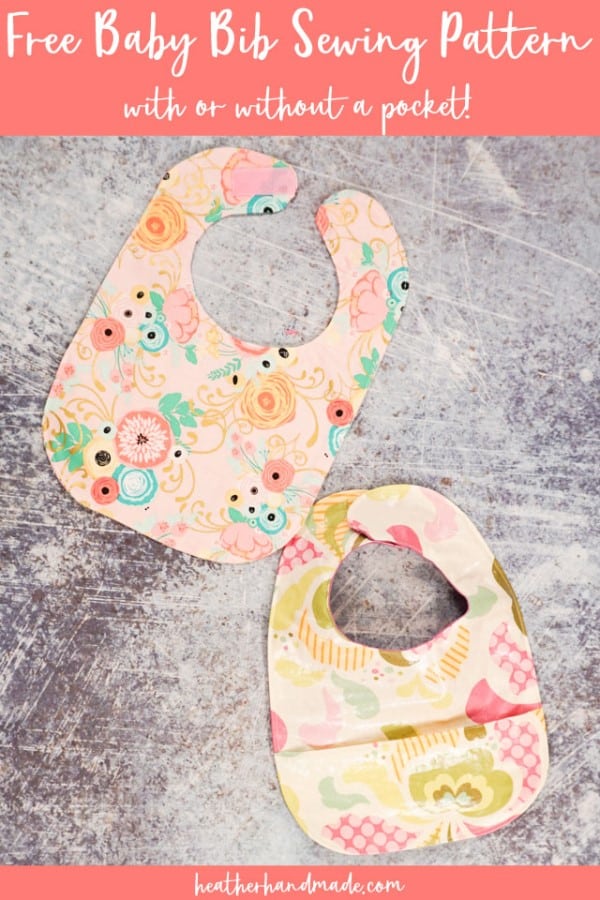 When she makes the bib with a pocket she likes to use quilting cotton for the back because it's comfortable against baby skin. She likes to use a waterproof fabric like laminated cotton, faux leather, oilcloth, or pleather for the front and for the pocket.
So should you use Velcro, snaps, or buttons for a baby bib? The designer used to use plastic snaps all the time, but she worries about the snaps falling off and being swallowed by a baby. That's the same problem with buttons, and doing up a button in a buttonhole on a wiggly baby is pretty tricky.
Any of these fasteners will work great for a baby bib, but her favorite is Velcro. It's easy to get on and off, it can pull apart if pulled hard, and it's easy to sew on. However, the designer points out that you should be careful when washing it so that the Velcro doesn't attach to anything precious in the washer or dryer.
What's needed to make a Baby Bib:-
One fat quarter of quilting cotton or double gauze for the non-pocket bib OR ⅓ yard of waterproof fabric for the pocket bib,
Two inches of Velcro,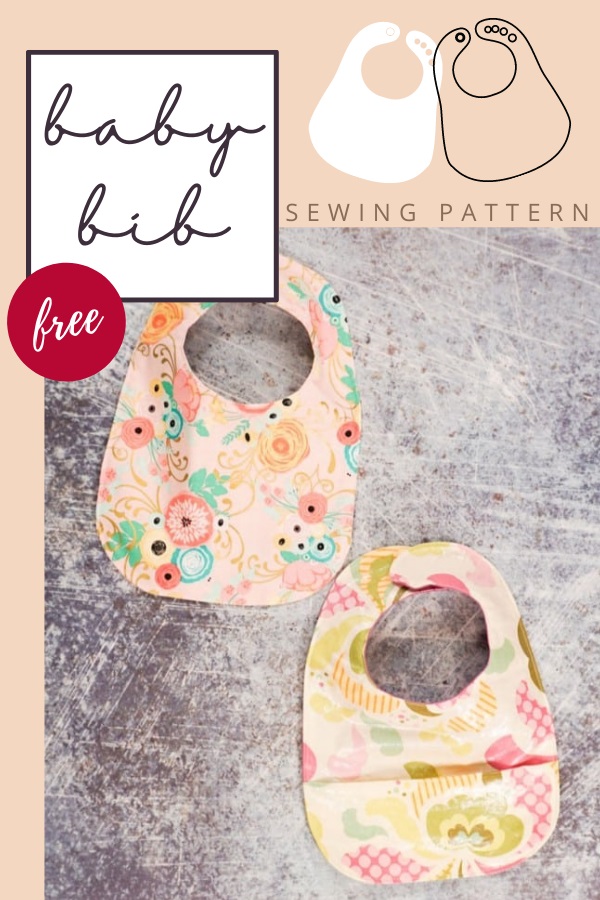 If you just want the pattern and tutorial as a PDF then the designer says you can get the pattern and photo tutorial for just $3. You won't need to access the internet every time you want to make it.
However, if you want a FREE tutorial from the designer's blog post and a FREE Baby Bib sewing pattern (no instructions) from the designer's shop then you should click on the purple button below.
Click here for the FREE pattern
Downloading this free pattern? Great! You would make our day if you 'bought us a coffee' to help with the site running costs. Thank you.

Even more free kids sewing patterns here -->
If this isn't quite what you are looking for but you really want a free pattern, then do take a scroll through our
Free Kids Sewing Patterns Pinterest board.
Pin and save all of your favorite sewing patterns to your own boards to make them easy to find later. Don't forget to pin this pattern too.